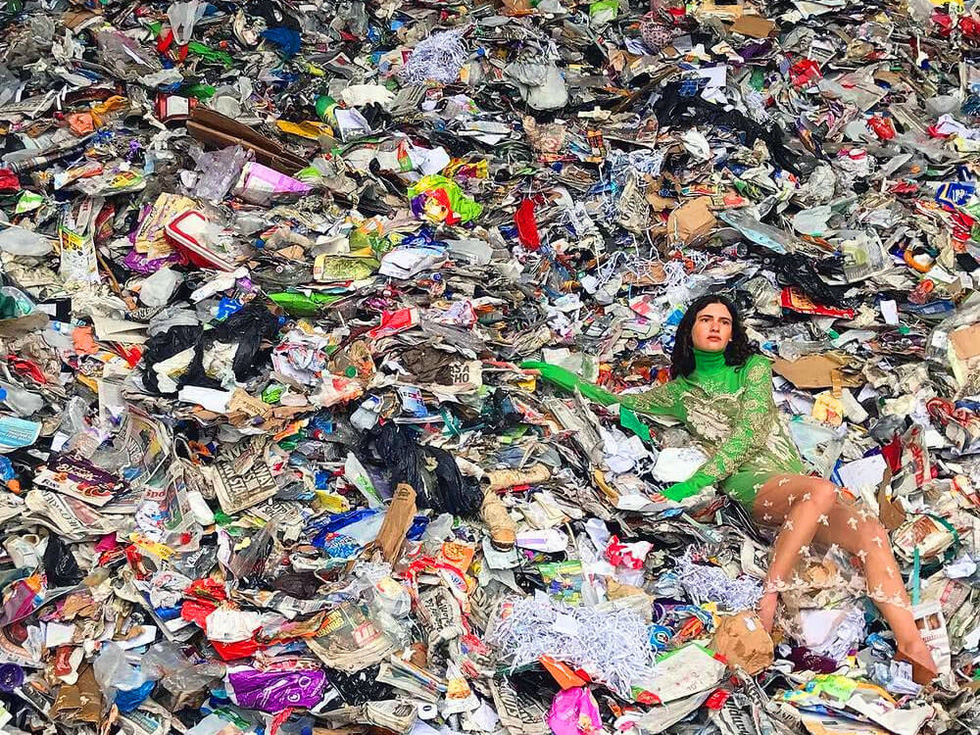 A model takes a photo in the middle of a fashion junkyard – Photo: WTVOX
Recently, a number of brands have attached ratings that they consider themselves reputable to prove they are "going green", or producing many "sustainable" products. But these behaviors are evaluated as "greenwashing".
Theo Voguebleaching is sometimes just a way for brands to "sweep green paint" to sell more clothes.
The word "fast" is no joke
There are many ways for fast fashion to gradually destroy the environment.
Textile dyes are the world's second largest water pollutant (after pesticides), are widely used in cotton farming, and contaminate soil and groundwater. These chemicals can leak into waterways and pose a major health risk to the public.
Theo Business Insider, fast fashion production accounts for 10% of total global carbon emissions, about as much as… the European Union. 85% of textiles are thrown away every year. Washing clothes releases 500,000 tons of microfiber into the ocean each year, the equivalent of 50 billion plastic bottles.
In 2012, Zara designed, manufactured and delivered a new garment in 2 weeks, Forever 21 in 6 weeks and H&M in 8 weeks. As a result, the fashion industry generates a tremendous amount of waste.
Due to a bad history in dealing with the environment, many famous fast fashion brands have shifted their production and marketing to "environmentally friendly" and "more sustainable" products.
They rely on indicators that sound very convincing at first glance. They call these products "green", but the production process is really green and sustainable is still unknown and controversial.
4 popular ways to bleach (according to Green Queen)
– Released a "sustainable" product line, but the quantity was too small compared to the brand's unsustainable and still profitable products
– Releasing a sustainable product line but no credibility facts or figures
– Promote with conflicting messages like "shop and save the planet"
– Excessive exaggeration of ethical or environmental efforts, such as making recycled polyester products but not paying workers a living wage
"Bleaching" – green but not green
Yahoo News analyzed the "giant" H&M is facing a greenwashing lawsuit when Chelsea Commodore filed a complaint in New York Federal Court, claiming that the Swedish fashion house promoted the product. are "environmentally friendly" while they are not eco-friendly at all.
Chelsea Commodore alleges that H&M promoted "sustainable" products with "environmental scorecards", only to then walk away due to objections. The company says these sustainable products are made with 20% less water, while an independent investigation found this claim to be untrue.
The matter is not over yet, but it is clear that it is very difficult for a fast fashion brand – in an industry that is notoriously harmful to the environment – to label itself as "green" or "sustainable".
In the US and some European countries, it is not easy for brands to label themselves "green" or "sustainable". If there is no guidance or assessment from state agencies, there is always public opinion and independent groups to monitor.
Good On You is such an organization. With the slogan "ethical fashion", Good On You aims to monitor and provide information to users about the influence of brands on people, animals and the Earth. This organization also provides instructions for consumers with criteria and signs to identify "greenwashing".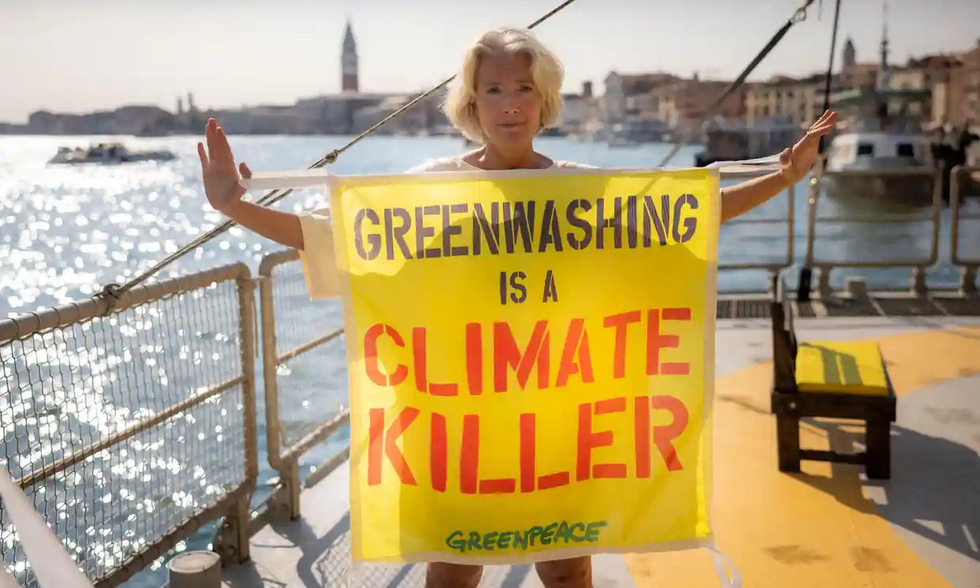 Veteran actress Emma Thompson calls for the eradication of greenwashing because it is "killing the planet" – Photo: The Guardian
Slow fashion is the solution?
By page Earth.orgslow fashion can be a counterweight to fast fashion in the environmental picture, as it can help combat overproduction, overcomplicated supply chains and mindless consumption, in favor of religious production. respect people, the environment and animals.
The World Resources Institute suggests that companies design, test and invest in business models that reuse clothing and maximize shelf life.
Veteran actress Emma Thompson, along with Greenpeace Foundation and 30 other social organizations, are calling for a law banning the advertising and sponsorship of fossil materials in Europe.
The truth is that such businesses are still popping up in familiar advertisements. They sponsor museums, universities and famous events and sports clubs.
Last year, on the sidelines of London Fashion Week, the Changing Markets Foundation launched Greenwash.com to highlight a range of fashion industry "greenwashing" tactics.
The website provides green bleaching marks, not only from the manufacturing process but also from the packaging, packaging and shipping process. Obviously, for people to do right, the first step is to show what is wrong.
Green fashion is not an easy path and cannot be followed by those who do half-heartedly.