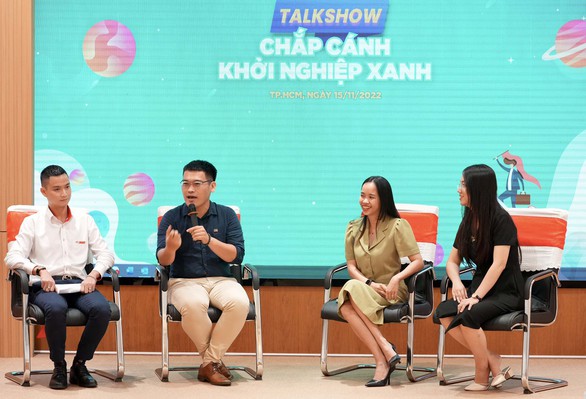 Speakers participating in the talkshow on November 15 – Photo: HUU HANH
This message was emphasized in the talk show "Bringing green start-ups" organized by Tuoi Tre newspaper at the University of Economics Ho Chi Minh City on November 15.
"Greening" by technology
Having worked with the innovative startup community in Vietnam for many years, Ms. Le Thi Tuong Vy – deputy director of the Startup Support Center (BSSC) – noticed an increasing trend of ideas. start-ups from young people across the country associated with green development. "Green" here is not necessarily "planting trees to cause forests", but also solutions to help reduce energy and fuel consumption through optimizing productivity with new technologies.
Ms. Vy said that the current trend of "greening" start-ups in Ho Chi Minh City is also benefited by the dynamic development of the city's innovative startup ecosystem. According to international research, Ho Chi Minh City continues to rise to 111th position and is approaching the top 100 global startup cities.
Having served as a judge for many startup idea contests across the country, Dr. Nguyen Thi Quy Phuong – general director of QP Vietnam Consulting Company, representative of the founder of the VinFuture International Award – was very impressed with the results. green start-up projects of young people across the country. "Green" activities and production have become "obligations", not "choices".
The world recorded the 8 billionth citizen, so the pressure from production and business will put more pressure on the Earth – Dr. Nguyen Thi Quy Phuong said – Starting a business associated with the green economy is also inevitable. There will be many challenges in green startups, but if they can be overcome, the opportunities are extremely open."
A place to elevate your ideas
Sharing in front of students attending a talkshow at the University of Economics Ho Chi Minh City, Dr. Nguyen Thi Quy Phuong conveyed the message "dare to think – dare to do".
According to her, startup ideas are always around if you are observant and have a determination to start realizing the solution. "The most important thing is always the idea. A good idea is the first step in the entrepreneurial journey," said Ms. Phuong.
Dr. Nguyen Thi Quy Phuong said that the place where young people's ideas are sent also has a special meaning.
For example, at the contest "Bringing green start-ups", with even primitive ideas, you will also receive many valuable comments from the jury who are all professionals and have many years of experience. in the startup industry.
You will also meet like-minded people who start green businesses, thereby being "fired" for the journey ahead.
MSc Vuong Khiet – incubator director, Innovation Institute, University of Economics Ho Chi Minh City – said that at prestigious competitions such as "Bringing green start-ups", participants, especially students, will have the opportunity to meet with project advisors.
They are the ones who will give extremely useful advice on product development as well as business direction, bringing projects to life.
"You can also connect with investors, thereby getting initial capital to deploy your green startup project," said Mr. Khiet.
Especially with competitions that have the companionship of businesses, the contestants will have more support.
Mr. Bui Anh Khoa – Head of Communication and Social Responsibility Department of INSEE Cement Company, the unit accompanying "Bringing green start-ups" – said that for many years, the company has paid great attention to sustainable production. sustain and support green start-up activities.
The company has implemented many activities to find useful innovative ideas from students, thereby creating a foundation for students to gain experience, especially in the field of sustainable construction.
INSEE programs attract thousands of ideas. The young winners every year are funded to implement their dream project, to meet the urgent needs of local people in disadvantaged areas.
Surprise these unique idea
Since its launch, the contest "Bringing green start-ups" has received many special and highly practical ideas. Many ideas come from everyday life itself.
For example, reader Nguyen Tan Loc brought to the contest "Recycling coffee grounds". As a regular coffee drinker, when he saw shops throwing away coffee grounds, he wondered why there was no way to use them for agriculture, pharmaceutical production or crafting? He is currently working on a coffee grounds recycling project and is in the process of finalizing the first product.
Some ideas in the contest have been implemented in practice and brought economic benefits. Typically, reader Dang Duong Minh Hoang participated in the contest "Thien Nong Farm". Hoang spent many years traveling in both Vietnam and France to learn new technologies and techniques in the automation industry.
When he felt that his luggage was enough, Hoang returned to Binh Phuoc to start a green farming business, circular farming, and at the same time apply digital technology to manage the life cycle of crops, especially native avocado trees.
Waiting for more breakthroughs
The startup idea contest was organized by Tuoi Tre newspaper in collaboration with companion units, namely Hyundai Thanh Cong Company and INSEE Vietnam Cement. "Bringing green start-ups" wishes to receive startup ideas from young people in many fields.
Encourage creative and unique ideas in the construction of green buildings, bring a lot of value, help solve urgent and necessary problems of society and create practical values ​​for the community.

Can talk about the field and products and services to be implemented; the production and business model that will be established or the activities that the startup idea will implement. Analyze the economic and social meanings brought about when implementing a successful idea, but it is important to be GREEN.
The prize value of the contest is extremely attractive. Specifically, 1 first prize is worth 30 million dong, 1 second prize is worth 20 million dong, 1 third prize is worth 10 million dong, 5 consolation prizes are worth 5 million dong each.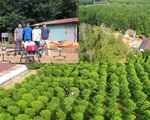 Thien Nong starts a green business