This afternoon (September 8), Binh Duong provincial authorities provided information on the identification of 17 out of 32 people who died in the fire at An Phu karaoke bar, in Thuan An city, Binh Duong province.
The youngest victim was born in 2000 in Soc Trang and the oldest was born in 1982 in Binh Dinh. In which, 3 are from Binh Dinh, 3 from An Giang, the rest are Can Tho, Tra Vinh, Binh Duong, Dong Nai, Dak Nong, Dak Lak, Ha Nam…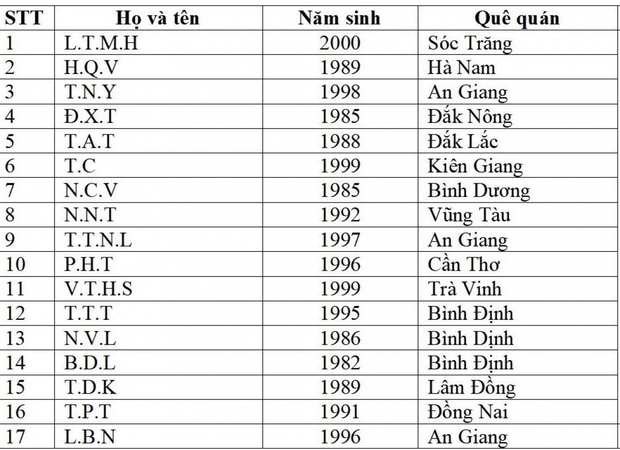 Names of 17 victims in the fire at An Phu karaoke bar.
The deceased victims were identified after the autopsy was taken to the Medical Center of Thuan An city, Binh Duong province, and the bodies were handed over to their family members for post-mortem.
Of the 17 victims, 13 died mainly from asphyxiation and minor burns, which were identified and received by relatives. The remaining 4 victims with severe burns had to send samples to Ho Chi Minh City for DNA identification.
Currently, 15 other deceased victims are at Binh Duong General Hospital waiting for the authorities to conduct forensic examination and DNA testing to determine the next identity.
Previously, as VOV reported, at about 9pm on September 6, a fire broke out at An Phu karaoke bar, An Phu ward, Thuan An citadel. The fire caused particularly serious consequences, killing 32 people at the scene, many injured.
After a period of monitoring at the hospital, the lightly injured victims were sent home, while the two seriously injured victims are being treated at Binh Duong Provincial General Hospital.
Regarding the incident, this morning at a press conference held by the Provincial People's Committee, the Director of Binh Duong Provincial Public Security requested the Investigative Police Agency of the Provincial Public Security to urgently prosecute the case for investigation. clarify the cause and responsibility.