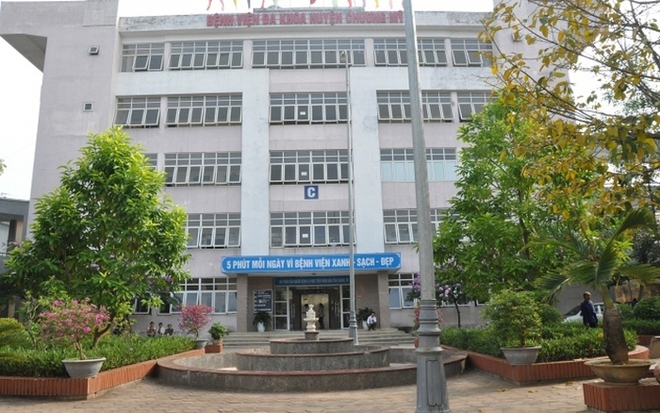 Chuong My District General Hospital, where the incident happened
On August 20, the leader of the People's Committee of Chuong My district (Hanoi) said that the local police agency had just detained criminal Nguyen Thi T. (SN 1989, residing in Thuy Huong commune, Chuong My district) about The act of Appropriating a person under the age of 16.
Accordingly, T. had pretended to be a nurse of Chuong My District General Hospital, went to the hospital's Obstetrics Department to bring the newborn out, and was discovered and arrested.
According to initial information, the incident happened on August 19. A woman wearing a white blouse pretending to be a nurse entered the room of the Obstetrics and Gynecology Department, holding a newborn that is NTH's child (SN 1983, in Hoa Chinh commune, Chuong My district) who had just given birth by caesarean section on August 18, saying that she gave birth to her daughter. I went to check the temperature.
However, the baby's grandmother followed this nurse and did not leave. This woman wanted to "cut off the tail" of her grandmother, so she walked around, but went to the right operating room and encountered the doctor who operated on the baby before.
Feeling strange, this doctor asked the woman why she was brought back to the operating room, and this person stammered. When she learned that this person was pretending to be a nurse, the grandmother grabbed the baby, the woman ran away. BV staff informed security and arrested the woman in the parking lot.
At the police station, the subject was identified as Nguyen Thi T. Currently, the investigation agency is holding T. to clarify the case.