As noted, on the morning of August 27, hundreds of parents were present at the People's Committee of Hoang Liet ward from early morning to get ready to draw lots for their children. At the conference hall, many parents were extremely worried, many also arranged work and brought their children to the lottery.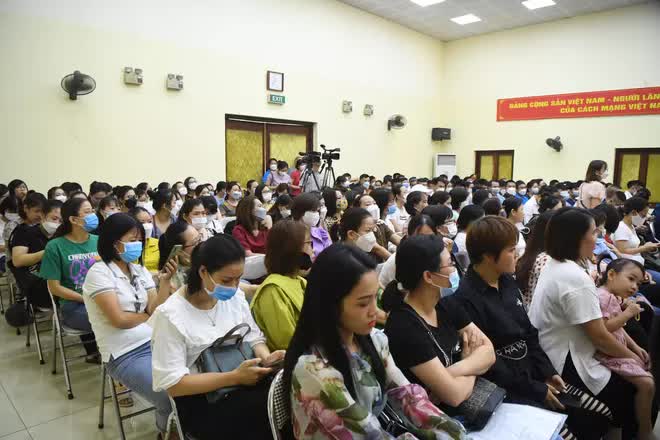 Hundreds of parents were present to draw lots for their children to enter Hoang Liet Kindergarten
It is known that there are 176 votes corresponding to 176 parents who registered to participate and the school's quota is 80 children, which means that 96 students have to go to a private school if the lottery is drawn "Unfortunately, the child did not win. admission to the school". The parents of the lottery this morning all have 3-year-old children, registered to study at Hoang Liet Kindergarten, Tu Ky campus.
A draw with a two-round process. Round one is the draw of ordinal numbers. After ensuring that they have participated in the first round, parents will use this number to draw admission tickets in turn. Valid votes are those with full certification of Hoang Liet Kindergarten.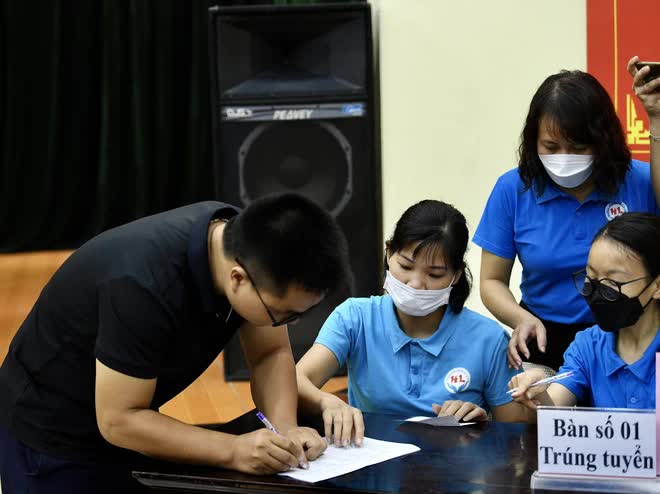 Parents conduct round 1 draw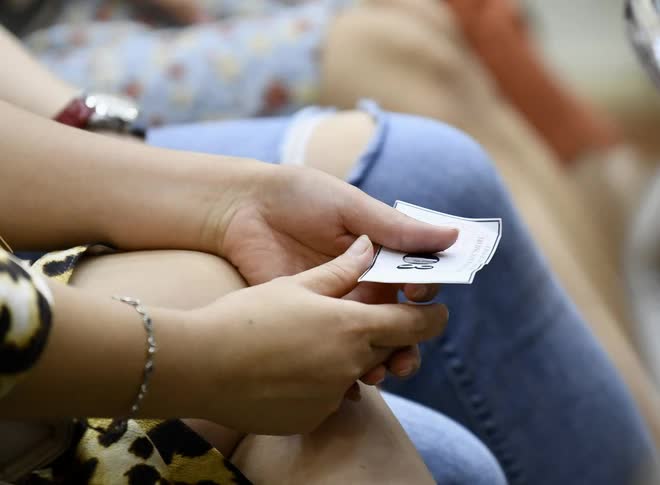 Mother and daughter while waiting for the lottery
Previously, Hoang Liet Kindergarten held enrollment by both online enrollment forms from July 4 to July 6 and direct enrollment from July 13 to July 18. To date, the total number of enrollment applications has far exceeded the school's ability to accept children.
Specifically, in the 2022-2023 school year, Hoang Liet Kindergarten received 226 applications from 5-year-old children, an increase of 100 children compared to the expected number. With two groups of 4 and 3 year olds, the number of applications is 290 and 423 respectively (expected to enroll only 88 and 245 children, respectively). While Hoang Liet Kindergarten can only accept 559 children aged 3-5.
The school said it will open 13 large kindergarten classes to recruit all 226 children, ensuring 100% of 5-year-old preschool children go to school. As for children 3-4 years old, the school only recruited 333 children/713 registration documents.
Thus, there are 380 applications exceeding the target. The lottery is held for parents of students with 3-year-old and 4-year-old children who have submitted enrollment documents for the 2022-2023 school year to Linh Dam campus and Tu Ky campus of Hoang Liet Kindergarten.
Talking to reporters, Ms. Trinh Thu Huong – Principal of Hoang Liet Kindergarten said that in organizing the lottery to select children to enter the school, the unit held 4 meetings, with the agreement of the authorities and parents. born so the new school conducts.
"The lottery is our last resort, no one wants that. Because the number of applications to the school this school year has increased dramatically, specifically, there are 459 targets for 3 ages, but there are up to 939 applications submitted to the school.
This school year is an unprecedented precedent, so this is a difficult and challenging for the school. In fact, through the review of facilities, there are no redundant classrooms and a lot of our personnel are also short, so we cannot accept all the candidates who exceed the quota, beyond the capacity to meet. of the school".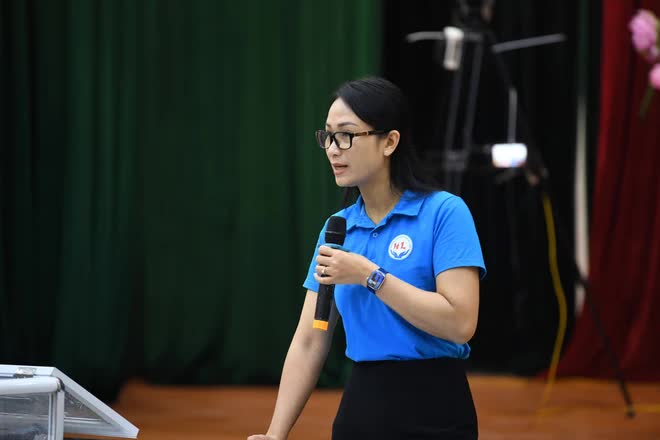 Trinh Thu Huong – Principal of Hoang Liet Kindergarten said that this is the school's last resort, because of limited conditions, it has to be drawn.
Here, all parents are nervous and nervous when entering the second round of drawing. After the parents in turn draw the lottery "congratulations on being admitted to school" and "sorry that the child has failed to enter the school". failed to pass the exam", many parents have mixed emotions, some are bursting with happiness, others are sad because of their lack of luck after a long wait.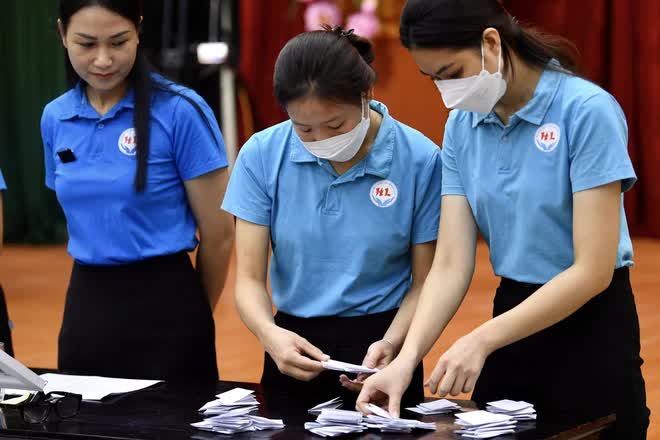 The teacher checks the votes before going to Round 2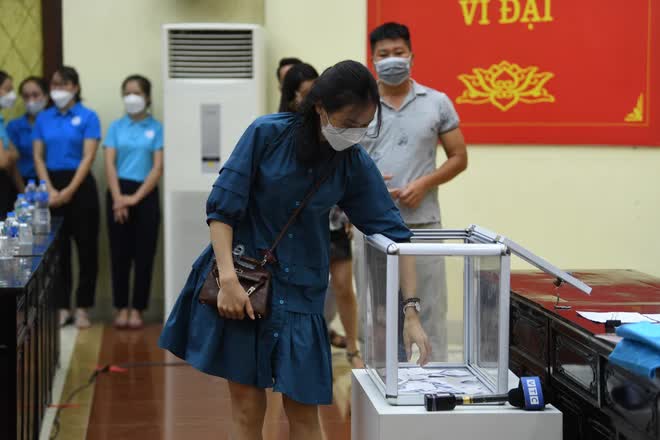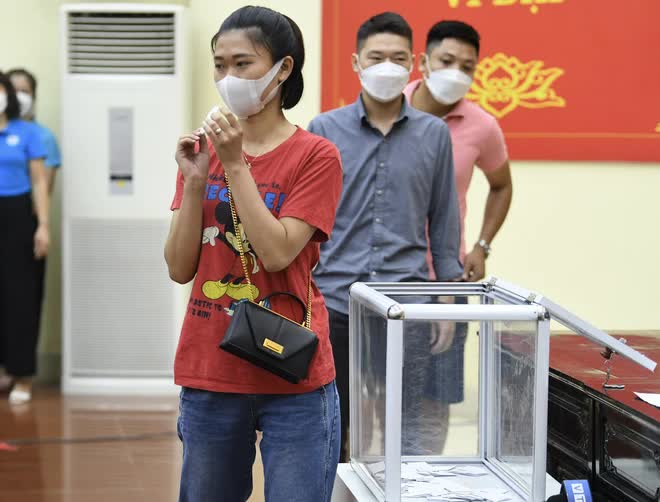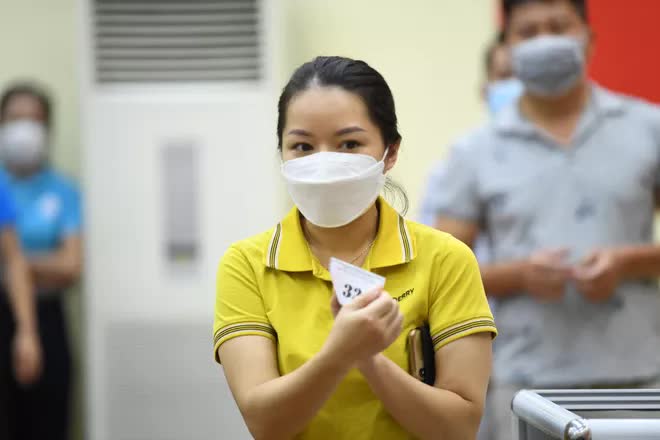 Parents pick up each ticket according to their order number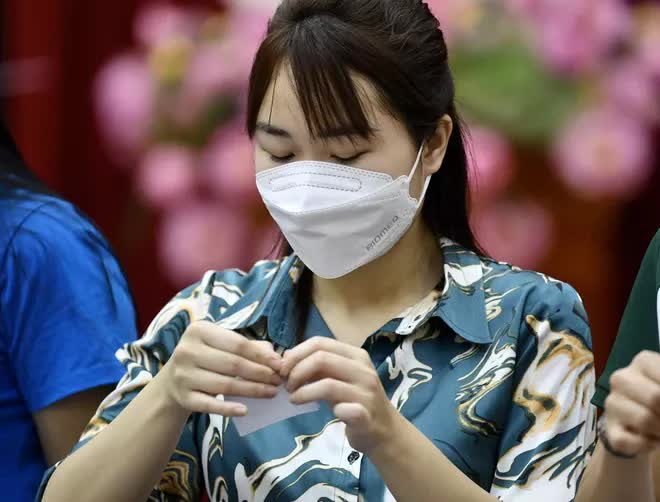 Ms. Nguyen Thanh Thuy (Group 11B, Hoang Liet, Hoang Mai) who drew the lottery for her child to enter Hoang Liet Kindergarten was very happy to share: "When I received the invitation to draw the family, the whole family was very nervous, it is also the 1st, so from early morning I also bought an incense burning ceremony to ask for help. This school is newly built, so it is very new, clean, Before the ballot was drawn, I was very worried because if I couldn't get into this school, I would have to send my children to a private school."
In the same mood as Ms. Thuy, Ms. Van Thi Hien (Group 7A, Hoang Liet, Hoang Mai) – the luckiest mother today when she got 2 votes for the twins, said, to prepare for At the drawing session, she was very worried and nervous, because maybe one child won, the other failed.
"Until now, I still can't believe that I was lucky enough to get both votes for my twins. Before entering this school, my family also sent them to a private school for 2 years. This year I want two children study close to home to reduce the financial burden as well as more convenient for two children to go to school."
According to Ms. Hien, if studying at Hoang Liet Kindergarten, the monthly cost will be about 1 million VND, while attending a private school, her family will have to spend about 3 and a half million – 4 million.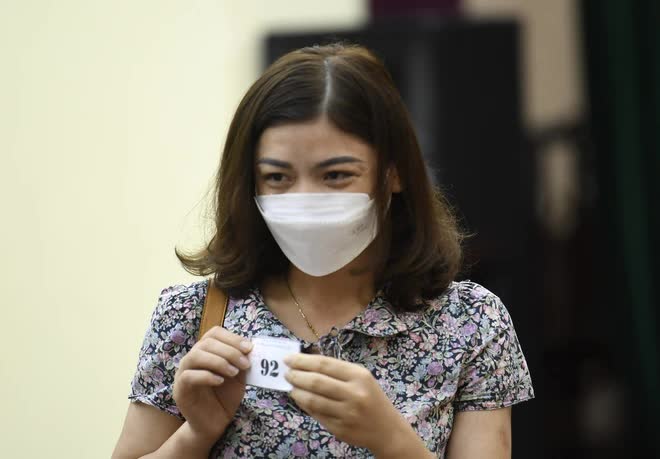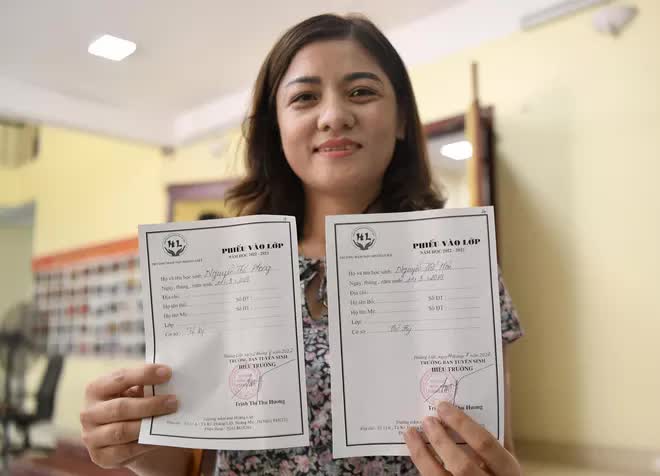 Ms. Van Thi Hien beamed with her son's 2 winning ballots
Picking up the ballot "sorry she didn't pass the exam", Ms. Nguyen Thi Huong (Group 11A, Hoang Liet, Hoang Mai) said she would return to school next year to register her child: "The last meeting showed that the number of applications was too much, so I did not put much hope. Today, when I received the result that my grandchild did not get into the school, I also felt normal because I had prepared myself mentally in advance. Today's draw I feel is quite fair, there is nothing to regret, even though I didn't, I happily accepted.
My baby was born quite disadvantaged because of the influence of the Covid-19 epidemic, so he couldn't go to school, he just started going to school, but he lives in a densely populated area like this, the transfer is also difficult, so the family The family plans to find more private schools to send their children to school."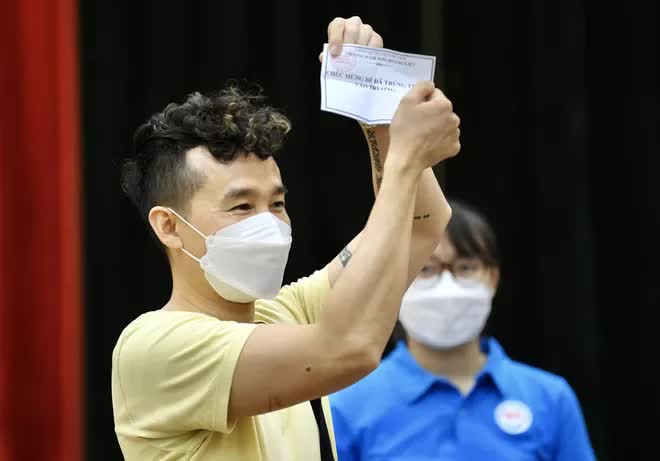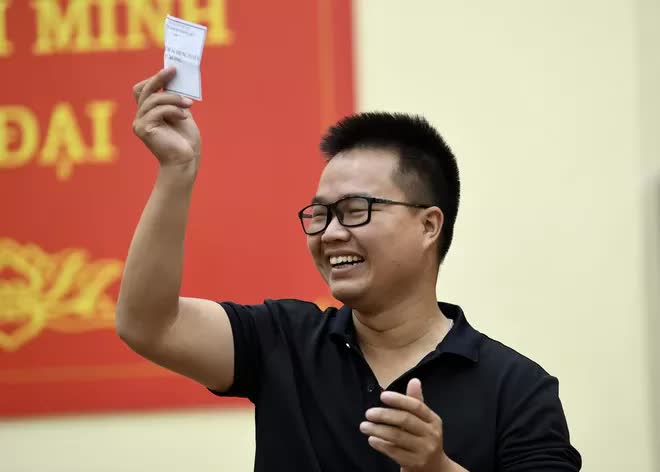 Parents who laugh happily, others feel sad when drawing a lottery for admission to Hoang Liet Kindergarten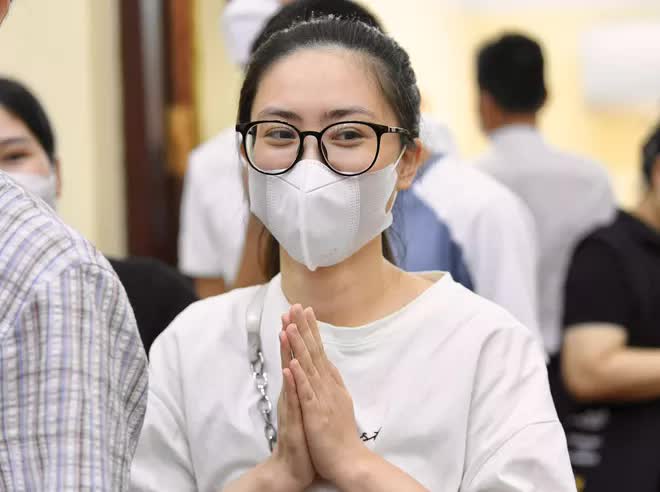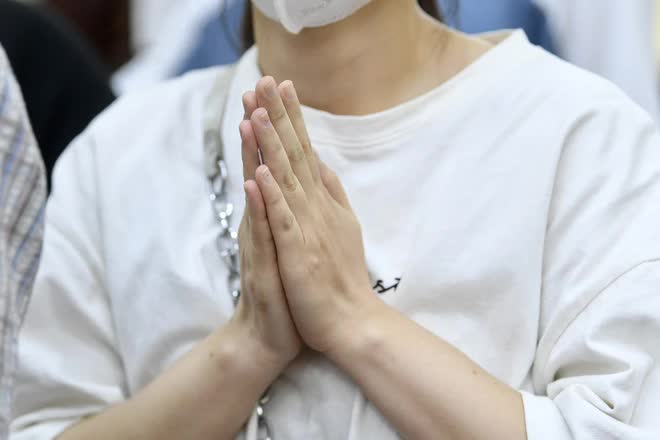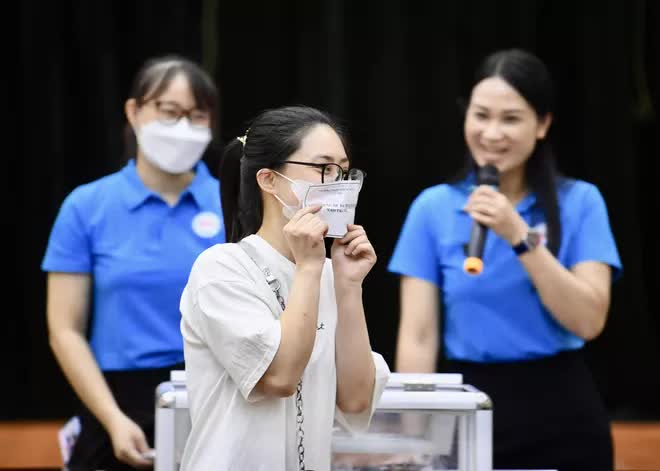 Ms. Cao Dieu Linh couldn't hide her joy when she won the winning ballot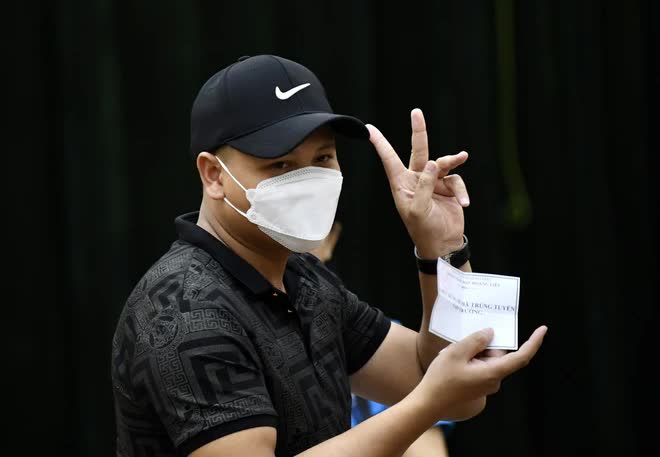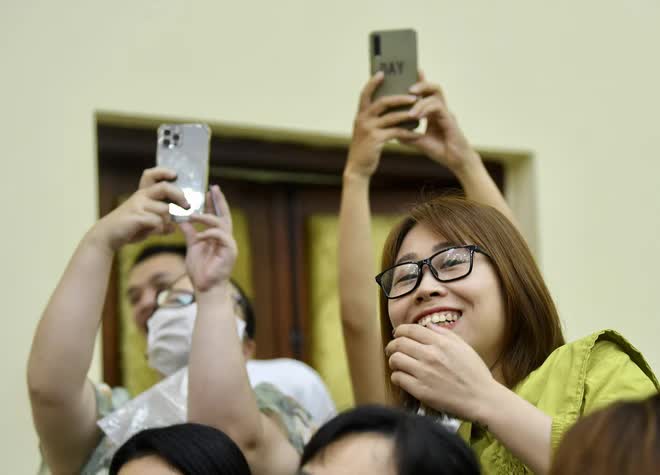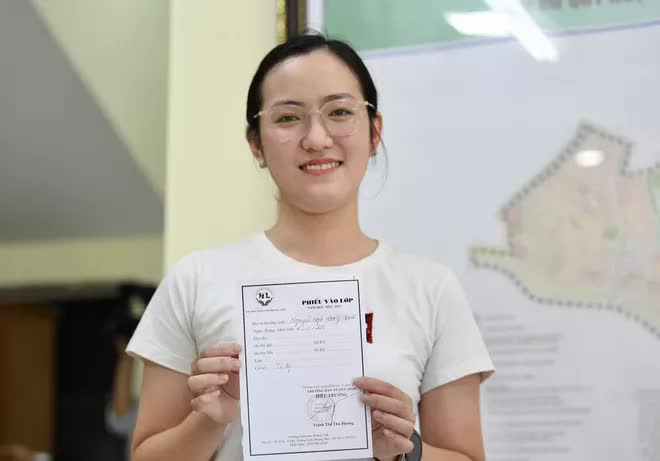 Many people said the draw was fair