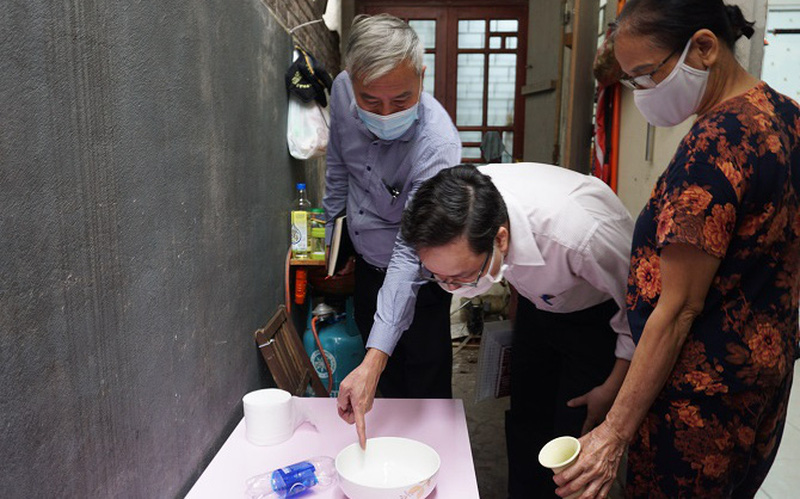 Checking dengue fever prevention at people's homes
According to a report by the Hanoi Center for Disease Control, as of September 22, 2022, Hanoi recorded 3,913 cases of Dengue hemorrhagic fever and 5 related deaths, compared to the same period last year. In 2021, the number of cases will increase 4.2 times (982 cases).
In the past week, dengue fever is increasing rapidly, especially in some localities such as Thanh Oai 105, Dan Phuong 69, Thanh Tri 69, Thach That 55, Ha Dong 52, Thuong Tin 51, Hoang Mai 50.
In addition, the whole city has recorded 426 outbreaks, currently 178 outbreaks are active, in which some active outbreaks have many patients such as: In epidemic Thon Bung, Phung Xa, Thach That (119) ); village outbreaks in Vuc, Thanh Liet and Thanh Tri villages (59); Ngoc Dinh, Hong Duong, Thanh Oai (21); Tan Dan 1, Phuong Trung, Thanh Oai (16).
In order to take the initiative in disease prevention and control, the Hanoi Department of Health suggested that the People's Committees of districts, towns and cities direct their affiliated units and related forces to continue performing well in epidemic prevention and control activities. Dengue hemorrhagic fever, in which, consolidating monitoring teams and larvicidal assault teams under the guidance of the Department of Health; promote the role of surveillance teams and shock teams in the prevention and control of dengue fever, especially the role in monitoring people suspected of having early disease in the community, communicating epidemic prevention and campaigning. people coordinate and participate in environmental sanitation activities – kill larva and spray insecticides to prevent and control dengue fever.
Along with that, thoroughly handle areas where cases and outbreaks appear, ensuring that all areas and households in epidemic and high-risk areas must be inspected and monitored. Tanks, water containers, items, waste items, breeding places of mosquitoes must be monitored to conduct forms of killing larvae and larvae according to the guidance of the Health sector. Households in the outbreak area are sprayed with chemicals to kill mosquitoes fully and correctly.
The units strengthen supervision, early detection of cases from the community, organize monitoring, decentralize management, treatment and timely referral, minimizing the severity of the disease and death. Actively monitor and organize environmental sanitation to kill larva, spray insecticides to kill mosquitoes in high-risk areas according to the guidance of the Ministry of Health.
Strengthen inspection and supervision of dengue fever prevention and control in the area under management, not to let the situation be negligent and subjective in the leadership and implementation direction; resolutely handle organizations and individuals that do not comply with measures to prevent and control dengue fever, especially at construction sites, production and business establishments, businesses, restaurants, etc. management decentralization of the People's Committees of districts, towns and communes, wards and townships.
At the same time, continue to strengthen communication on dengue fever prevention and control, using various forms and communication channels to increase people's access to information, in which focusing on information and guidance on early recognition of symptoms so that people can take the initiative to go to medical facilities for examination and treatment. Information and recommendations on epidemic prevention and control such as environmental sanitation to kill larva, prevention of mosquito bites… and detailed and specific content on epidemic treatment activities in areas with cases and clusters epidemic (hanging notice of epidemic areas, announcing the implementation schedule of epidemic treatment activities and activities that people need to coordinate to implement epidemic treatment…).