In order to serve the travel needs of the people, contribute to ensuring traffic order and safety, and at the same time proactively prevent and control the COVID-19 epidemic on the occasion of September 2, the Hanoi Department of Transport has built develop a plan to strengthen means of relieving passengers; strictly handle transport units that violate regulations, arbitrarily increase freight rates without approval from competent authorities…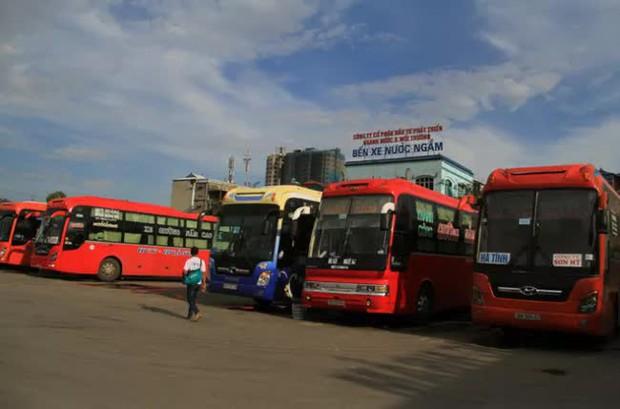 Transport enterprises must develop a plan to transport passengers and prevent and control the COVID-19 epidemic. Photo: HNMO.
It is expected that the number of passengers from Hanoi to other provinces (cities) and vice versa this year will increase more than normal days because the holiday on September 2 this year coincides with Saturday and Sunday, most of the staff, Employees and employees will be off from 3-4 days.
The number of passengers at bus stations in Hanoi city will increase before the holidays and the end of the holiday to return to the capital to study and work. In order to best serve the travel needs of the people, Hanoi Bus Station Joint Stock Company will prepare 580 enhanced passenger cars to relieve passengers in case of necessity.
The Hanoi Department of Transport assigned the Hanoi Public Transport Management Center to closely coordinate with bus transport units to develop a plan to serve the people, ensure vehicle quality, enhance Maximum backup vehicle to relieve the high number of passengers on peak days at the bus stations and promptly release passengers to the provinces when required.
In addition, speeding up the inspection and supervision of timely handling of bus transport service violations; inspect and urge transport units to strictly comply with regulations on prevention of the COVID-19 epidemic such as: vehicles must arrange disinfectant water at locations that are easy to use, drivers, employees and passengers Wear a mask properly.
Taxi businesses ensure the quantity and quality of vehicles; strictly comply with regulations on prevention of the COVID-19 epidemic; Posting rates on vehicles according to regulations, do not arbitrarily increase fares or collect surcharges without approval from competent authorities.
In addition, declare prices, list prices and absolutely must not take advantage of the increased number of passengers during the holidays to increase prices, collect higher than declared prices and make price plans in accordance with reasonable costs. arising reason.
For transport units engaged in inter-provincial passenger transport, contract and tourism, develop a plan to arrange backup and booster vehicles to serve timely response when necessary, mobilizing maximum vehicle capacity. service during the holidays.
Along with that, bus stations coordinate with inter-provincial passenger transport business units to soon deploy ticket sales to passengers; arrange backup vehicles to relieve sudden increase in passengers at the bus station, minimizing the stagnation of passengers in the bus station; Strictly comply with regulations on prevention of COVID-19 epidemic…
The Department of Transport assigns the Inspector of the Hanoi Department of Transport to prepare a plan to ensure traffic safety, forecast black spots and congestion points during the holidays and have a plan to relieve congestion when congestion occurs. out, clearing the markets, trading points, encroaching on the heart, the roadside.
In particular, closely coordinate with the forces of the Traffic Police Department, Order Police, Criminal Police – City Police, local authorities and forces involved in ensuring traffic to strengthen traffic control. investigate and strictly handle cases of violations of the Law on Road Traffic, instructing traffic separation and lane separation, and minimizing traffic jams.
In addition, strengthen inspection and examination of the implementation of legal regulations on transport business for transport business units, strictly handle violating individuals and organizations; resolutely handle passenger transport business vehicles running on the wrong route, carrying more than the specified number of people, vehicles running in the style of "cow turtles", stopping to pick up and drop off passengers at the wrong places.
Notably, the functional forces focused on checking and handling in the areas around bus stations, train stations, and locations prone to violations; inspect and supervise the issuance and use of "enhanced vehicle badges", check the vehicles and drivers are mobilized enhanced before the vehicle departs; strictly handle transport business units that take advantage of "enhanced vehicle badges" to violate regulations on traffic order and safety and other relevant regulations.
In addition, strengthen inspection and strictly handle violations of contract passenger transport, internal transport vehicles, and transit vehicles disguised to pick up and drop off passengers such as fixed routes, vehicles without badges but still operating. Transporting goods and means of transport violates regulations on transport business activities, dropping materials and dirt on the road.