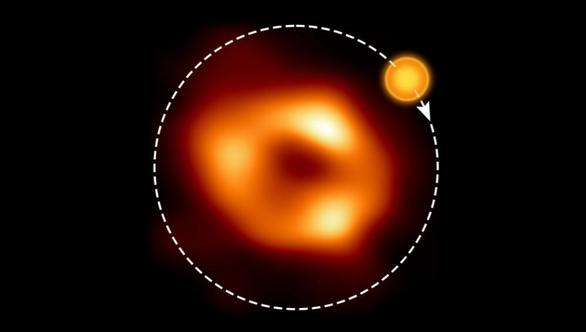 The hot gas bubble is said to be orbiting outside the orange ring – Photo: European Southern Observatory/AFP
Astronomers say they have detected a bubble of hot gas orbiting the black hole at the center of the Milky Way, according to a new study published in the journal Astronomy and Astrophysics on September 22. dizzy.
Astrophysicist Maciek Wielgus at the Max Planck Institute for Radio Astronomy (Germany), study author, said that the radio telescope ALMA in the Chilean Andes has detected a few things that are "really puzzling". related to the supermassive black hole Sagittarius A* at the center of the Milky Way, about 27,000 light-years from Earth.
Just minutes before ALMA began collecting radio data, the Chandra space telescope noticed a spike in X-rays. This burst of energy created a bubble of hot gas around the black hole.
The gas bubble – also known as a hot spot – has an orbit similar to that of Mercury around the Sun. However, while Mercury orbits the Sun once in 88 days (on Earth), the rotation of this gas bubble is only about 70 minutes. That means it travels at the corresponding speed of about 30% of the speed of light.
Astronomers say the bubble only lasts for about a few hours. However, they hope the discovery will provide insight into how these unobservable galactic "monsters" work at such extreme velocities.