On the morning of September 29, the police of Soc Trang province said that it had grasped the initial verification results related to a 5-minute clip recording the image of 3 police officers and soldiers beating a male student who violated traffic laws.
Clip of traffic police, traffic police beat traffic violators in Soc Trang
Before that, at about 3pm on September 25, while on patrol duty to control traffic order and safety on the South Song Hau National Highway (section through Vinh Phuoc ward, Vinh Chau town, Soc Trang province) ), Traffic Police Team – Order and Mobility of Vinh Chau Town Police – including: Captain Hua Truong An, Vice Captain, Team Leader; Captain Chau Minh Trung; lieutenant Nguyen Quang Thai; Captain Tran Minh Doi and Lieutenant Doan Tan Phong – discovered a student operating a motor vehicle carrying another student in the opposite direction, suspected of using alcohol and underage to drive a vehicle in traffic.
When the patrol team signaled to stop the vehicle, the male student driving the car did not comply, but increased the throttle and ran away at high speed, swerving, swerving through the roads South Song Hau – Le Lai – Trung Nhi – 30 Months 4 – District road 43 – South Song Hau (Vinh Hai commune) with a distance of about 30 km. When they arrived at Au Tho B hamlet, Vinh Hai commune (the area where Mr. Sai's shrimp collection facility was located), the force on duty was able to stop this vehicle.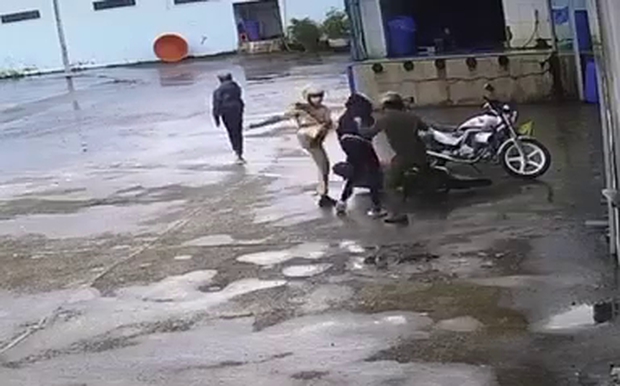 1 traffic police and 1 traffic police "song phi" on male students violated traffic laws. Image cut from clip
Due to being too angry at the behavior of 2 male students, 3 police officers and soldiers, Thai, Trung and Phong, could not control their violence, so they acted violently with these two children, recorded by the warehouse's surveillance camera. back image. After that, the working group took people and vehicles to the commune police headquarters for work.
Here, two male students admitted violations, including: Not obeying the orders and instructions of traffic controllers; disobeying traffic light signals; driving vehicles swerving on roads outside urban areas; no certificate of civil liability insurance of motor vehicle owners; people from full 16 years old to under 18 years old who operate a motorcycle with a cylinder capacity of over 100 cm3.
Before the incident caused public outrage, Colonel Lam Thanh Sol, Director of Soc Trang Provincial Police, made an initial report to the Ministry of Public Security and directed to temporarily suspend 4 officers and soldiers in the patrol team. ; and asked Vinh Chau town police to report the whole incident.
"No matter where the officers and soldiers are wrong, they will be severely punished" – Colonel Lam Thanh Sol affirmed