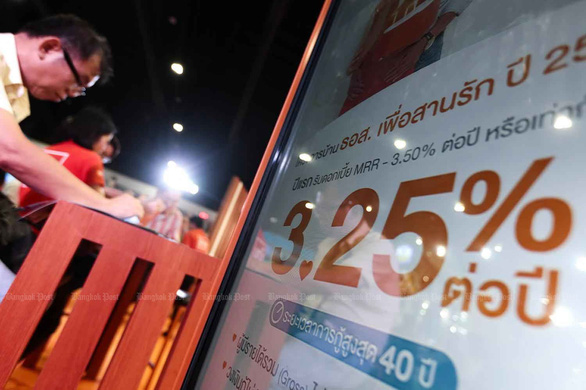 A billboard advertising interest rates at a currency exhibition in Thailand in June 2022 – Photo: Bangkok Post
The South China Morning Post newspaper on July 30 said this is the highest debt level in Asia and the current household debt crisis is affecting 33 million people in Thailand, accounting for nearly half of the population of the land. this country.
"I don't know if my 8 million baht ($218,000) debt will ever be paid off by the time I'm 80 years old? I can't earn anything in life without your support. loans," said Ms. Jiraporn Maysoongnoen.
The reason for Thailand's current increase in household debt was before the COVID-19 pandemic began in the country.
"In Thailand, household debt was already at 80% of GDP in 2015. The root reason for the increase in household debt in Thailand year by year is that the BOT monetary policy has been loosened for several years. That makes credit loans more accessible to low-middle-income people in Thailand, which has been impacted by the COVID-19 pandemic" – Mr. James Guild, School of International Studies S. Rajaratnam (Singapore), for example.
The Bangkok Post newspaper reported that most households in Thailand have an average monthly income of only 10,000 baht (nearly 6.5 million dong), while the minimum spending need is already at 12,000 baht. Therefore, these households have to borrow from banks and credit institutions in Thailand to pay for their daily necessities.
In addition, many Thais went into debt when they were young or just starting their careers. Kajorn Thanapase, an official of the BOT, said that half of people over 30 in Thailand are in debt and among them are unable to pay off the debt.
Previously, in April 2022, the University of the Thai Chamber of Commerce conducted a survey of 1,260 people with an income of less than 15,000 baht per month in Thailand and found that 99% of them were in debt. In which, debt mainly arises from daily living expenses, rent, business loans; debt from credit cards, home and car purchases.
The survey estimated the average debt per household to be 217,952 baht, up 5.9% from 2021, the highest level recorded in the past 14 years in Thailand.
According to consulting firm KPP Research (Thailand), household debt in Thailand is forecast to continue to increase in the second half of 2022. That will reduce consumer purchasing power and deal a heavy blow to the economy. Thailand's economy has been affected by the COVID-19 pandemic.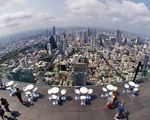 Thailand plans to sell land to foreigners