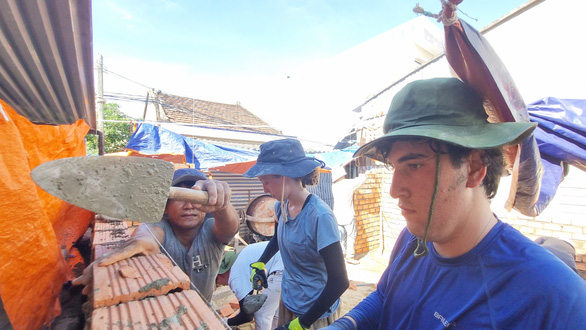 American students come to Vietnam to work together to build houses for people – Photo: TRAN MAI
It has been 16 years since Putney Students Travel (USA) brought the first American boys and girls to Quang Ngai to build houses and teach English for free.
To this day, the program continues and the affections continue to grow longer. The job of building a "style" house in Vietnam was approached by American students for the first time. But the warmth of Vietnamese friends, family and local authorities helped them quickly access the job.
Sweat broke out all over his clothes, but everyone was enthusiastic about work. 35 American students share the same desire to continue the story of Vietnam – America that they have done for the past 16 years.
Come to Vietnam because love and share
Scarola Caia, 15 years old, comes to Vietnam for the first time. A young girl studying in high school in the US said that she was very excited about this trip. The girl started learning about Vietnam last year, her background knowledge tells her that Vietnam is peaceful, the people are friendly and it is a very safe country.
The more she learned, the more Caia learned that Vietnam had gone through a very long Patriotic war to protect its independence. Despite difficulties, Vietnam is building an impressive developing country in recent years. She was even more surprised when the United States sent troops to Vietnam.
At that time, many peace-loving Americans took to the streets to protest, demanding the American rulers withdraw their troops from Vietnam. Caia felt regret when the relationship between the two countries had "black ripples" in the past.
Caia smiled brightly, wiped away the long sweat with her hand and continued the story that the past was folded, the two countries also normalized relations and respected each other. She and her friends came to Vietnam this time with love and sharing.
Caia read to herself where she had just arrived in a lazy voice "Tinh Ky commune, Quang Ngai city, Quang Ngai province" that she had just learned from Vietnamese children and said "Vietnamese people are really friendly, how to approach The reception is also different from the US. People welcome as if they have known for a long time and offer many delicious dishes. Actually, Vietnamese people are friendlier than what I found out."
This year, Putney Students Travel (USA) brought 35 students to Vietnam, with an amount of more than 370 million VND to finance the construction of six houses for six disadvantaged households in Tinh Ky commune (Quang Ngai city) and commune Binh Chau (Binh Son district, Quang Ngai).
In Tinh Ky commune, 18 American students divided into three groups, along with Vietnamese young people and skilled masons, built three houses. After 16 years with what has been left to the land of Quang Ngai, the program is more than an exchange between the youth of the two countries.
Nell Rohde, 14 years old, is the youngest member of the group, a young girl who enjoys moving soil into the floor and building bricks. She said that she had not had time to "replenish" her knowledge of Vietnam before the trip and simply thought this was an opportunity to exchange cultures, help people in need and teach English for free as her summer course. After a few days of directly building the house, she had a different view.
"Looking at the newly built house, I feel very happy. This is a great trip in my life. I'm young, I want to visit Vietnam many more times in the future," Nell said.
Through the hands of Vietnamese workers and the help of American students, the wall gradually formed. Smiles for each other blur the linguistic and cultural boundaries that are halfway around the world. For Charles Caiafa (17 years old), this is a return to Vietnam. Charles has a mother who is originally from Hue, this trip includes her mother's message for the parish priest's hometown.
Before the trip, Charles' mother told Charles to do good deeds in his motherland. Charles did not understand the word "kind" until receiving the reception, work instructions and sharing the meaning of the house he contributed to building, Charles understood the word "kind".
"My mother said that there are still many difficult people in the homeland, when returning to Vietnam, try to do the most kind things. I feel that this trip has partly fulfilled her wish. I will take pictures and when I return When I go back to America, I will tell my mother what I do and how people in my motherland have for me, "Charles said.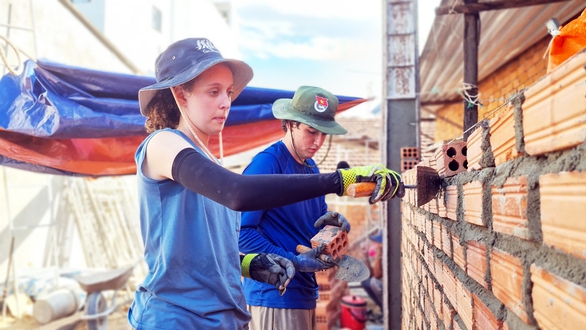 American students come to Vietnam to work together to build houses for people – Photo: TRAN MAI
Looking forward to new home
Six houses under construction are six miserable lives. Sickness, loneliness surrounded them. Poor. A solid house is only a dream. Nguyen Thanh Trung, secretary of Tinh Ky Commune's Youth Union (Quang Ngai City), said that when he was assigned the task of choosing households to build houses, he faced a big challenge. The family is really difficult and lacks "reciprocal capital", so they refuse.
As Mrs. Lam Thi Tinh (59 years old) is disabled, mentally unstable. Yet she is the support of her sister who has lost the ability to work. Hearing that she was supported with nearly 60 million VND to build a new house, she was very happy. But then she "please pay" because she did not have a few tens of millions of dong to contribute to building a house. So the villagers with a better life helped her build her dream house.
Tinh has not left Quang Ngai province all her life. When she first saw American students, she was worried because it was strange. When the grandchildren in the neighborhood were guided to learn English, then the children taught Vietnamese again, Americans and Vietnamese all had the same bright smiles, Mrs. Tinh also smiled and gradually came to ask an interpreter.
"I am waiting for the new house to be built. The children are very friendly and kind. So the next storm I am no longer afraid of the house collapsing," said Ms. Tinh.
Bui Gia Bin (18 years old, a student of Le Khiet High School for the Gifted) when he heard American students come to build houses and teach English in Quang Ngai, he signed up for summer volunteering. Bin has extremely good English, easy to communicate and becomes a bridge for conversations and helps American friends quickly "learn the lesson" that Vietnamese builders instruct.
Bin pointed to Jackson Wade (17 years old) who was working hard with trowels to mix mortar and brick to build walls, saying: "Jackson is very funny and hard working. She said this is a meaningful job and wishes for the house. soon to be completed. It seems that not only Ms. Tinh's sisters, but he is also very excited about the newly built house."
Both Binh Chau and Tinh Ky communes have a "front" of the sea, the rainy season is always harsh. The storm in 2020 landed, thousands of houses in these two localities had their roofs swept away and collapsed. At that time, the trucks were full of newspaper sheets Youth came to the people here.
In the harshest country in the country, having a stable house is always the dream of people. Ms. Cao Thi Ha (47 years old, Tinh Ky commune) lives alone in a worn-out house. All her life, she had a hungry meal and a full meal. The old house was built by the hearts, through many rainy and stormy seasons, the house can no longer bear the burden. Neighbors, local authorities after each disaster help to reinforce.
That affection only helps her not to worry about light rain and wind, when the wind blows, Ms. Ha has to live elsewhere. This time when she heard that the house was built, she couldn't believe it, until the young Vietnamese-Americans came to clean and build, this lonely woman smiled.
"I've been waiting for this house for so long. I don't think my house is built from the hearts of young people in America. It's really beyond thought, I'm very happy, the children are so gentle and kind. belly", Ms. Ha confided.
Impressive numbers
For the first time, American students were brought to Quang Ngai by Putney Students Travel to volunteer for international summer in 2006, so far, 52 new houses and schools have been built; More than 1,000 bicycles were donated to students with difficult circumstances and more than 12,660 working days that American students did in Quang Ngai.
Even more impressive when surveying all the houses are in use and there are no signs of damage.
Mr. Le Vin, deputy secretary of the Quang Ngai Provincial Youth Union, said: "More than an international volunteer program, the kind and emotional contributions of American students really left a mark. Indelible impression The youth of Quang Ngai province in particular and people always give you warm affection to welcome you.
This program will continue in the coming years. We hope to further strengthen the relationship between the youth of the two countries and continue to do meaningful work."