Have a 16-hour working day, save 70% of your income
This character is Thuy An (28 years old, Da Nang), a tour guide. She spent 1.3 billion VND to build a 2-storey house right during the epidemic because she wanted her parents to no longer worry about wet leaks. Knowing that the whole house construction cost is paid by An, there is no need to borrow from the bank or any other source.
Of course, to do this, Thuy An spent a long time working and saving money. She said she has a habit of saving 70% of her earnings. The rest of the money is used to spend on petty issues as well as to help support the family's living expenses.
"Saying that I save a lot, but I still have money set aside to 'reward' myself. I love to travel to learn more new things, so I set a goal to extract every year. For me, it's like a reward, it's also the time I enjoy after working days sometimes more than 16 hours hard as well as for myself to cultivate more new things. about the places I've been. I think it takes time to relax and accumulate to have meaning." – Thuy An said.
The interior of the house is simple but very beautiful
Tighten spending, don't shop for yourself to send money back to your mother
Due to difficult family circumstances, after finishing high school, Hanh Dao (25 years old, Hai Duong) went to work. Since then, she was determined to build a house for her mother. At the beginning of 2019 – 22 years old, after working in Japan for a while, Hanh began to fulfill this wish with 200 million dong in hand.
However, 200 million was not enough to build a spacious 2-storey house, Hanh had to borrow another 1.4 billion during nearly 2 years of building the house. At the end of 2020, the new house was completed and by August 2022, she had paid off most of the debt, only a few hundred million.
This result is a long time of saving and squeezing Hanh Dao's spending. During the first time in Japan, she only spent 3 million per month on living expenses: "I'm sure everyone knows how expensive it is to spend in Japan. But I really tried to tighten up all my expenses. Instead of buying things for me, I sent all the money back to my mother. ".
"There was a time for more than 3 years, every morning I woke up at 3:30, 4:30 in the morning and cycled for 40 minutes to the company because my home was far away. Then I returned home at 9-10 o'clock at night. Rain or shine. It's the same with blizzards. There are days when you can't go to bed until after eating and drinking." – Hanh added.
Always save half of your income and invest it
After 15 years of living and working in Hanoi, at the end of 2019 – early 2020, Hoa Pham (35 years old, self-employed) decided to leave the city, return to her hometown to build a house to have more time to be close and take care of her family. mother care. As a single mother, Hoa's decision and process of building a house was not easy.
About the cost she said: "To build this first house, I have accumulated more than 15 years since I worked in the city. In the city, my main income is only average, 15-20 million/month. But On a regular basis, I always spend 1/2 of my total income to rent a house and spend on expenses that are really necessary in life. The other half, I spend all of it on savings. , I also accumulated some capital".
From this capital, Hoa started to invest by buying small apartments with good prices and then selling them for profit.
Nice house, fully equipped
It is known that the total cost to complete Hoa's house is about 5.5 billion VND. Initially, she borrowed some from relatives, but repaid it not long after. "I think it is necessary to balance in financial capacity so that buying and building a house does not become a burden too much pressure, avoiding the case that after building a house, you have to pay back debt for life. – Flowers share experiences.
Do 4 jobs at the same time, deduct 80% of your income to pay off bank loans
The story of a bank loan to repair a house for Le Chan Phong's mother (22 years old, Tay Ninh) also made many people admire.
Chan Phong used to study at Ton Duc Thang University (HCMC) but in the second year, he quit school to work because his family had financial difficulties. The boy started a clothing business and opened his own shop. However, after the Covid-19 epidemic, the store was forced to stop operating. Within a year, Phong returned to Ho Chi Minh City to work at the gym.
At the beginning of 2022, he decided to return to Tay Ninh. At the new time, Phong works 4 jobs at once: doing fashion business with friends, teaching English tutors, selling massage chair shops and working as a front desk manager. With all that time working, Phong saved nearly 100 million and decided to borrow another 300 million from the bank to repair the house for his mother. After 3 months of self-construction and 2 months of construction, the house was completed in June 2022.
Currently, Phong is still working hard to pay the bank debt every month: "I estimate to spend 80% to pay the bank debt. Because I live with my mother and sister, I don't have to worry about food or rent. The remaining 20% ​​I use for personal expenses such as gas money, coffee. …".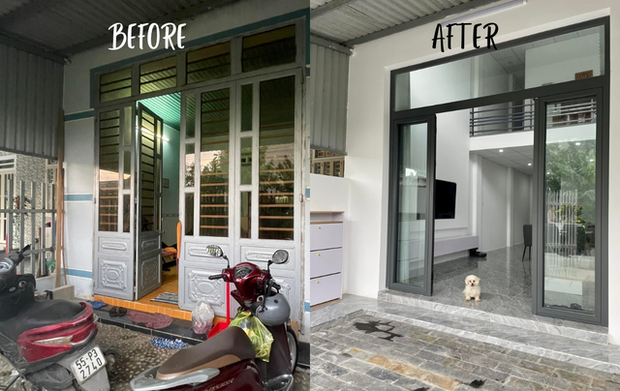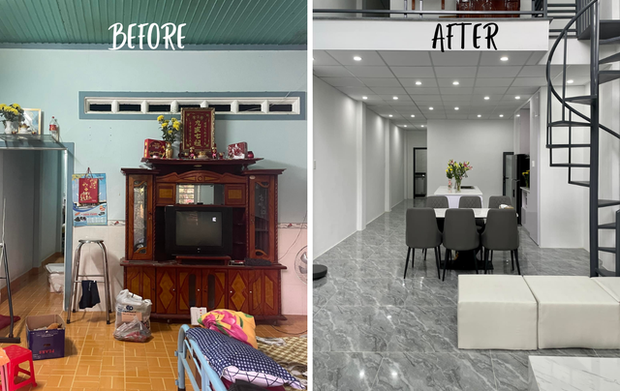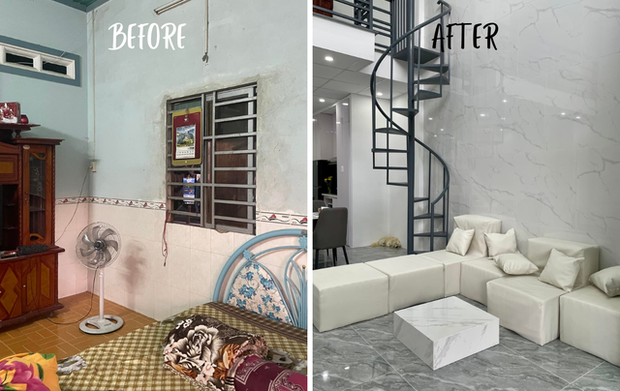 Before and after pictures of the house being repaired
Make money from 10th grade, learn from business failures
At the end of 2021, Le Truong Anh (25 years old, Hanoi) decided to put down money and buy an apartment to pay directly to her mother. From the time of design to completion of construction, it takes another 8 months to move in.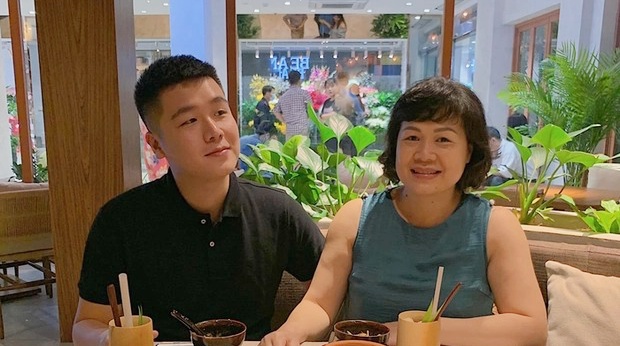 In order to have the current stable financial situation, Anh Truong started making money from the 10th grade. The guy has experienced many professions, from working as a hired worker to being self-employed, making his own branded products but failed, luckily break even. By the 2nd year of university, Anh Truong contributed capital to business investment and had a significant income. However, because he was young and did not have much experience, the young man failed once more.
The incident made Truong Anh doubt himself, but during this process, his mother was always by his side, encouraging and comforting, so he quickly regained his spirit. "I began to sit back, calmly analyze decisions in investment and business, see where the problem lies. With the spirit of constantly improving knowledge, drawing lessons, I returned to work. make money with a more stable mind. Seizing new opportunities, I apply the skills I have prepared carefully before and achieve certain successes." – Anh Truong confided.
Photo: NVCC