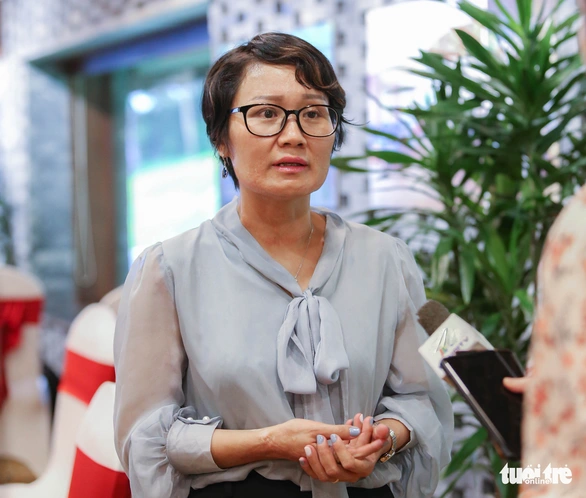 Ms. Le Thi Lan Phuong, official of the Program to End Violence Against Women (UN Women) – Photo: HA QUAN
Report on the survey results of the program to build a safe university campus conducted by the United Nations Agency for Gender Equality and Empowerment of Women in Vietnam (UN Women) from February to June 2022 , at 3 universities.
72.5% of students do not know whether the place to support victims of violence is a peaceful home or a shelter, while this figure for teachers is 61.7%. Nearly 51% of students do not know about the counseling room for students of the schools they are attending; 26.5% of students have experienced gender-based violence.
Youth Online had an interview with Ms. Le Thi Lan Phuong, officer of the Program to End Violence Against Women (UN Women).
* How do you rate the outstanding figures in the report and what issues do they reflect?
– Survey on the safety of university campuses with the participation of about 2,000 students, thereby discovering 51.8% of students and 30.2% of lecturers (total 350 lecturers surveyed – PV) have experienced sexual harassment.
In fact, we know that these numbers do not reflect the situation of sexual harassment because such cases are often hidden.
In the last survey, we found some very interesting data that students also suffered from economic violence, that is, they were exploited by their lovers through forms of monetary tribute.
* It can be seen that students with a relatively low level of understanding are still afraid to speak up when experiencing different forms of violence. What do you think is the biggest challenge to achieving gender equality?
– It is not only a problem for students but also for women, according to a national survey, more than 90% do not seek any help and only more than 50% share with friends, a relative.
Therefore, UN Women and other agencies have had many communication projects, notably the Safe School Campus project. Students' Facebook has many activities like contests Healing letter.
Through the letters, victims of abuse will receive help from the school's psychology departments, and they can connect with other services at the national level.
* What specific plans will the project have for the young generation in Vietnam to contribute to changing the perception of gender equality?
– UN Women, UNFPA (United Nations Population Fund) and UNICEF (United Nations Children's Fund) are collaborating on a joint project to end violence against women and children for the period 2021-2025.
In that program, we will have 3 toolkits for young people including a toolkit for building relationships of equal respect in schools, a toolkit for students and a toolkit for building relationships. Safe college campus.
In the past time, we have piloted it in pedagogical universities because the students there will propagate that spirit of equality to future generations of students. In the near future, Safe Campus programs will be expanded to other provinces such as Ho Chi Minh City, Dien Bien, Da Nang and Hanoi.
* What are your expectations for young people in promoting gender equality in the coming time?
– Gender equality is a long-term issue. We will try to create a core youth generation through a toolkit for students.
In fact, more than 1,000 core students trained by this toolkit will become propagandists for friends and teachers around.
According to a report by UN Women, 76% of female students in 8 universities in Bangladesh reported being sexually harassed (2013 survey), 62% of students witnessed or experienced some form of violence. On the basis of gender at universities in Spain (done in 2016), 70% of women at Cairo University (Egypt) experienced sexual harassment in 2015.
Between 1995 and 2013 in the US, up to 80% of people who were raped and sexually assaulted on university campuses did not report the incident to the police. Globally, studies also show that the majority of women who experience violence (55-95%) do not disclose their violence or do not seek any services.
The reason why students do not seek help is because they are afraid of revealing their private story or being judged as the cause of the incident, fear of retaliation, not knowing where to find someone who can help, fear of teachers. Or the school doesn't help…
"So the fact that students do not seek support services when they are victims of violence is a common fact that exists not only among students, but also among older women, not only in Vietnam but in many countries. other countries in the world", said UN Women.