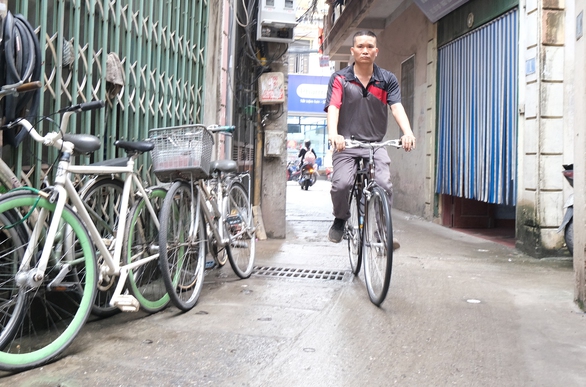 Since the day he was diagnosed with the disease, Mr. Tuan has been pursuing a healthy lifestyle, practicing sports and "becoming charming" with cycling – Photo: HA THANH
Although located in the small street of Quan Nhan (Hanoi), the bicycle repair shop of Mr. Nguyen Anh Tuan (33 years old) has become a familiar address to welcome many guests and members of the bicycle club. throughout the years. From the old bicycles to the new ones brought in, the shop owner easily "catches the disease" and is dedicated to repairing it.
Find the "gap" market
"Three years ago, the doctor diagnosed me with leukemia (a malignant form of blood cancer). At that time, I was very shocked and devastated because I was the main laborer in the house, taking care of my elderly mother and three children. But thinking about my own future, thinking about the future of my children, I have to fight with myself, I can't give up!" – Mr. Tuan recalls the biggest event in his life.
Having been born with a birth defect in movement, having difficulty walking, he now has to fight cancer. With the advice of the doctor, he revived his spirit of adherence to the treatment regimen, regularly going to the hospital every month for a general health check and targeted treatment (also known as targeted therapy – one of the most effective methods of treatment). cancer therapy using drugs that affect genes or specific proteins found in cancer cells that are involved in tumor growth). Since the day he was diagnosed with the disease, Mr. Tuan has been pursuing a healthy lifestyle, practicing sports and having a passion for cycling.
"I gradually changed my daily activities from a motorbike to using a bicycle. I joined the morning cycling team, when I cycled, I felt a lot stronger, my health improved, almost almost. Now no one knows I'm sick even though I still go to the hospital every month," he confided.
Sticking with the sport of bicycles, Mr. Tuan realizes that there is a "gap" in the Vietnamese market in terms of bicycle repair and maintenance services. In Hanoi, it is easy to find a motorbike repair shop, but it is really difficult to find a proper bicycle repair shop. Originally a mechanical engineering worker, but due to his health not being able to do heavy work, he decided to capture the market, converting from a motorcycle repair model to a bicycle repair model.
In response to the market's requirements, Mr. Tuan diligently researched and learned knowledge through books, websites, and YouTube. At the same time, he learned from the experiences of the brothers and sisters in the bicycle group, and listened to the experiences of the members. He confided that he was passionate about mechanics and was also used to repairing motorbikes, so changing jobs was not too difficult, there was no "disease" of bicycles that made it difficult for him.
Having acquired the skills like today, opening his own business, Mr. Tuan had to spend a lot of time working for repair shops and different companies to be sure of the technique. The good news spread far away, one person told the other about Tuan's bicycle repair shop, there was a guest from a far away province who also brought a bicycle to ask the boss to "catch the disease".
As a "true customer" of the shop, Mr. Nguyen Van Duy (35 years old) often brings his bicycle to the shop to "knock on" the shop for repair. "Knowing that Mr. Tuan specializes in mechanics and has worked in many large repair facilities, so he understands deeply about car repair, I trust his service choice and feel very secure to hand over my car to a mechanic. hard-handed" – Mr. Duy expressed.
Spread the green lifestyle
Next to the familiar "tools" corner, Mr. Tuan's face broods in front of the bicycle that has just been brought in. Although he has to fight illness every day, when he starts work, he seems to forget everything around him, focusing only on "catching illness" for his car. For the past three years, he has been working hard, finding joy in work to forget about illness, fighting for the future of himself and his family to have a better life tomorrow.
He said that on average, each car's repair and maintenance costs range from 250,000 VND / turn, he can repair 3-4 cars a day, calculating an income of 20-30 million VND per month. At the shop, Mr. Tuan also repairs cars for free for children or repairs bicycles for working aunts and uncles, she picks up bottles.
Not only opening a repair shop, Mr. Tuan also received instructions for students who are passionate about bicycles, helping them understand and understand the principles and operating principles of each part of the vehicle, how to operate them. Thanks to Mr. Tuan's guidance, many young people have been able to fix their own bicycles without having to go to a mechanic.
"I remember one time there was a guy who brought a bicycle he had been attached to for a long time to the shop for repair. He went to repair many places but was not satisfied and did not meet the requirements. After coming here to repair, he was satisfied again. For me, the biggest joy is spreading the green lifestyle, helping many people have old cars that have been left for a long time and don't know where to repair, so I can help restore them," said Tuan.
Recently, receiving support for a livelihood, Mr. Tuan used it to upgrade and purchase equipment to better serve his work. He purchased more bicycle repair posts, rim weights, battery-operated bolt openers… to increase productivity and repair quality of high-end bicycles, so that he could soon recover his capital and be able to afford it. High profits in a short time.
"Up to now, I can say that I am very confident with my job and believe that the job will continue to develop. The most desired now is that I have health to work, to continue my passion and care. take care of the family and the children" – Mr. Nguyen Anh Tuan wishes.
In Nhan Chinh ward, neighbors as well as guests who brought cars to the repair shop all commented that Mr. Tuan was quite tight-lipped. It was only when people around shared his difficult and hard life that everyone admired his tenacious will and energy.
Mr. Tran Chien, chairman of the Association of People with Disabilities in Nhan Chinh Ward, said that although he still has many burdens on his shoulders, he still has many burdens on his shoulders, including elderly mothers, small children and sick children, but Mr. disability.
"Mr. Tuan works both responsibly and with relatively good skills, being a bright example of the association, overcoming difficulties," said Mr. Chien.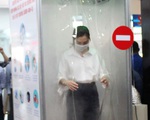 Using technology to 'fight' COVID-19