Broken rice with ribs – skin, a popular part of Saigon broken rice – Photo: GIA TIEN
More than 10 years ago, Saigon's broken rice dish had no rival on the common ground of "changing taste" dishes that were both cheap and very pure Vietnamese with traditional ingredients. 10 years later, a series of "popular" brands of Europe – Asia – America rushed to Vietnam, began to replace and form the eating habits of young people.
People who love broken rice are gradually decreasing, but spontaneous rice shops are still on fire, and the smell of fragrant grilled meat still makes people's hearts flutter.
Broken rice or rib rice is addictive
Perhaps from nameless and ageless rice shops, every day they welcome diners from all over the world, but people often call them dust rice, referring to popular rice, but mostly broken rice – a dish that you can also eat in the morning. Seen all over the streets, then late at night, want to eat broken rice, there are also places to sell, almost even the art world often eats late at night, filling their stomach with this rice dish.
From the day I "immigrated" to Saigon, dust rice is the thing that sticks with me the most. Being alone, but not knowing how to cook, the only option is to eat dust. At that time, the price of pork did not increase, so broken rice or rice with ribs was not only delicious (because almost all of them were grilled directly on the spot) but also cheap!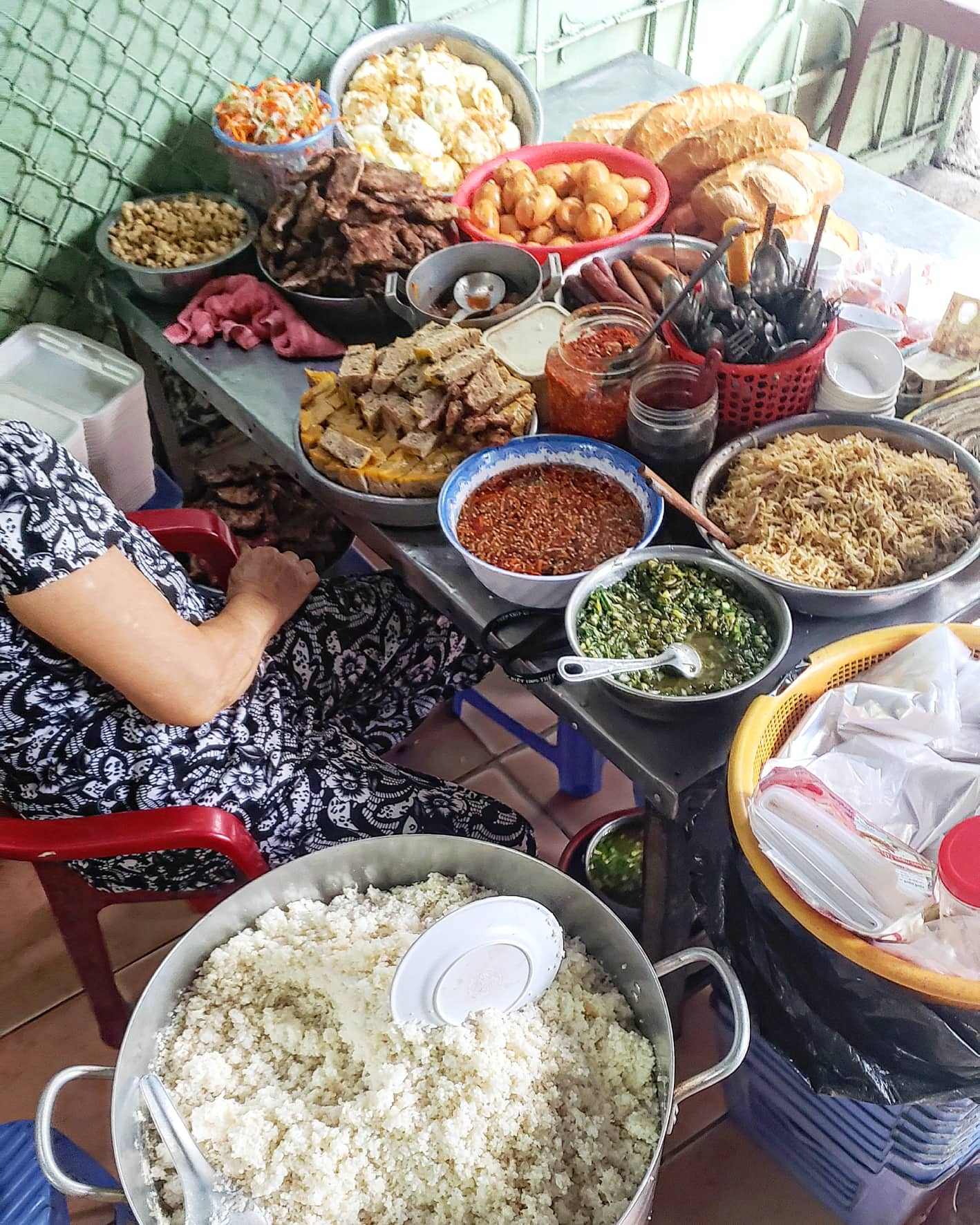 A popular broken rice restaurant for about 20,000 – 30,000 VND in Tan Binh district – Photo: GIA TIEN
Due to the Southern eating habits, I couldn't help but be addicted to the smell of sweet, thick fish sauce, adding a little crushed chili to mix, both enhancing the flavor and making the rice dish tasteless. becomes sweeter.
It is also true to say broken rice feeds a whole generation of wet feet from the countryside to Saigon, because wherever I go to eat broken rice, I also meet students! The strange thing is, maybe because I love this dish, and I eat it almost every day, so whenever a shop has just opened, or is famous, I stop by to try it. Actually not to do vlog, but to change the taste for… less bored!
Delicious broken rice is actually both easy and difficult. The main ingredient is still broken rice, but not everywhere sells quality broken rice. The grain of rice is small and medium, dry enough, must be flexible, not hard, to be delicious.
Fragrant flexible broken rice, just eat fish sauce with boiled chicken eggs, also feel delicious. As a result, some quality broken rice shops, sometimes forcing customers to order more rice, because a plate of delicious broken rice, with a few tablespoons of fish sauce and ground chili… has been eaten.
Dear rice shops
Before the translation, I still occasionally visit Ba Ghien broken rice on Dang Van Ngu street, now the shop still opens two apartments to invite enough customers to come. The rice here, compared to about 7-8 years ago, is almost the same from taste to… service.
The restaurant is crowded, the staff is working hard, so they are too indifferent to the customers. Many times have to call, have to wait a long time, the extra plate of rice is placed on the table.
In return, the grilled ribs here are among the most "epic" in Saigon, perhaps the hallmark of the shop. The rib is always a full fat cutlet, with the addition of the bone where the most spice is absorbed.
The rib is really big, although it doesn't absorb all the spices (the shop doesn't cut the carcass for flavor like some other shops) but in return, the unique fish sauce completely convinces diners.
Biting a piece of rib is worth the money, so every time my stomach is so hungry, my body protests for starch, there is no other way, I drive to Ghien. Later, there is Tu Map broken rice, also famous for its "to-go" ribs.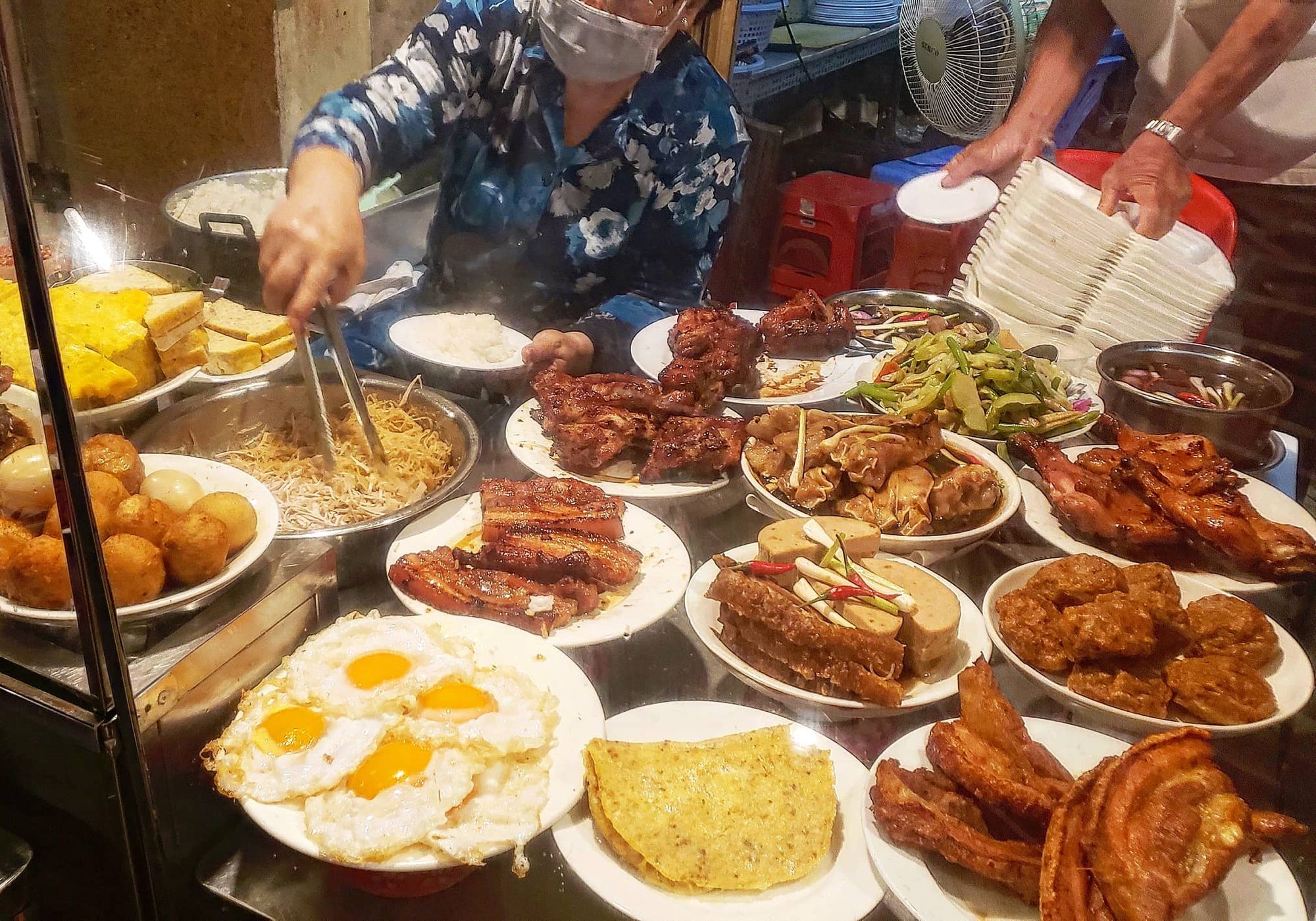 Broken rice shop in District 4 with many dishes for customers to choose from 5pm to 2am – Photo: GIA TIEN
In Saigon, especially at night, every few kilometers, a broken rice shop appears, which makes it easy to recognize from afar, is… the smoke emanating from the barbecue grills. Directly on site, outdoors. It provokes hungry stomachs, and at the same time obstructs the surrounding air.
In short, it's a specialty that's hard to describe, not exactly the best, but unforgettable. If you are in Le Van Sy area, you will not be able to ignore the broken rice shop in Tan Binh district, near the gas station.
It's called a shop, but there are only a few tables and chairs here. The shop is sold by a couple over 40 years old, quickly when there are many customers, waiting to spill out onto the street. The rice grain here is of good quality, the onion fat is also carefully slug, especially the spring rolls here are the best compared to the affordable price.
Of course, the ribs are still the main character: the marinated ribs are bold, although a bit small, but suitable for the affordable price. Another advantage, which makes the shop full of customers before 9 pm (opened in the afternoon) is the rich fish sauce, including chopped sour food.
Not only the familiar ribs, but later the broken rice shops also presented more ribs (or ribs), which is the rib meat, more or less meat is … depending on the seller because they have filterable.
Truong Chinh Street is famous for many broken rice shops, including tree ribs. Most of these shops focus a lot on quantity, so the quality is often uneven. Accompanying dishes such as sourdough, bacon or cha… will sometimes make you a little annoyed because it's… much worse than that delicious rib.
If you are afraid to eat charcoal grilled food, you can find a car that sells rice ribs properly on Ly Chinh Thang one-way street, just to Nam Ky Khoi Nghia. I don't know when the rice cart has existed, just know that since when I had a few friends who had the habit of going out to eat, they invited each other to go with each other, it must have been 5-6 years ago, then the rice cart has existed.
Only a single stainless steel table divided into 4-5 chairs, the owner's rice cart has persisted to this day. There is no pure grilled rib broken rice here, but rib broken rice, sometimes dry cooked sticky rice, very delicious.
Ribs are always heated, very rich, with fish sauce that can be called thick, the first time you eat it, you will definitely have to come back a second time. The car is only sold in the evening until 10 o'clock, and you have to look carefully to recognize her rice car, because it is located at the beginning of the alley, must be completely nestled to one side to avoid the road.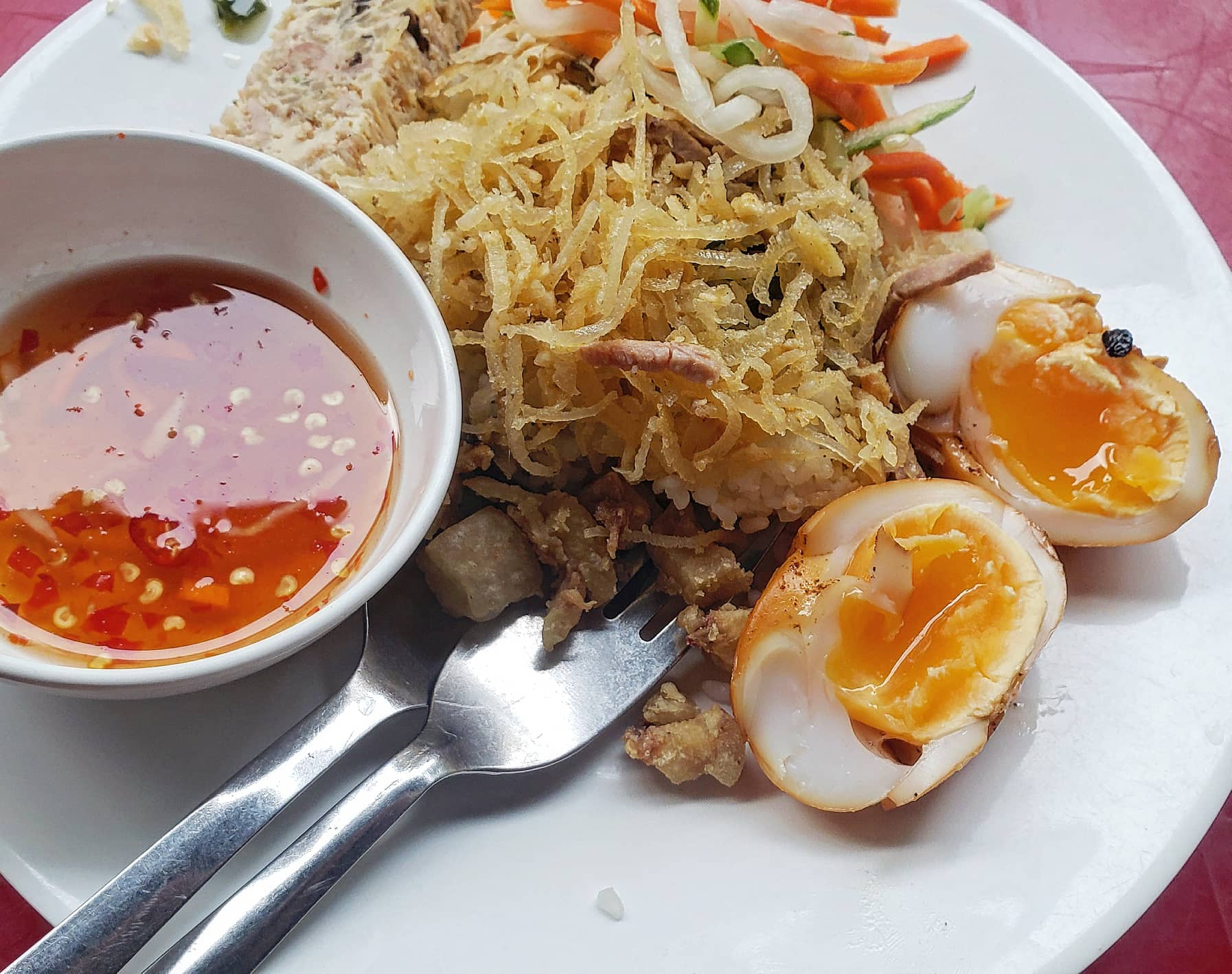 Broken rice – spring rolls, especially boiled eggs, cause "remembrance" – Photo: GIA TIEN
The taste of sugar dust
After a few epidemics, two years of dealing with changes, the price of pork increased, some restaurants closed, and the eating habits on the spot also decreased somewhat.
Broken rice or rib rice, in my opinion, must be the unmistakable taste of sugar dust. That is to eat with the car horn, the noise of the crowded city… instead of "having" to eat in the cold room of the more or less famous broken rice brands in the country today.
In the past, there was Cali broken rice, Moc broken rice, Thuan Kieu broken rice, later there was Phuc Loc Tho broken rice… although sometimes, I still order rice here through delivery software, but the feeling of eating Broken rice can not be replaced.
The better the broken rice, the more… not good for health. Going to eat broken rice, at least once you will hear very cute requests like: Give me burnt ribs; otherwise, diners ask for ribs with fat on the edges.
These are all extremely fragrant and delicious pieces of meat thanks to being slightly over-baked, but in return, the burned parts of the ribs, burnt fat… all contain too many risks for the digestive system, but the gallbladder. is one of the most attacked positions when the body is loaded with too much "residue" such as burnt, burnt…
Saying it out is not to boycott broken rice, because until now, I still have unconditional love for this exclusive Saigon rice dish (nowhere as delicious). It's just that if you find a broken rice restaurant, take the trouble to cut off the burnt edges, but the meat is still soft and moist with spices, quickly put it on the list of familiar restaurants.
And if the broken rice shops are no longer… popular anymore, then judge it by the quality and dedication of the seller. Some of the shops and restaurants that I mentioned above (and many others I can't remember), fortunately, all remove the fires, the burnt… so that the meal becomes round and memorable.
I heard the wind brake, eating dusty rice by the roadside, and then my person also became different, I don't know in a better or worse sense.
Just know that there are times when food reflects pure eating preferences, it does not completely represent a way of life, or human thinking. The richest person, the most knowledgeable, the most favored by the public, when craving, not baking, they must also come to this dish.
In the past, broken rice was eaten to save hunger, but now, sometimes eating it is to remember a strange taste in that, that flavor accompanies an unforgettable period of youth, of a Saigon back then…
Broken rice early in the morning is equally crowded
Breakfast shops usually only sell for no more than 10 o'clock, even many places spontaneously open from 6 am, but by 8 am, they have cleaned up. Freelancers, or have a habit of getting up late like me, sometimes still miss the morning cravings for broken rice with an omelet.
In fact, the concept of some people they will not choose to eat breakfast with… rice, including broken rice because in the morning dishes with broth such as vermicelli, pho, and noodles are still easier to conquer. Those who love to eat broken rice in the morning can be called "broken rice religion" – a simile of young Saigonese.
That's why the breakfast shops, either sell just enough quantity to clear the goods early, or they will sell other popular dishes for lunch, to fill the rental space, and serve more customers. office worker statue.