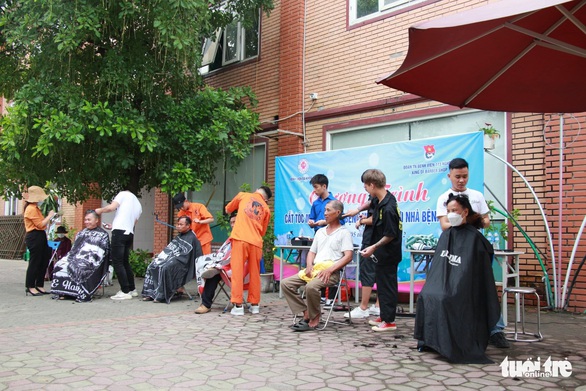 The small courtyard corner at 115 Nghe An General Hospital becomes a free mobile barber shop for patients – Photo: NGUYEN ANH
– Would you like a shorter haircut?
– Did you like this hairstyle? Let me cut a little more to make it pretty!
The question and answer and the laughter of the barbers throbbed in a small corner of the courtyard at 115 Nghe An General Hospital, attracting everyone's attention.
It is a "free mobile hair salon" opened by the Hospital Youth Union and the barbers of three hair salons in Vinh City on the weekend. Scissors have become the cutting point for the patients.
A few days ago, Mr. Tran Nhu Hoa – 70 years old, living in Hoa Lac commune, Duc Tho district, Ha Tinh province – listened to the radio system about the free haircut program, so he came very early.
Having been treated at the Department of Oriental Medicine and physiotherapy for a week to practice rehabilitation after a fall and broken arm, Mr. Hoa confided that his hair had grown for a month now, many days he wanted to cut it neatly, but he was busy with work. this and that can't go.
"Now that I'm in the hospital for treatment, I can cut my hair and shave on the spot, completely free of charge, I'm very happy," said Mr. Hoa excitedly.
Mr. Dinh Cong Manh – leader of the barber group – said this is not the first time young people have done this job. Manh also had a father who was a patient at the hospital a few months ago, so he understands the psychology of long-term patients who need to be taken care of a part of the "human side".
"The program aims to spread the spirit of solidarity to the patients; exchange between barbers and beauty salons and finally an opportunity to improve skills and forge the skills that our group has developed. It can be done in many places, especially in two big hospitals in the province," Manh confided.
In order to facilitate patients with mobility difficulties, the scissors have moved to some treatment departments to cut hair at the patient's bed. On this occasion, the youth union members of the emergency resuscitation department washed their hair for free for serious patients after getting a haircut.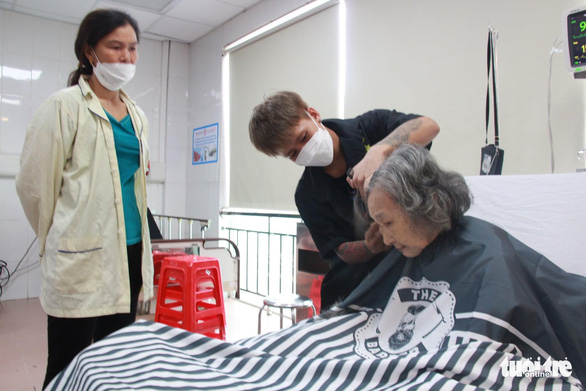 The barber came to the hospital bed to cut the old man's hair – Photo: NGUYET ANH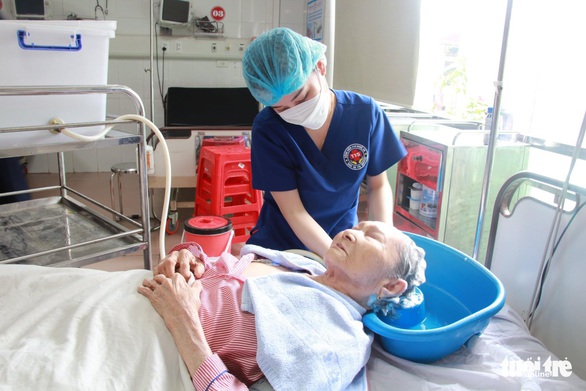 Staff of 115 Nghe An General Hospital washing hair at the hospital bed for the elderly – Photo: NGUYET ANH