With inflation in the euro area expected to rise by at least 10% in the coming months and the risk of further consumer price hikes, it is more likely that the European Central Bank (ECB) will raise interest rates further. 0.75 percentage points in the meeting on September 8 (local time).
Inflation in Europe hit 9.7% in August and energy costs continue to rise. The 9.7% inflation rate is a new record high and much higher than the 2% target set by the ECB, increasing pressure on the ECB to raise interest rates.
At the same time, the risk of an economic recession is threatening the region as consumers have clearly felt inflation and reduced spending while many companies struggle because of high energy prices.
Ms. Agnès Belaisch, strategist at Barings Investment Institute (USA), said: "This week's big interest rate hikes won't be able to rescue the euro. A recession is ahead and concerns about geolocation. politics is uncontrollable".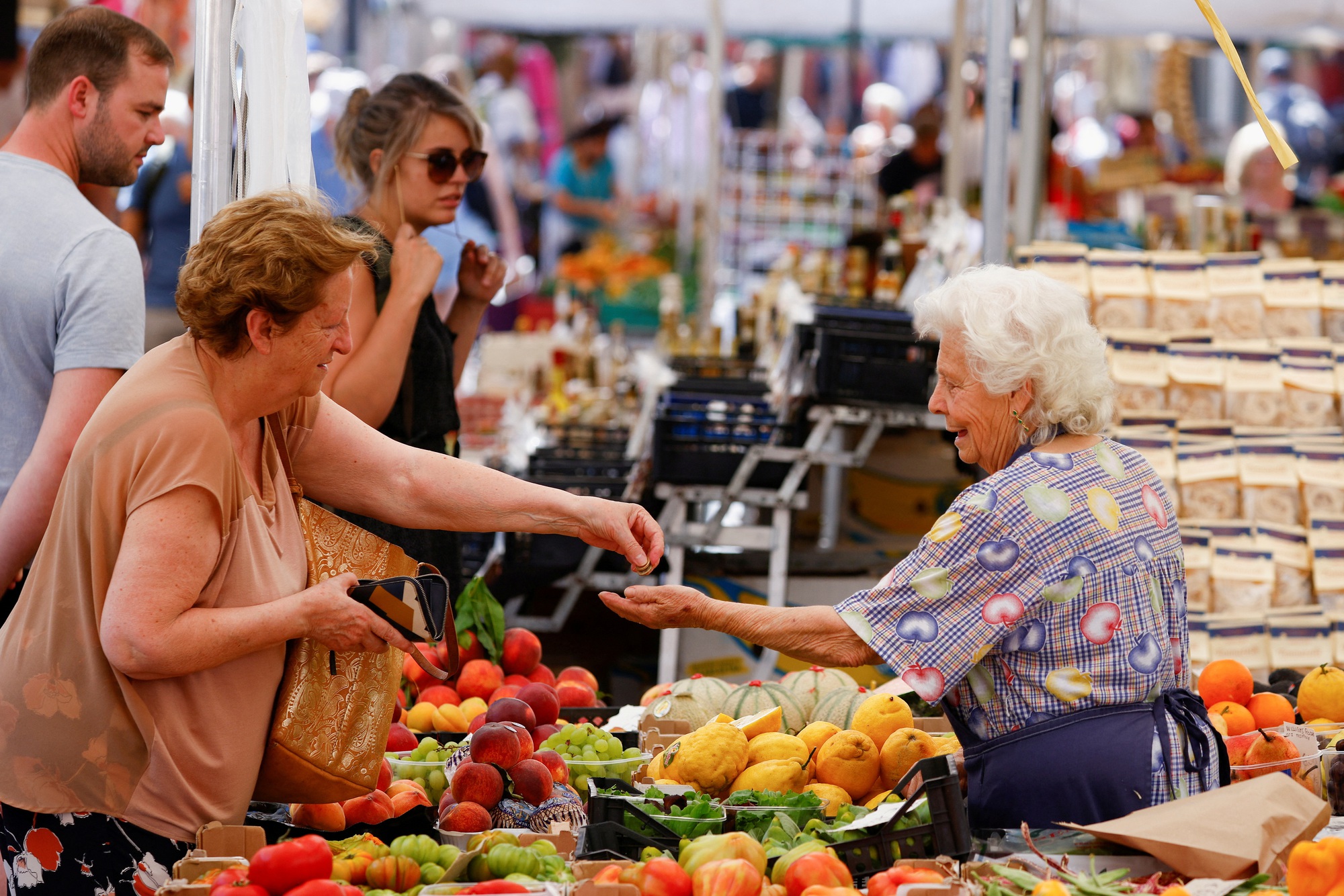 Customers shop at Campo de 'Fiori market in Rome, Italy. Photo: REUTERS
Investment bank Goldman Sachs (USA) also forecast that the euro price will fall to 0.97 USD and maintain around this threshold in the next 6 months. Meanwhile, Capital Economics (UK) has revised its forecast for the euro price to $0.9 for next year, down 9% from current levels.
Not only the European region, the central banks of Canada and Australia are also expected to raise interest rates this week. Observers also forecast that the US Federal Reserve (FED) will continue to raise interest rates by 0.75 percentage points for the third time in a row this month. Most of the global stock markets fell on September 6 due to worries about the Fed's tightening monetary policy.
Not only the European economy is forecasted by experts that are less optimistic, the Asian economy is equally bleak. Nomura Financial Group (Japan) once again lowered its growth outlook for the Chinese economy this year due to the impact of the Covid-19 epidemic.
According to a report by a research team led by chief economist Nomura Ting Lu, about 12% of China's gross domestic product (GDP) was affected by the epidemic prevention regulations as of September 6, up from 5.3% last week.
According to CNBC, Nomura lowered its GDP growth forecast for the world's number two economy from 2.8% to 2.7%. In its previous report on August 17, Nomura also downgraded China's growth forecast for the third and fourth quarters of this year.
According to CNN, China's "No Covid-19" campaign, including testing and blockade, has adversely affected the overall economy but has helped test kits manufacturers get a bumper boost. China's top 12 Covid-19 testing companies recently announced significant increases in both revenue and net profit in the first half of this year.
Meanwhile, inflationary pressures due to rising energy costs are evident in Indonesia. Indonesian President Joko Widodo said on August 7 that he had asked provincial governments to use local budgets to control transport costs and combat the inflationary impact of last week's fuel price hike.
Earlier, President Widodo on September 3 announced an increase in the price of subsidized fuel by about 30%, sparking protests across the country. According to the news agency ReutersMr. Widodo said that inflation will increase by 1.8 percentage points if the Indonesian government does not act.
Indonesia's inflation rate rose to 4.69% in August, near a seven-year high and above the central bank's target for a third straight month as food prices rose.