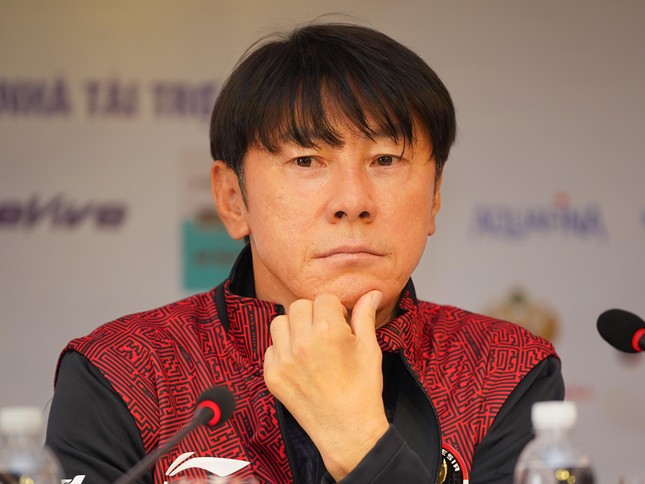 After 2 matches of Group F in the Asian U20 qualifying round, Vietnam and host Indonesia both have the same points and difference. Therefore, the last match between the two teams will decide the direct ticket to the 2023 AFC U20 Championship.
Before this match, the Indonesian press was concerned about the bad confrontation record of coach Shin Tae-yong against Vietnamese teams. They think that the Korean strategist must do his best to win this reunion.
"Since working with Indonesia at the end of 2019, coach Shin Tae-yong has faced Vietnam 4 times at team levels. In 4 matches, Shin Tae-yong has never won a match." , CNN Indonesia wrote.
This newspaper also recalled the only meeting between Vietnam and Indonesia in the Asian U20 qualifier, formerly known as U19. That match took place in 2007 in Vietnam, Indonesia won with a score of 2-0.
However, in the framework of Southeast Asia, U19/U20 Indonesia often has bad results every time they face Vietnam since 2003 until now.
"The remaining matches between the Indonesia U19 team and Vietnam take place at the Southeast Asian level. Both teams have met a total of 7 times. Of these, Indonesia has only won 2 times, drawn 1 and lost 4 times. The last match took place recently, when both teams drew 0 goals in the group stage of the 2022 Southeast Asian U19 tournament", Indonesian press statistics.
Head-to-head statistics U20 Indonesia vs U20 Vietnam
2003: Indonesia 0-3 Vietnam (AFF Cup group stage)
2010: Indonesia 2-0 Vietnam (Asian Cup group stage)
2011: Indonesia 1-6 Vietnam (AFF Cup group stage)
2013: Indonesia 1-2 Vietnam (AFF Cup group stage)
Indonesia 0-0 (7-6) Vietnam (AFF Cup final)
2017: Indonesia 0-3 Vietnam (AFF Cup group stage)
2018: Indonesia 1-0 Vietnam (AFF Cup group stage)
2022: Indonesia 0-0 Vietnam (AFF Cup group stage)