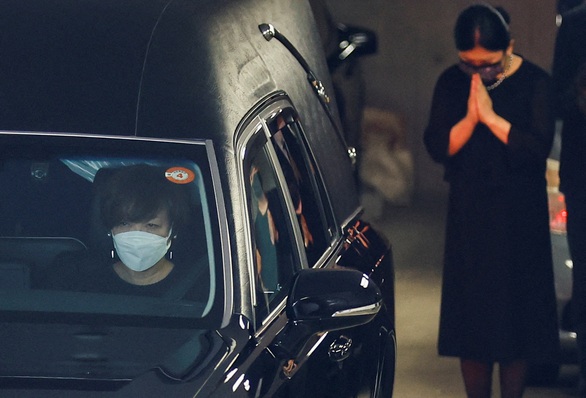 Abe Akie, wife of the late Japanese Prime Minister Shinzo Abe, sits on a hearse carrying her husband's body to Zojoji temple, Tokyo, Japan on July 11 – Photo: REUTERS
Details of the national mourning will be decided based on his family's wishes. The government will also consult the ruling party coalition before seeking approval from the Japanese cabinet for Abe's national funeral, NHK reported on July 20.
Abe will be the second late Japanese prime minister to receive a state funeral since the end of World War II. The first was the late Prime Minister Yoshida Shigeru, who died in 1967.
NHK also said that some opposition lawmakers in Japan had opposed holding a national mourning for Mr. Abe, and said they were concerned about doing so.
The Japanese government said it would further explain to the public why it decided to hold a national mourning for the late Prime Minister Abe.
Earlier, on July 14, Prime Minister Kishida Fumio announced that the government plans to hold a national mourning for Abe this fall. Mr. Kishida also cited Mr. Abe's achievements in domestic politics and diplomacy as the reason for holding the national mourning.
He praised Mr. Abe's leadership ability while serving as prime minister for a total of 8 years and 8 months. Mr. Abe is Japan's longest serving prime minister.
Prime Minister Kishida said Abe had played an important role in rebuilding the northeastern region of Japan after the 2011 earthquake and tsunami.
According to Mr. Kishida, the late Japanese prime minister helped revive the Japanese economy and achieved many important achievements in the field of diplomacy, with the Japan-US alliance as the mainstay.
Abe's funeral was held privately at Zojoji Temple, attended by family and close friends at noon on July 12. The body of the late Prime Minister Abe was cremated in Tokyo on the afternoon of the same day.
Mr. Abe was assassinated at noon on July 8 while campaigning for a candidate of the Liberal Democratic Party (LDP) in Nara city, capital of Nara prefecture, western Japan. He collapsed after two gunshots, then died in hospital at the age of 67.