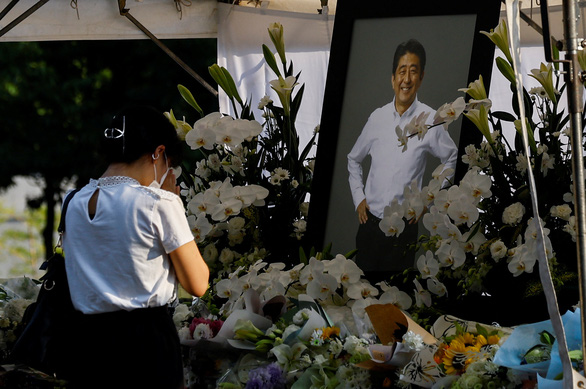 People bow to the late Japanese Prime Minister Shinzo Abe inside the Zojoji temple in Tokyo, Japan on July 11 – Photo: REUTERS
Suspect Tetsuya Yamagami, 41, an unemployed former soldier, approached Abe with a homemade gun at close range and shot him dead while he was giving a speech on the street in Nara Prefecture on July 8.
Theo Nikkei and many other media in Japan, the court in Nara Prefecture, the western province of Japan where the suspect also lives, said it had accepted the prosecutor's request that Yamagami needed a psychiatric evaluation.
Theo Nikkeithe evaluation process will end on November 29 and will determine if Yamagami will be prosecuted for the act of shooting and killing.
The late Prime Minister Abe was born on September 21, 1954 in Tokyo, into a family with strong political traditions. He has been in Japanese politics since 1993 and is the longest-serving prime minister in Japan, surpassing Prime Minister Eisaku Sato's record.
Mr. Abe was twice Prime Minister of Japan and also twice resigned as prime minister due to health reasons.
In September 2006, he was elected Chairman of the Liberal Democratic Party (LDP) and was elected by the National Assembly as the 90th Prime Minister of Japan on September 26 of that year. At that time, he was only 52 years old and was the youngest prime minister of post-war Japan. In September 2007, he resigned as prime minister due to health reasons.
On December 26, 2012, Mr. Abe was officially appointed as prime minister after a vote in the National Assembly. In August 2020, he once again resigned as prime minister due to health reasons.
The Japanese government has decided to hold a national funeral for the late Prime Minister Abe Shinzo on September 27.