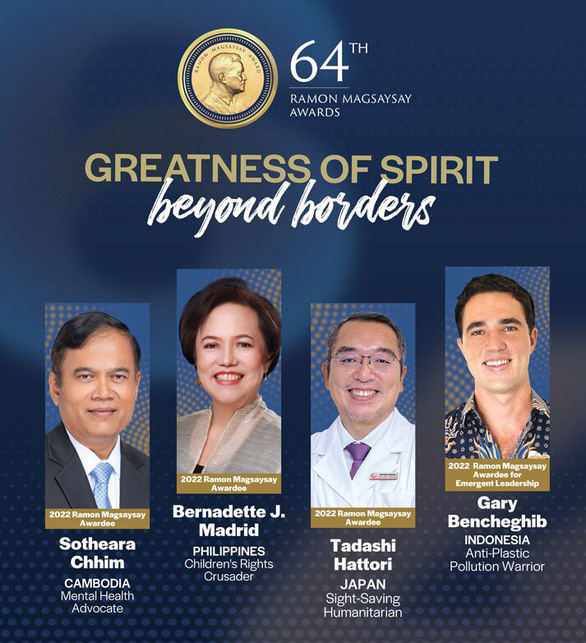 The winners of the Ramon Magsaysay Award 2022 – Photo: Ramon Magsaysay Foundation
The Ramon Magsaysay Prize Foundation, known as the "Asian Nobel", announced the four winners of this year's prize through an online event on August 31. The award ceremony will be held in person in Manila, Philippines, in November 2022.
According to AFP news agency, one of the winners is Cambodian psychiatrist Sotheara Chhim, who survived the Pol Pot genocidal regime. He worked through his own pain and then treated other victims.
Organizers of the Ramon Magsaysay Awards honor "his courage and composure in overcoming deep trauma to become a healer for people".
Mr. Sotheara Chhim has also testified at the United Nations-sponsored trial of high-ranking leaders of the Pol Pot regime.
"I was traumatized by being a victim of the Khmer Rouge, but helping the survivors also helped me heal myself," he said in an interview in 2017.
Ramon Magsaysay is an annual award, established in 1957 and named after the president of the Philippines who died in a plane crash.
Dubbed the "Nobel Prize of Asia", the Ramon Magsaysay Prize aims to honor those who have "selflessly served the development of the peoples of Asia".
This year's award also honors French environmental activist and filmmaker Gary Bencheghib (27) for his efforts to clean up Indonesia's polluted water sources. Bencheghib and his brother built a kayak made of plastic bottles and bamboo to pick up trash in the Citarum, one of the world's most polluted rivers.
Filipino doctor Bernadette Madrid, 64, was also awarded for setting up child protection centers across the Philippines to help victims of domestic violence.
Meanwhile, Japanese ophthalmologist Tadashi Hattori (58 years old) was awarded for performing free eye surgeries in Vietnam. The Magsaysay Award Foundation appreciates Dr. Hattori's dedication, noting that he has "shown the social responsibility of each individual".