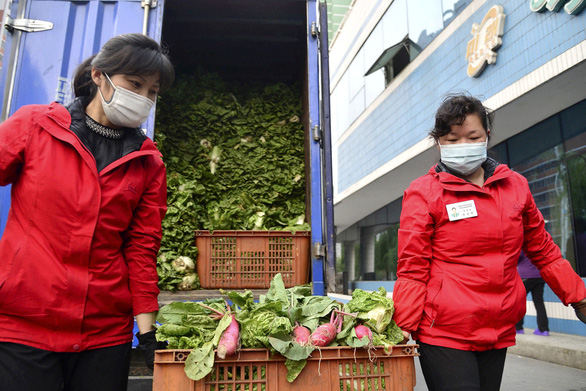 North Korean workers wear masks and gloves to bring tubers to stores and distribute them to people – Photo: REUTERS
According to the Korean Central News Agency on May 20, North Korea recorded an additional 263,370 cases of fever and two deaths in 24 hours, bringing the total number of fever-symptomatic cases in the country to 2. 24 million cases, including 65 deaths.
North Korea has not reported how many cases of fever symptoms have tested positive for COVID-19, according to Reuters news agency.
Despite being in the first wave of the outbreak, North Korea said the agricultural industry is still operating, factories are still producing.
"Despite the state of maximal epidemic prevention and control, normal production activities are maintained in key industrial fields and large-scale construction projects are still being promoted," KCNA said. .
"Positive results have been reported regularly in the ongoing anti-epidemic fight," the North's official news agency added.
The increase in cases and the lack of medical supplies, including vaccines, have raised concerns from the World Health Organization (WHO) that there may be a higher risk for the emergence of variants. new in Korea.
On May 17, WHO Director-General Tedros Adhanom Ghebreyesus also expressed deep concern about the further spread of the COVID-19 epidemic in North Korea.
"WHO is deeply concerned about the risk of further spread of COVID-19 in the country, especially because of the unvaccinated population and many people with underlying medical conditions that put them at risk of severe illness and death." Mr. Tedros said.
The KCNA said that factories in the country are producing more medicines, thermometers and other medical supplies in the capital Pyongyang and surrounding areas. There are also more isolation areas and increased disinfection across the country.