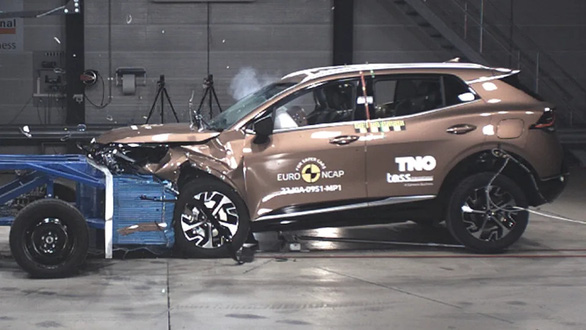 Both the international lineup of Hyundai and Kia launched in the recent period have met the maximum safety standards – Photo: Euro NCAP
Kia Sportage 2022 – the latest generation of the flagship SUV from the Korean brand – this week was simultaneously awarded the highest 5-star rating by Euro NCAP (Europe) and ANCAP (Oceania).
ANCAP accepts the verification results of Euro NCAP, when Kia assures that the quality of the SUV in Europe is no different from the version opened for sale in Australia.
According to the scores announced by Euro NCAP, Kia Sportage 2022 scored 87% in both the adult and child safety categories, 66% in crash protection and 74% in the safety assist technology segment. .
Kia Sportage is Kia's next model to be certified with the highest safety standards
The assessment from the crash testing organization confirms that the SUV has the ability to protect users well when both the passengers in the car and the car are hit with a low risk of injury. They also commend the front-seat central airbag (located in the center console like the Hyundai Tucson) to ensure that the two front-row occupants do not collide when the car shakes suddenly due to a collision.
Automatic emergency braking on Kia Sportage 2022 is also good, but only at speeds below 60 km/h. Another limitation of the car is that the ability to protect the driver's chest is only acceptable in full frontal collisions and partial hip collisions.
Also in this test, Euro NCAP also announced the results of many other models in the region, which stood out, and most disappointingly, the BMW i4 received a 4-star rating because the unexpected category was technology. – which is a strong point of luxury car manufacturers in general and BMW in particular.