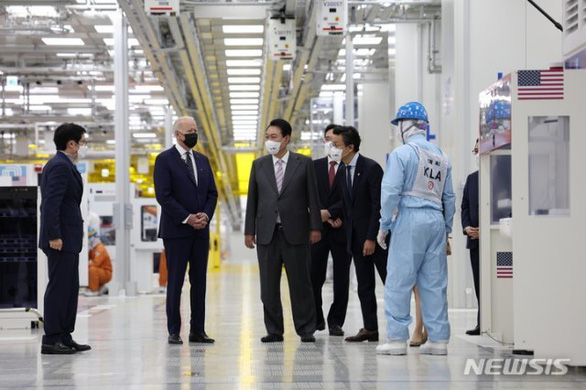 US President Joe Biden and his South Korean counterpart Yoon Suk Yeol at the semiconductor factory of Samsung Group in March 2022 – Photo: NEWSIS
According to Yonhap News Agency, South Korean President Yoon Suk Yeol told reporters on the morning of August 8 that his government is cautiously considering joining the semiconductor alliance.Chip 4along with the US, Japan and Taiwan.
The Korean Ministry of Foreign Affairs revealed that the country will participate in a preliminary meeting with the "Chip 4" alliance scheduled to take place in late August or early September. They will decide specifically on whether or not Korea will join "Chip 4" after this meeting ends.
In addition, the Korean side is also extremely sensitive to the phrase "semiconductor chip alliance" and said it will replace the above phrase with the term "semiconductor supply chain cooperation partner".
In fact, the US is holding the original technologies in the field of semiconductor chips, while Korea, Japan, and Taiwan own the world's leading semiconductor chip manufacturing technology. Therefore, the establishment of "Chip 4" will bring this 4-party alliance to dominate the global semiconductor supply chain.
However, China is a major trading partner and the largest exporter of semiconductor materials to South Korea. They are also a supplier of many of the raw materials needed to make chips, batteries and other key exports to South Korea.
Therefore, South Korea is in an awkward position when it comes to choosing between its longtime ally the US and its biggest trading partner, China.
Korean experts also acknowledge that the country's government's participation in "Chip 4" is inevitable, however, it is necessary to devise a parallel strategy to maintain a stable relationship with China to limit it. economic losses for Korean businesses.
According to the economic daily MaelIn 2021, Korea's semiconductor chip export turnover will reach 128 billion USD, of which 50.2 billion USD (accounting for 40%) is exported to China.
Earlier, speaking at a press conference on July 20, South Korea's Minister of Science, Information Technology and Communications Lee Jong Ho said that the country should be cautious in its decision to join the "Chip 4" alliance.
In addition, according to the JoongangTaiwan's presence in the list of proposals to join "Chip 4" and especially Taiwan's participation in the upcoming meeting will be a big problem. Especially since the recent visit of US House of Representatives Speaker Nancy Pelosi to Taiwan has increased military tension between the US and China.
"Chip 4" is a dialogue mechanism on semiconductor chip supply chain initiated by the US in March 2022, in which the word "Chip 4" refers to 4 "big players" in semiconductor chips, namely the US, Korea, and Japan. Ban and Taiwan.
This is believed to be a move to deal with the risk of disruption to the chip supply chain related to China, sparking a wave of protests from Beijing.
China is focusing on developing the semiconductor chip field to be self-sufficient in this technology. On the contrary, the US is also working to prevent semiconductor chip technology, as well as other technologies, from falling into Chinese hands.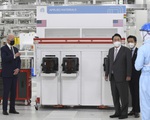 Alliance 'Chip 4' and opportunities for ASEAN