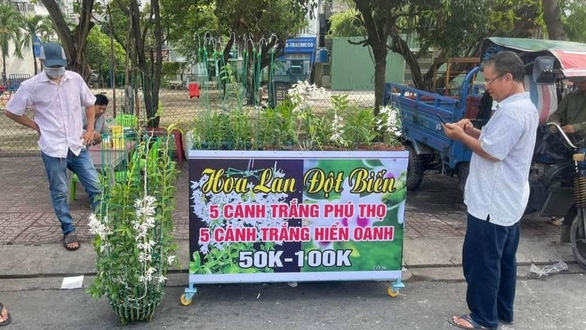 Lan suddenly went to the intersection of Cau Trang Park (Binh Tan District, Ho Chi Minh City) with a price lower than many industrial orchid pots – Photo: TR
After more than a year, many orchids worth billions and hundreds of millions of dong fell miserably, down to the price of several million, several hundred thousand dong. Prices fall from bottom to bottom, many mutant orchids have lower prices than industrial orchids.
At the intersection of Cau Trang park (Binh Hung Hoa A ward, Binh Tan district, Ho Chi Minh City), Mr. Vo Thanh Rin, a mutant orchid player, brought many flowers to the street to sell.
"I sell mutant orchids like five white petals Phu Tho, five white petals Hien Oanh… for a few hundred thousand dong/pot, with flowers so anyone can buy and take care of them," said Rin. .
At a tough time
As noted, many people who are stuck on mutant orchids are "breathing oxygen" because of their due debts.
Mr. D., a mutant orchid player in Dak Lak, said that in mid-2020, he spent 50 million VND to buy two white five-petaled Phu Tho sprouts, one Hien Oanh white five-petal sprout and one Hong Yen Thuy sprout, then send it back to the owner of the garden. At the end of the year, he sold and earned up to 300 million VND.
Super huge profit, Mr. D. mortgaged his house with more than 5 billion VND to invest in a sudden spread. The garden owner is committed to how much profit. The price of orchids then gradually dropped, by mid-2021, the garden owner told him to come in and take care of the plants, not taking care of them anymore.
"The due date is coming, but I don't know where to turn to pay the debt," said Mr. D.
At the moment, the consequences of the new mutant orchid are clear when the bank's maturity is coming, many people mortgage their houses "in" and the mutant orchids are "shaking".
Mr. B. (in Hanoi) said that he owes more than 20 billion VND, the mutant orchid garden used to cost hundreds of billion VND, now the price cannot be determined. In a closed group of friends playing lan, more than 30 people are also in debt of billions like Mr. B..
"It's really too fierce right now, at the end of 2021, even though the spread is falling, there are still prices and buyers, now selling for free. Bank interest is still difficult to say to pay the principal. Many people lost their homes this time." , Mr. B. said.
Mr. V., a gardener in Quang Ngai, is selling his entire mutant orchid garden. The price drops suddenly spread, Mr. V. caught the bottom, but the more he caught, the more he broke.
"I bought the white pentagram Snow White from the price of 1.2 billion VND/kie (newly nursed seedlings), down to 500 million VND/kie, then down to 5 million VND/kie. Now for sale 1 million VND/kie that no one bought," he said.
Mutant orchids no longer measure centimeters
Currently, many mutant players try to remove any coin or coin with auctions on Facebook, but it is not very effective. Mr. Duy Pham, an orchid garden owner in Quang Ngai City, left the orchid garden to work on another job.
"I just water and take care of it as a hobby. With the current price of orchids, the money for fertilizer is even higher than the money for selling orchid pots," Mr. Duy Pham said.
Currently, the world of mutant lan players no longer measures centimeters to calculate money as before, but sells kies. The trees that used to cost from a few tens to hundreds of millions of dong/cm like Hong runner, Hong Minh Chau, white five-petaled Snow White… cost a few hundred thousand to 1 million dong/kie.
As for the peak time with the price of tens of billion dong/kie like Co Do, Bao Duy, Pleyku's eyes… now for sale for a few tens of millions of dong, no one asked. The "national" trees like Phu Tho, Hien Oanh… cost only a few thousand VND/cm or a few tens to several hundred thousand VND/big pot of finished products.
Many "big hands" who were identified as making trillions of profits from the mutant bubble spread, have now blocked people who are not friends from commenting because they constantly receive bad words.
Many players have accepted the fact that the mutant spread has collapsed, many people still linger in faith because they have lost too much. But the fact that this flower goes to the street to sell at a reasonable price, it is difficult for the mutant orchid to skyrocket again.