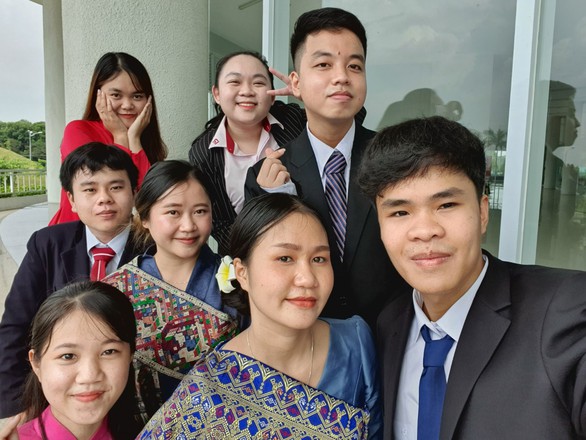 Sivanxay Thanva (right cover) and classmates after a presentation – Photo: NVCC
That is the confession of Lao international students studying in Vietnam when talking about their journey of "going for a day, learning a wise sieve".
According to Lao Ambassador to Vietnam Sengphet Houngboungnuang, there are currently more than 14,000 Laotian international students studying and studying at different educational institutions throughout Vietnam.
Mr. Sengphet Houngboungnuang highly appreciated the quality of human resource training of Vietnam for Laos in all fields.
Want to experience?
Phailin Kingvongsa (born in 2001) – a student of civil engineering, Danang University of Science and Technology – said that 4 years ago, when you entered Laos university and then received a scholarship to study in Vietnam, you did not lose take a lot of time to decide whether to study abroad.
"My grandfather is from Quang Binh. I know that studying in Vietnam will give me a lot of experience. Vietnam is much more developed than Laos, so I want to come to Vietnam to study to help my country be like Vietnam," said Kingvongsa. Confided in a special Quang Binh voice.
Kingvongsa said that in the first years, Lao students were all a bit weak in Vietnamese, while the curriculum was entirely in Vietnamese, so all had to work very hard, especially with subjects with difficult to understand specialized words. .
If you don't understand something, you have to re-study it yourself or ask more teachers or friends after the class. "Everyone is very supportive," said Kingvongsa.
"There are many brothers and sisters in the previous class who have finished their studies and come back to their home countries to work in the right profession. Thanks to their good Vietnamese speaking skills, they also work or collaborate with many Vietnamese companies in Laos. I plan to continue my master's degree in Vietnam and then return to Laos to work, most likely in my family's construction company," said Kingvongsa confidently.
Agreeing with Kingvongsa's comment, Bounthavy Sisane (born in 1999), graduated from the Faculty of Banking and Finance (Banking Academy, Hanoi), currently in Laos, said that Vietnamese friends in the same class, the same faculty. , in the school's karate club are very friendly and enthusiastically support international students in matters of life and study.
Sisane has also registered to continue studying for a master's degree in banking and finance in Vietnam. While waiting for admission, you work as a Thai – Vietnamese translator for a Vietnamese fashion company.
Sisane said that there are many opportunities to work for international students because there are many Vietnamese companies expanding the market to Southeast Asia, especially Thailand, so they need interpreters.
This job allows you to gain more experience while still making your education a priority.
Not officially graduated, but Sivanxay Thanva (born in 1997), international relations student at University of Social Sciences and Humanities (National University of Ho Chi Minh City), has been working with an education company in HCMC.
Thanva said that she wants to try out suitable jobs in Vietnam first, if she does well and does a good job, she will work in Vietnam to gain experience before returning home.
Vietnam is the second home
"If I go back to Laos, I will miss the food, the people and the Vietnamese students very much," Thanva said.
Having lived in Ho Chi Minh City for more than 4 years, Thanva said she likes life in the city named after Uncle. According to Thanva, in Ho Chi Minh City there is a vibrant life, a lot of goods and services and many opportunities to work and do business.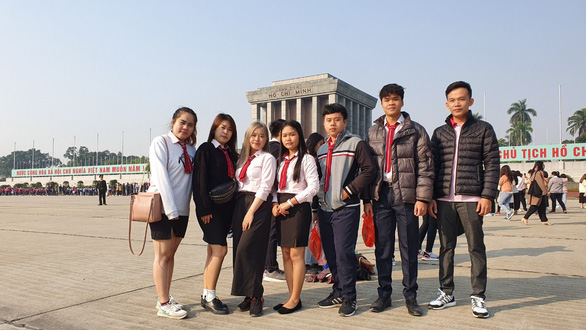 Sivanxay Thanva (2nd from the right) and his classmates went on a field trip to the North of Vietnam, during this trip they visited the Ho Chi Minh Mausoleum in Hanoi capital – Photo: NVCC
You said that coming to Vietnam to study and interact with many Vietnamese people is an opportunity for me to feel and test the good things about Vietnamese people in the eyes of Lao people.
"In the eyes of the Lao people, the Vietnamese are very industrious, hard-working, good at doing business, trading and persistent. I can say that the Lao people really like the Vietnamese people, consider the Vietnamese as brothers, help and accompany the Lao people," Thanva said.
Thanva's family has 3 brothers and all three are living and studying in Ho Chi Minh City.
"My brother is studying for a master's degree in Economics and my brother is studying Vietnamese to prepare to study Electrical Engineering, possibly at the University of Technical Education. My parents are very proud because all three of us went to school in Vietnam," Thanva proudly shared about her family.
Lao students consider Vietnam as their second homeland.
"Laos and Vietnam share a history of fighting against foreign invaders, having great friendship, special solidarity and comprehensive cooperation built up through generations of leaders.
I hope the two countries will always love each other, maintain brotherly solidarity, help each other, maintain good relations, and build and develop society together," Thanva wished.
Taste of Laos in Vietnam
Lao students in Ho Chi Minh City said that there is a "definitely good" Lao restaurant in HCMC, but eating at restaurants is expensive, so it is difficult to eat regularly.
Moreover, every day when you return to Laos, you will remember broken rice, vermicelli with shrimp paste, Hue beef noodle … of Vietnam, but in daily life, if you eat Vietnamese food often, you will remember Lao food.
The Laotian student community in Ho Chi Minh City has set up a Facebook group so that in addition to information and announcements about life and work, they also announce the cooking schedule to sell to each other for about 25,000 VND / dish.
In places where there are Lao students such as Hanoi, Da Nang, provinces, etc., everywhere, some of you often come back and bring to Vietnam a lot of goods and dry food such as Lao instant noodles, sausages, oil. Laotian wind, dried pork, beef… to use and sell to compatriots.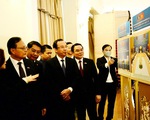 60 years of Vietnam – Laos solidarity and love