Technology businesses, especially e-commerce platforms today attract employees not only because of the dynamic working environment, which offers many development opportunities, but also by the beautiful and bold working space. private and luxurious-smooth. Recently on September 19, Southeast Asia's leading e-commerce platform Lazada opened a new office located in the most famous technology building in Hanoi, Capital Place. With the right spirit of "joining at will", Lazada's new office is inspired by 36 streets in Hanoi, making young people fall in love.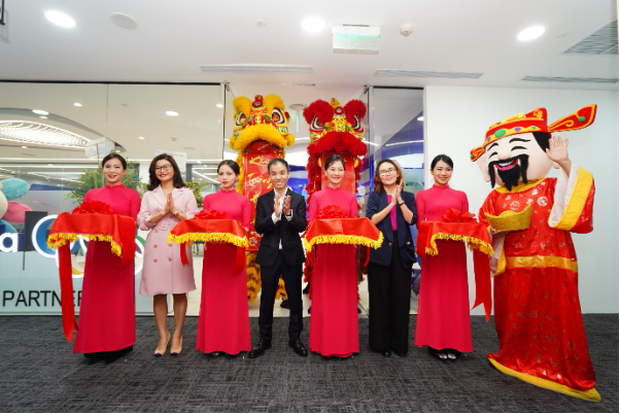 On September 19, Lazada officially opened a new office at Capital Place building, 29 Lieu Giai, Hanoi
The office was built with the inspiration of a combination of the traditional features of the land with a thousand years of civilization, and the modern style typical of technology businesses, with many modern equipment to serve customers. work and even relaxing moments every day of the employees.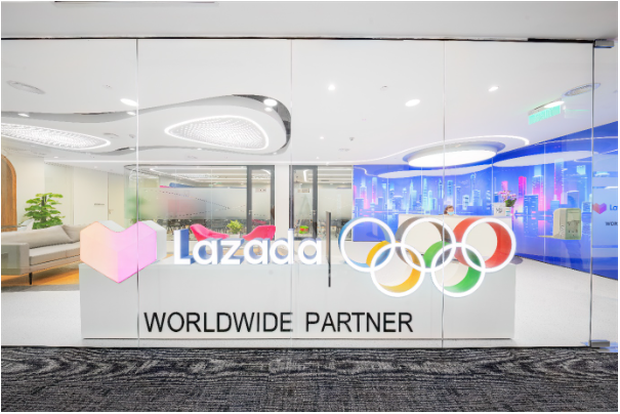 The reception area features colorful arrays of digital lighting and next to it is a symbol representing Lazada's 10-year cooperation with the International Olympic Committee.
Right from the moment you step into the reception, you will be amazed by the eye-catching colors of Lazada's signature colors on the main wall. Besides, the ceiling with the highlight of the future-oriented lights is the perfect combination, clearly showing the dynamic spirit and trend of the e-commerce industry.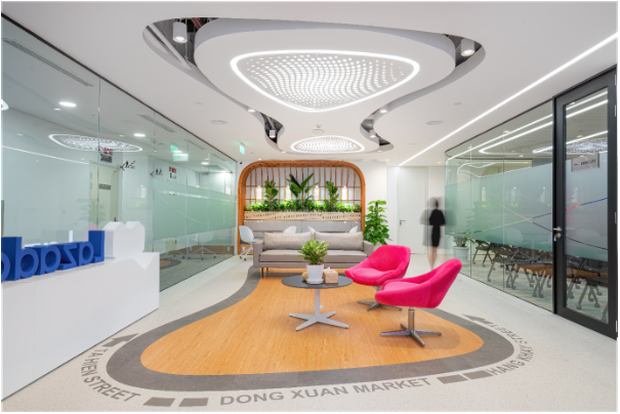 Bringing both the "Dong Xuan market" and the spirit of the old town into the office, this is exactly the "home office" that everyone wishes for!
The biggest difference that makes the Lazada office in Hanoi unique is to bring the capital's cultural breath into the working area. The employees of this platform can easily "turn across" "Dong Xuan Market" to meet customers, stroll through "Hang Khay street", "Ta Hien street" to return to their work area, creating creating a comfortable and inspiring working atmosphere for young employees.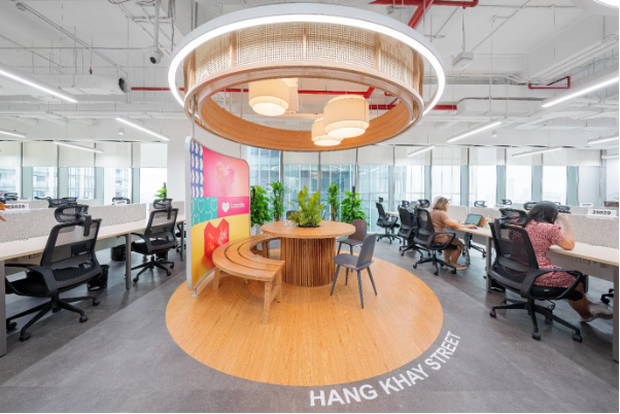 Inspired by Hanoi's 36 ancient and nostalgic streets, a "genuine" Lazada office like this will make every employee willing to go to work early and leave work late!
The working area is designed in an open space, with limited partitions, making it easy to exchange work and create a cohesive and inspiring space for employees. Lazada is fully equipped with meeting rooms with modern equipment to serve the needs of connecting and meeting with other countries around the world. The space is filled with natural light, opening a wide view to one of the busiest and busiest areas of the capital.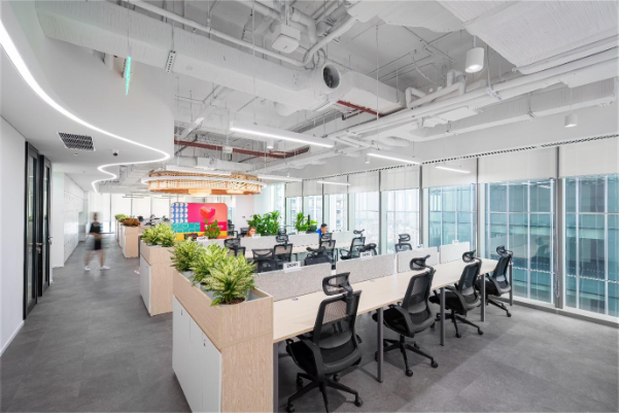 "One's home office" with spacious space, eye-catching decoration creates a comfortable working environment for employees
The work area is so well prepared, the place to "chill" is no less! At Lazada, there is no shortage of areas for Lazadians to comfortably relax after stressful working hours. The pantry area is shimmeringly decorated, just like a genuine "virtual living" cafe of young people. A yellow wall with green doors and brown tiled roof reminds of the "legendary" Ta Hien street. Right next to it is a colorful wall with many pictures of hot bowls of pho, the good baby coupon promises to become the "national" check-in point of Lazadians.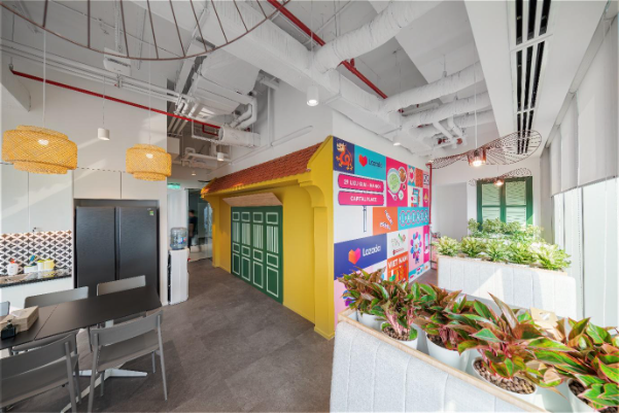 It's also to visit Ta Hien for lunch, but at Lazada, it's… very strange!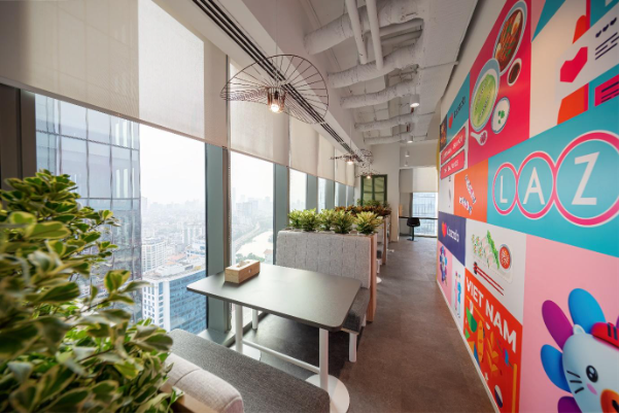 Pantry is no different from a good cafe!
Besides, Lazada also loves to pamper its Lazadians when bringing a comfortable sofa with decent sleeping curtains into the office. Not to mention, with the design of open space and freestyle, Lazadians can also work anywhere, any place can become a place for you to be creative. Lazada psychologically and pampers employees from AZ like this, why are employees always loved and proud!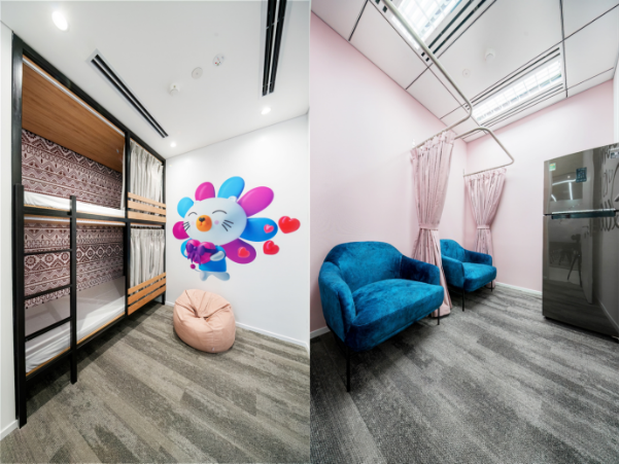 Taking a lunch break after tiring work here is called a long-lasting high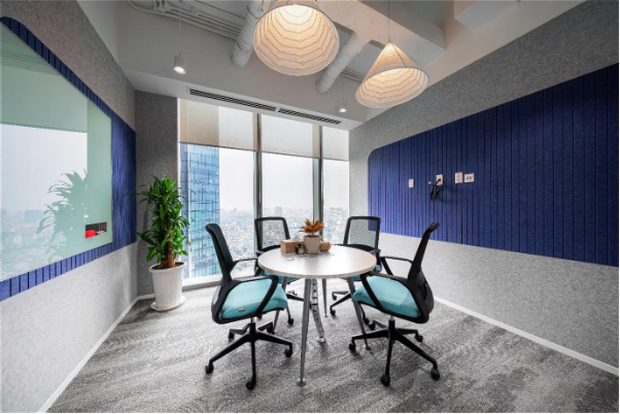 Green office design is also invested by Lazada with trees, helping to make the working space fresh and airy.
Above all, the opening of the office in Hanoi this time is also a testament to Lazada's strong commitment to investment strategy and sustainable development in the Vietnamese market, With a modern working environment, policies With good compensation and comprehensive benefits, Lazada can be seen as a "standard" company in everything, providing employees with many opportunities to develop, improve themselves and advance in their careers.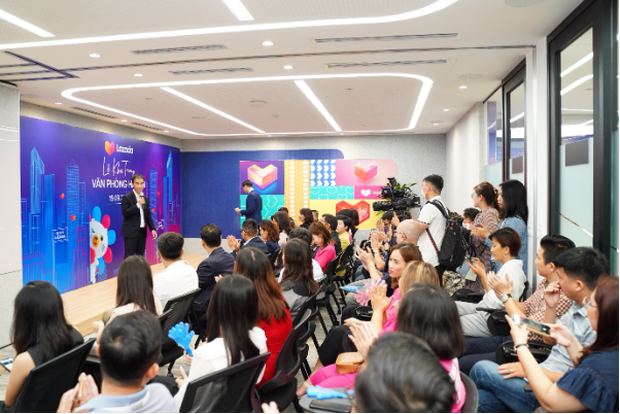 Lazada is showing its strong investment commitment in the Vietnamese market, promising to bring hundreds of attractive job opportunities for young Hanoians.
Accordingly, this e-commerce platform has just been honored by HR Asia as "Asia's Best Place to Work" for the 4th time in a row. For Lazadians, it is both a pride and a worthy recognition for the efforts of the leadership to create an ideal working environment.
"With the top priority of sustainable business development, we will continue to strive for an empowering working environment – where employees always have the opportunity to learn, experience and develop, promote a culture of openness and transparency", shared Ms. Van Thi Hong Hanh – Human Resources Director of Lazada Vietnam.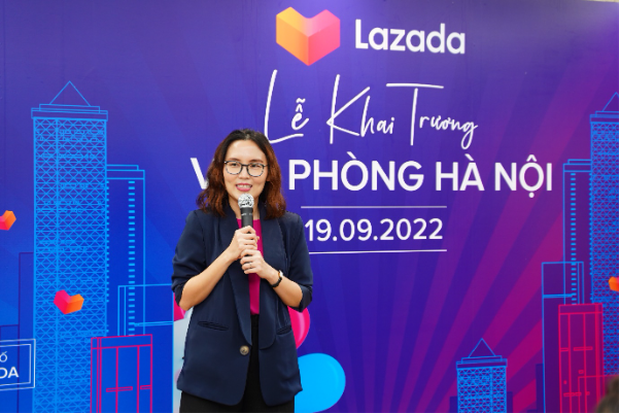 Ms. Van Thi Hong Hanh – Human Resources Director of Lazada Vietnam speaks during the opening ceremony of Lazada's office in Hanoi on the morning of September 19.
In conclusion, to become the dream workplace of young people is not easy. Because in addition to an attractive salary and good remuneration, the working environment and "visual" of the office are also extremely important factors to attract employees and retain talents. Lazada can be considered as the standard company in everything, providing employees with many opportunities for development and promotion as well as creating comfort, increasing creativity and promoting better work efficiency.