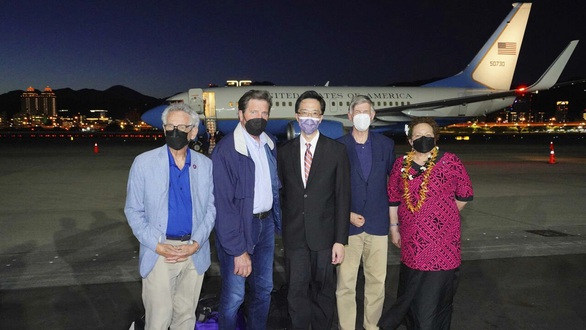 Delegation of US lawmakers to visit Taiwan on August 14 – Photo: AP
The French delegation is the first high-level European delegation to visit Taiwan after a series of visits by US officials and lawmakers.
Taiwan's Defense Ministry said the French delegation, led by Senator Cyril Pellevat, will arrive in Taiwan on September 9 and stay until September 12. They will meet Taiwan's deputy leader Lai Thanh Duc instead of leader Tsai Ing-wen.
Citing sources familiar with the matter, Reuters reported that Democratic Representative Stephanie Murphy led a bipartisan delegation of the House of Representatives to Taiwan on September 9 and will leave the island on September 9.
Other members of the delegation included Democrat Kaiali'i Kahele and Republicans Scott Franklin, Joe Wilson, Andy Barr, Darrell Issa, Claudia Tenney and Kat Cammack.
In addition, delegations from Germany, Britain and Canada are also expected to visit Taiwan later this year.
China has always considered Taiwan an inalienable part of its territory and is ready to use force to unify the island if necessary.
The visit in early August of US House Speaker Nancy Pelosi angered China. Beijing has launched a series of drills around the island following Pelosi's visit.
After this visit, many other US delegations also visited Taiwan, including the trip of the legislator and governor of Arizona.
The United States has no formal diplomatic relations with Taiwan. Washington has repeatedly emphasized that it still follows the "one China" policy.