"When love is big enough, all limits will be erased" is the most accurate statement when telling the love story of a legless boy To Dinh Khanh and his fiancée. Overcoming many barriers, the couple still held hands and decided to share a house, making many people admire.
The wedding photo set caused a storm of the internet and a love story like a fairy
Recently, To Dinh Khanh recorded a moment in the process of making wedding photos with his wife and received a lot of attention from the online community. Accordingly, the guy wears a dashing suit, sits in a wheelchair every day, but has a more special decoration. In his hand, Dinh Khanh holds a bouquet of flowers, his face beaming when he sees the bride of his life.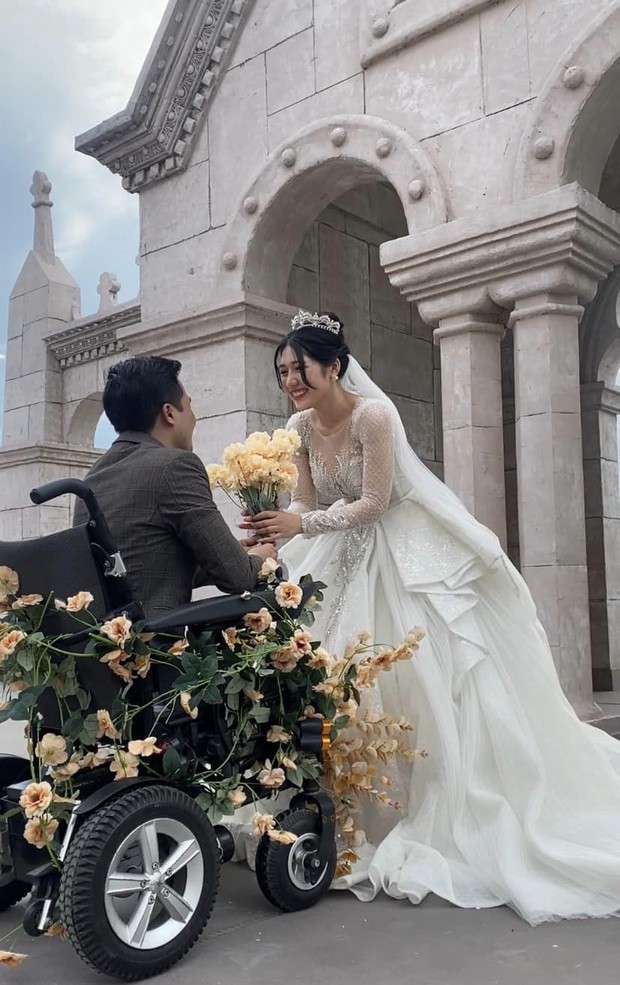 Stormy wedding photos of To Dinh Khanh and his fiancé
The series of happy moments of the couple received many compliments from viewers. Almost everyone expressed their emotions, admiration and best wishes to the couple. Sharing his feelings about the people's compliments, To Dinh Khanh said: "Right now, I'm feeling very happy because I didn't think my short clip would attract so much attention.
I'm really happy when my story is spread and touches everyone's heart, everyone can feel the sincerity in our love. Besides, I also want My story will make those who are losing faith in life have more motivation to love again".
Regarding the wheelchair with "1-0-2", Dinh Khanh said: "That's the idea of ​​the wedding photography team suggested to me. It looks so beautiful and romantic than usual so I'm extremely satisfied. And I'm also glad that everyone is impressed with it".
It is known that To Dinh Khanh and Thuong – his fiancée have known each other since March 2022. At that time, Thuong was still in Japan, so the two only confided and exchanged messages every day. By last May, Thuong arranged all the work to return to Vietnam to meet this legless guy.
At first, the love story of the two made many people think that they would soon "break the burden", not going anywhere. However, with the same soul, understanding emotions and suitable personalities, Dinh Khanh and Thuong overcame all barriers and decided to get married after only 5 months of dating. Both of their families are also very supportive of the couple. As planned, Dinh Khanh's wedding will be held in mid-October.
The extraordinary energy of the boy without legs
To Dinh Khanh was born in 1993, from Dak Lak, currently living and working in Ho Chi Minh City. Before the incident, Dinh Khanh had a peaceful life with healthy legs. The handsome guy is talkative, so he pursues his passion for online business.
In 2018, when Dinh Khanh was 25 years old, he had a blood vessel blockage in his abdomen that prevented blood from moving down his legs, forcing him to amputate his legs to have a 50% chance of living. After two leg amputations and treatment of the necrotic thigh, for his parents, for his family, he had the motivation to live again, getting up to do the same jobs as normal people.
Currently, Dinh Khanh is still continuing his business. In addition, he also built his own YouTube channel to inspire people with similar circumstances. Having a passion for fashion, Dinh Khanh also plans to further develop this segment and open a store of his own.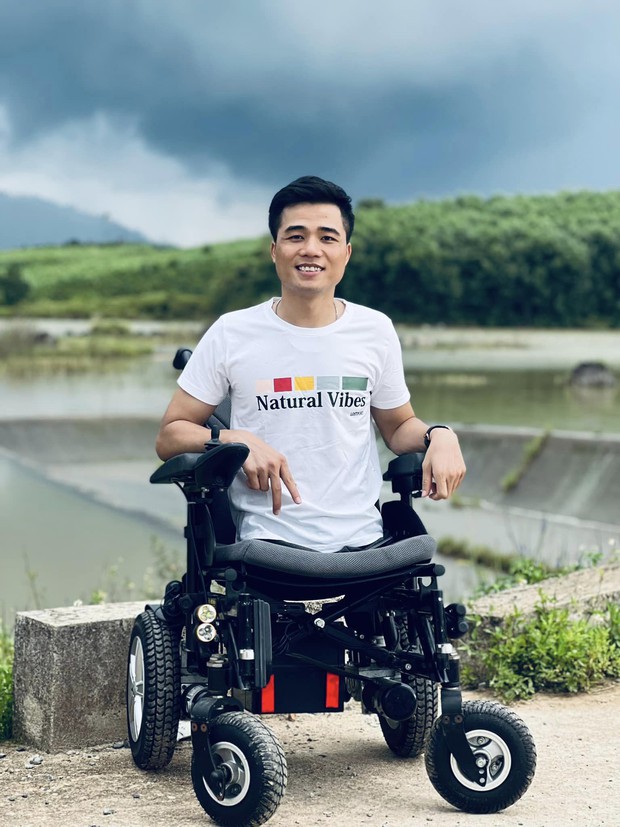 To Dinh Khanh is still pursuing his passion for business
Dinh Khanh once shared that his idol is Nick Vujicic. In 2019, he had the opportunity to meet Nick and that was also the motivation for him to be more energetic in his life. For Dinh Khanh, people with disabilities can still live happy lives when they accept and try to change. He also believes that as long as he constantly tries, learns, and trains, everything will pay off.
Photo: NVCC