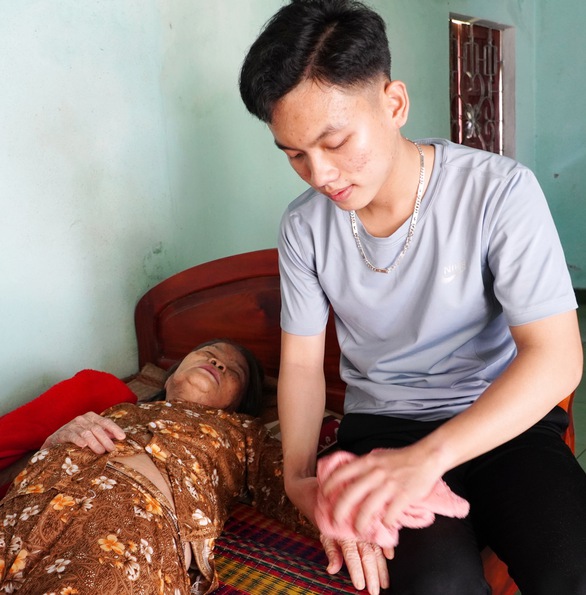 Famous mother taking care of her mentally ill grandmother – Photo: LE TRUNG
I don't want Danh to miss his dream of teaching like his brother. I will continue to borrow, at all costs to send my children to school.
Mrs. VO THI LOAN (Danh's mother)
Cong gave up the lecture hall and worked as a worker to take care of Thanh and Danh to go to school. Thanh just graduated from university, everything about to be happy suddenly turned off when his eyes kept fading. Now there is only Danh, but the way to the lecture hall is so uneven.
Mother's pain
Ngo Van Danh's house is nestled in the middle of acacia forest in Phu Thinh town, Phu Ninh district (Quang Nam). Mrs. Vo Thi Loan – Danh's mother – was breathing heavily even though she was only 48 years old. She wanted to support her children but was burdened by a congenital heart disease. 28.1 points in block A00, Danh has just passed the information technology major of Da Nang University of Science and Technology, making her happy but her heart heavy.
Six years ago, the eldest son passed the pharmacy degree at Danang University of Medical Technology and Pharmacy. That joy was also short-lived because not long after that the father found out that he had cancer. A year of hard work in the hospital pushed the family into bankruptcy but could not save the father. Grandmother is 82 years old, mentally ill.
Everywhere you look, you see sick people. That is also the reason why his second son, Ngo Van Cong, wiped away his tears and put away the admission notice of Hue University of Agriculture and Forestry to work as a worker in 2017. "He chose to stop because he and his younger brother were still studying, accepting it. I accept the burden of the family, but I can't take care of it alone, it's very painful" – Mrs. Loan cried.
When her husband died, the void seemed to be endless, but she struggled and worked hard with the burden of tofu walking around to earn money in the fields to supplement the salary of Cong's workers to take care of the whole family. On the day Thanh graduated from university, he thought everything would be easier, but the mother plunged into a new battle. Thanh suffered from cataracts, the light kept getting darker even though he went back and forth to Ho Chi Minh City in the hope of saving Thanh's eyes.
Every time my second brother went to Saigon for eye treatment, Danh would pack a towel with him to take care of him, bring books and take care of him while studying. All hopes of education are focused on the youngest son, also keeping the promise of "trying for Danh to study to the right place". "But I'm too weak now," said Loan, looking at her husband's altar.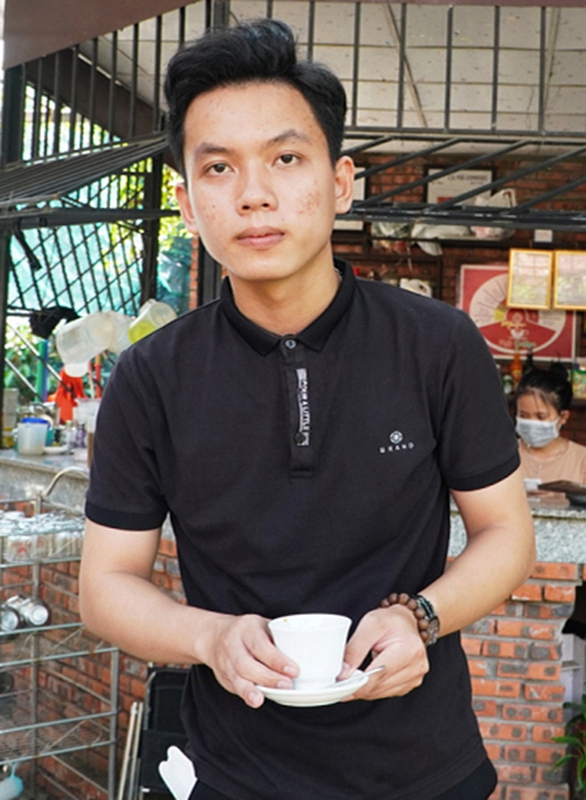 Ngo Van Danh applied for a job at a coffee shop to earn money for admission – Photo: LE TRUNG
As soon as I enter the lecture hall, I will enlist to work part-time to earn money to support myself and share the burden with my family.
NGO VAN DANH
Half the dream has come true, the other half… left open
Danh is old enough to understand his family's plight, but he doesn't want to drop out of school because that's also the promise of life to his father. Because of that promise, he was determined to study and confidently chose to enroll at Da Nang University of Technology. Going to university is half a dream come true, but the other half, Danh finds it too precarious.
Danh said that Mr. Cong had saved the tuition fee for admission, but had used it all to treat Mr. Thanh's eyes. The red book is also at the bank now, plus borrowed money from neighbors, the debt is now nearly 150 million dong. "I received the admission notice and didn't know what it would be like because that amount of money was too much for my family at the moment," Danh left the sentence in the middle.
He wants to become a programmer, then go to work, earn a lot of money to take care of his mother and grandmother. That somewhat childish but very realistic way of thinking helps the young man understand that only studying can hope to find a way out for himself and his family. Because he knew there was a distance between understanding and reality, he said he would find a way.
Because there was no miracle waiting, Danh applied to work at a coffee shop in Tam Ky City (Quang Nam). The identity of the salary for each shift is 70,000 VND, if you take advantage of one or two shifts a month, you will also save nearly 2 million VND, trying to get to the school day will probably have a little initial cover.
Ms. Loan said she would continue to borrow, but asked where to borrow, she was silent. The more Cong understood his mother, the more he tried to reassure him that in a few days his salary, borrowing more friends at work would be enough for Danh to go to school. More than anyone else, the boy who was heartbroken to leave the school dream was the one who wanted the youngest to go to university more than anyone in the family.
"Seeing my friends going to school, I'm very heartbroken. Danh can't be like me. He studies very well. I will try to take care of Danh to study until the end" – Cong shared.
Waiting for the arms of love
Thanh holds a diploma as a pharmacist for the past year, but what can he do with such eyesight? Staying alone for treatment in Ho Chi Minh City, over the phone, Thanh's voice was teary: "Just finished surgery, now here waiting for a follow-up examination and treatment. I know it's difficult to fully recover, but I also pray. heal well, have healthy eyes, go to work to earn money to support Danh".
Ms. Cao Thi Lanh (the homeroom teacher of Danh 10th and 11th graders) said that her dear students had gone online to call for her and some of her former students had contributed nearly 8 million VND to help Danh move to Ho Chi Minh City to take care of him. older brother.
Since Danh was in 10th grade, Lanh has applied for scholarships and mobilized parents to help Danh. "But going to the lecture hall will cost a lot of money in the future, I hope the arms reach out to this student so that he can continue to raise his dream" – Ms. Lanh confided.
Visit https://tiepsuc.tuoitre.vn to register for the scholarship
Newspaper Youth still accepting applications for the Relay to School 2022 scholarship. Please visit https://tiepsuc.tuoitre.vn, follow the instructions to introduce and register.
20th School Relay season, newspaper Youth coordinated with 63 provinces and cities nationwide to search and plan to award 1,000 scholarships (worth more than 15 billion VND) or more to new students with difficult circumstances.
Each scholarship is 15 million VND, from the support of many units, individuals and a large number of newspaper readers Youth. As of now, the scholarship Relay to school helped 22,370 new students unfinished their dream of teaching with a total amount of more than 164.5 billion VND.
Q.L.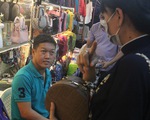 Meet Lac 'guava' again: The more difficult it is, the greater the resilience