Entering the Asian U20 qualifier 2023 as a team that has just been crowned the champion of Southeast Asia, U20 Malaysia is full of confidence in the ticket to the next round. But things became difficult for the Tigers right from the opening match when they only won a 1-1 draw against Mongolia U20.
In the next match, Malaysia U20 did not significantly improve the situation. The team under coach Hasan Sazali Waras showed an unconvincing image against Sri Lanka U20 and only won with a score of 3-0 despite setting the goal of creating "a rain of goals".
The pressure is on Malaysia U20 in the final match. They must have good results against Korea U20 if they want to keep their hopes up. For more than 2/3 of the first time of the match, the Tigers maintained the match chase the score with the powerful opponent. About 70 minutes, the score was 3-2 in favor of Korea U20 and Malaysia U20 still hoping for something special.
In the 72nd minute, a great opportunity for Malaysia U20 suddenly came with a quick counterattack. Unfortunately, the finish in a rather favorable position of the Malaysian striker sent the ball over the crossbar.
Failing to take advantage of the golden opportunity, the army under coach Hasan Sazali Waras had to pay the price. In the 74th minute, 3 defenders plus the Malaysian U20 goalkeeper defended with openings and let the opponent pass the ball through. Lee Young-jun easily cushioned the ball from less than a meter away to raise the score to 4-2.
At this point, Malaysia U20 was clearly demoralized and broke up in the last minutes. They let Korea U20 penetrate the net 2 more times and accept defeat with the final score of 2-6.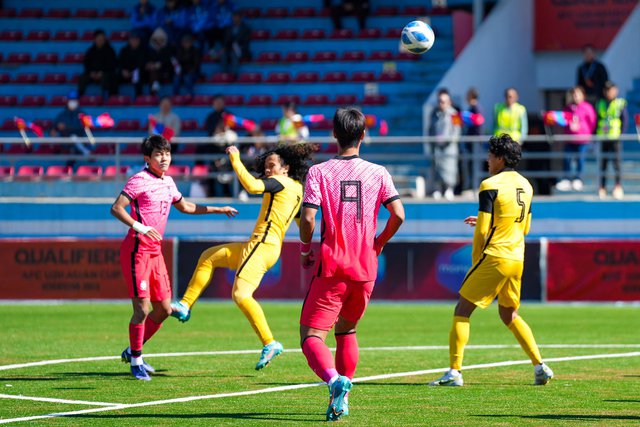 Malaysia U20 (yellow shirt) seems to have run out of opportunities to reach the 2023 AFC U20 Finals.
At the end of 3 qualifying matches, U20 Malaysia has 4 points and a goal difference of -1. The tigers are at risk of losing the second place in the table if the Mongolian U20 wins the Sri Lanka U20. Even in the case of keeping the second place in the table, the next door for Malaysia U20 is considered closed.
On the ranking of the second-place teams, Malaysia U20 is currently only 5th despite having played 1 match more than other teams. After the other groups complete the schedule, Malaysia U20 will almost certainly drop to the bottom position and fall out of the group that won tickets to the next round. This will be the first time since 2016, the Tigers failed to qualify for the Asian U20 qualifiers.
More than 2 months ago, U20 Malaysia received much praise when convincing U20 Vietnam and U20 Laos to win Southeast Asia. But now, coach Hasan Sazali Waras is facing a lot of criticism.
Quang Hai reappears on the field, Pau FC won an important victory