Inflation in the UK surged to a 40-year high in July 2022 as food and energy prices skyrocketed, putting huge pressure on households.
According to a report released by the UK Office for National Statistics on August 17, the consumer price index increased 10.1%, higher than the forecast of 9.8% and up from 9.4% in June. Core inflation – excluding energy, food, alcohol and tobacco costs – stood at 6.2%, up from 5.8% in June and above forecasts of 5.9%.
The Bank of England has had 6 consecutive interest rate hikes to curb inflation and this early August saw the strongest increase since 1995. Mr. Andrew Bailey, Governor of the Bank of England (BOE), said it was prepared for future rate hikes.
Mr. Richard Carter, head of fixed-rate research at Quilter Cheviot (UK), said that the BOE will raise interest rates by 0.5 percentage points in September similar to the beginning of this month in an effort to combat inflation. and the cost-of-living crisis will get worse before it gets under control.
The BOE warns Britain will enter its longest recession since the global financial crisis in the fourth quarter of 2022. The BOE also forecasts inflation will reach 13.3% in October. The candidates running for the UK prime ministership, including Liz Truss and Rishi Sunak, are also facing increasing pressure to come up with radical solutions. to the historic high cost of living crisis in England.
According to the BOE, soaring energy prices in Europe are the main driver of inflation and are likely to push Britain into a protracted recession. Millions of UK households will still struggle with rising bills while supermarkets advise customers to switch to cheaper brands.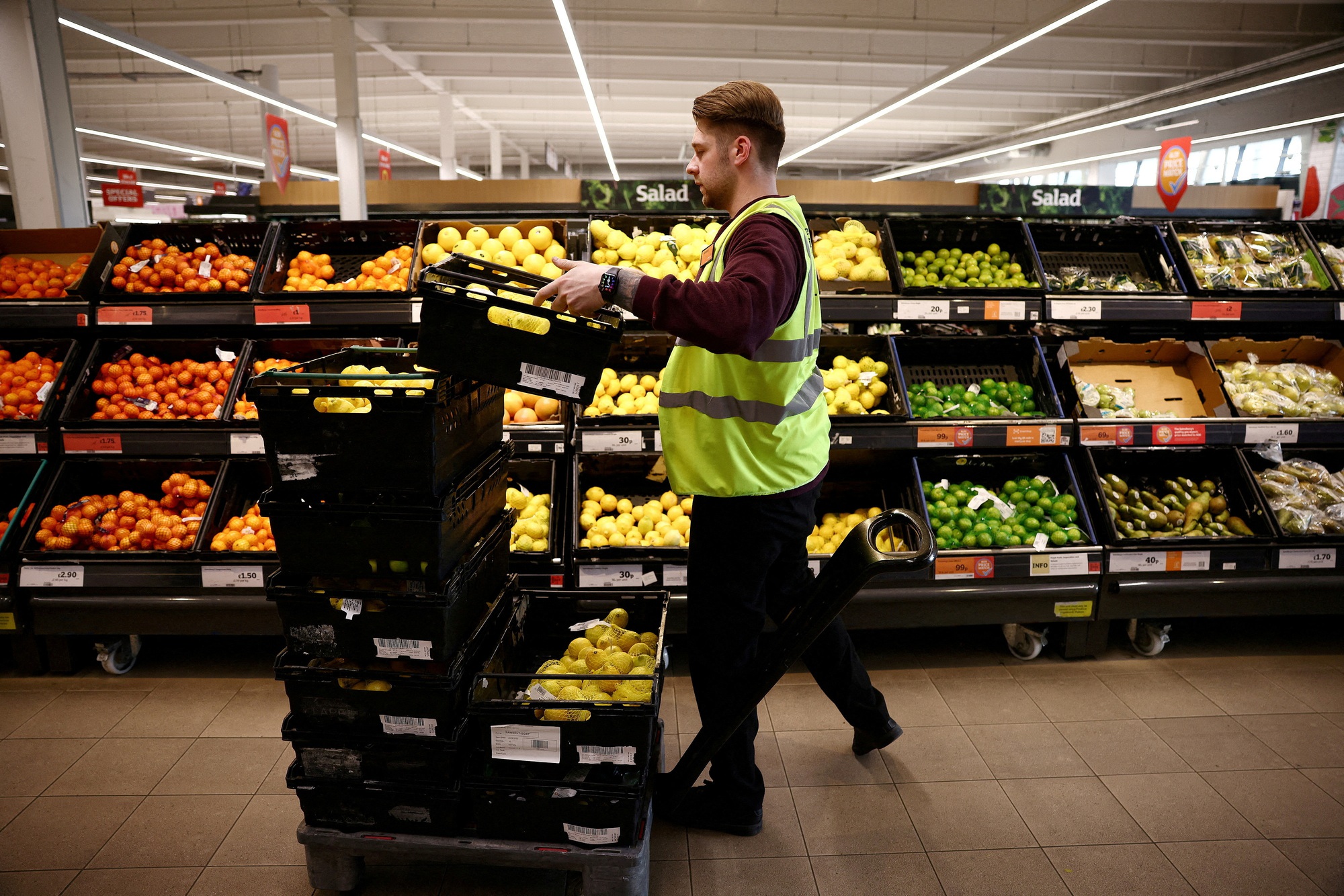 Employees arrange products inside a supermarket in the Richmond area, London – UK Photo: Reuters
Not only does the UK consider tackling inflation a top priority, President Joe Biden has signed a $750 billion bill to curb inflation, while tackling climate and reducing prescription drug prices. .
Democrats say the bill will help reduce inflation by reducing the federal deficit, although independent economists say it will take years to see results. Meanwhile, Republicans criticized the laws, saying they were not very effective in lowering the prices of domestic goods.
US inflation has risen to a four-decade high, impacting not only low-income people but also higher-income earners. Walmart Group – America's largest retailer for those with limited spending – said that more and more middle- and upper-class customers switched to shopping at Walmart in the second quarter. 2022.
In Japan, hit by global fuel inflation and the weakening yen, imports rose to a record in July, outstripping exports and causing a larger trade deficit. While some data points to the resilience of Japan's economy, policymakers call for more action to stimulate the world's third-largest economy, which is already grappling with the impact of the pandemic. the Covid-19 pandemic and the global economic outlook deteriorated.
Japan's Finance Ministry data on August 17 showed that exports rose 19% in July year-on-year, a 17-month increase in a row and higher than the forecast of 18.2. %. Follow Reuters, import turnover increased 47.2% in July year-on-year to a record 10.200 billion yen ($76.06 billion) due to rising costs of crude oil, coal and liquefied natural gas. leap. The new import figures dwarfed exports, pushing Japan's trade deficit to 1,436.8 billion yen in July.