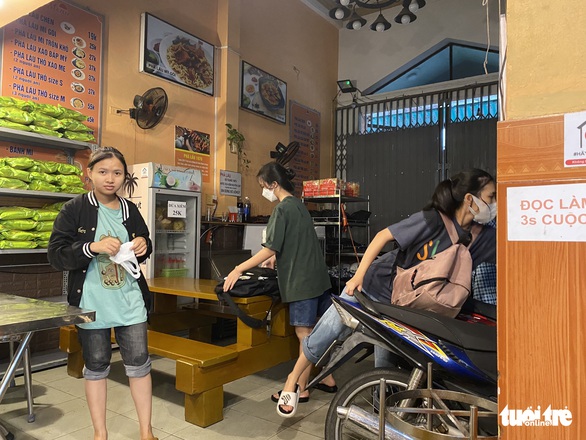 A group of boarding students went to Pham The Phuong's house (residing in Ngu Hanh Son District, Da Nang) to avoid typhoon Noru on the afternoon of September 27 – Photo: THU HIEN
Tran Dinh Quoc Khuong, a Da Nang native, decided to buy 1 ton of rice with his friends before the storm Noru landed. He posted on the internet and asked his friends to inform the poor people about receiving points of rice: "Those who can't afford to buy can come and take it home to eat, or if the rice is wet, they can come and use it. ".
Mr. Khuong shared: "This is the time when we need to love and share, so I and my brothers in the Da Nang Young Volunteers group decided to reserve 1 ton of rice for people in need. In fact, people often think about rice. cook during the storm, but when we need a can of rice, we don't have it. For people far away, we will deliver rice to their homes."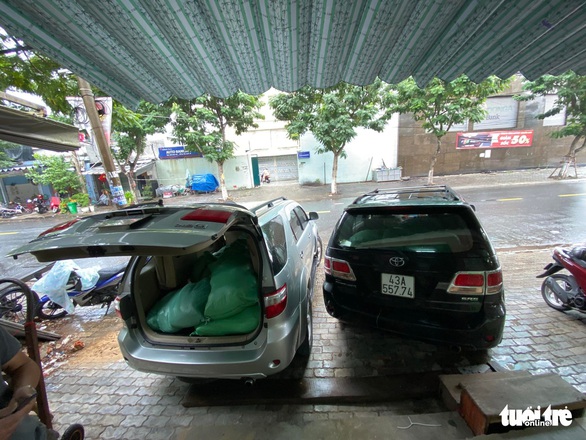 Khuong and his friends have stored 1 ton of rice for people to come and collect – Photo: THU HIEN
Not only storing rice to help disadvantaged people fight storms, Mr. Khuong also posted his and his group's phone number information on Facebook so that those who had to go out on the street reluctantly during the storm could contact his group. . He and his friends also prepared a personal car to support people in need of emergency, buy emergency medicine.
This morning, after posting a message calling for students living in uncertain rooms to come to his house to shelter from the storm, Mr. Pham The Phuong (residing in Ngu Hanh Son district, Da Nang) received a lot of calls. In the afternoon of September 27, he and his relatives quickly prepared their houses to welcome 30 students who had just called to make an appointment to come to their house to avoid the storm.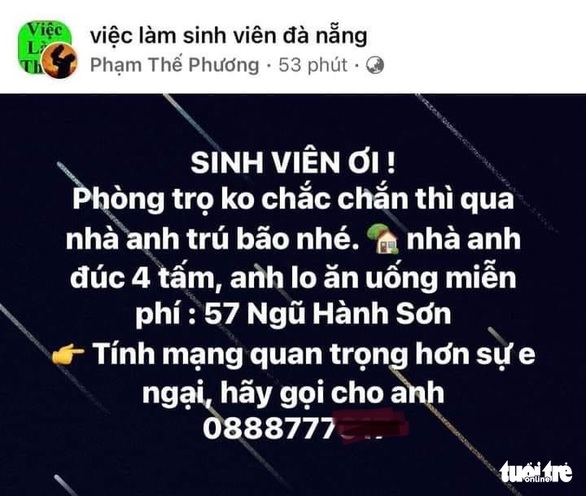 One of many lines of heartwarming news spread on social networks on September 27 – Photo: THU HIEN
Mr. Phuong said: "I have a 4-panel molded house, the students staying in the hostel are not stable, when the storm is big, I don't feel secure, so I call to go to the storm shelter, convenient to always eat and drink for free during your time. here. My house can welcome 60 people to stay."
Also on the morning of September 27, many restaurants and shops with solid VIP rooms in Da Nang posted information calling for difficult people to come and avoid the storm No.
Most restaurant and restaurant owners arrange staff to serve rice, noodles and rice noodles during the time they are sheltering from the storm.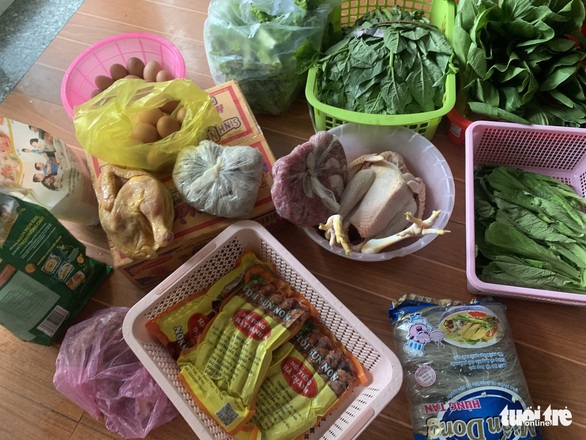 Mr. Hung and the staff prepared food to cook dinner for the people who came to avoid shelter before the storm Noru hit – Photo: THU HIEN
Throughout this afternoon, Mr. Nguyen Khanh Hung, the owner of a restaurant on Nguyen Tat Thanh Street, Da Nang, stood in the rain to welcome people living in motels or having unstable houses in the vicinity to his restaurant.
Not only welcoming people to the restaurant to avoid the storm, his employees also help people around to protect their houses before the storm. A kitchen staff is assigned to prepare ingredients to cook dinner and tomorrow's meals for people during the storm at the restaurant.
"I hope my small work can help the aunts and uncles who are living far away from home by doing lottery tickets, checking bottles and other difficult jobs in Da Nang. I just hope they can overcome the storm together in peace" – Mr. Hung said. .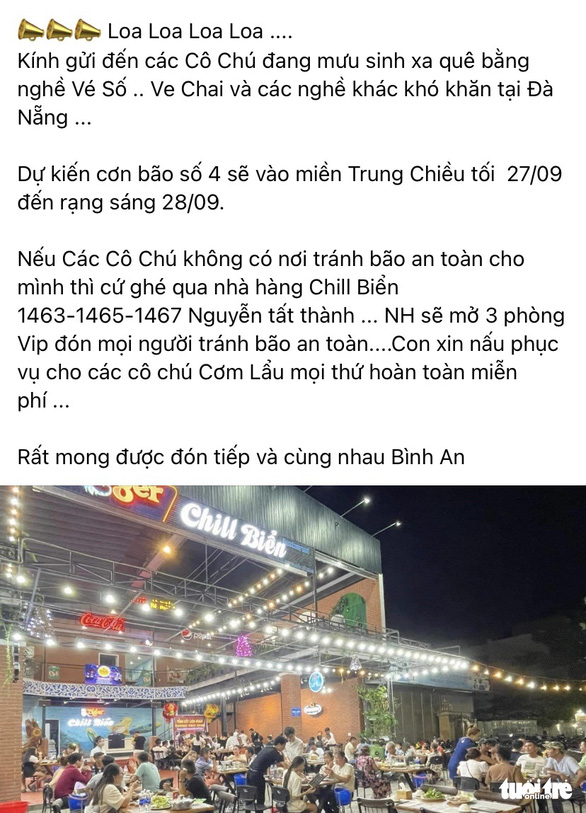 Many restaurants with solid rooms have posted messages inviting people to avoid typhoon Noru – Photo: THU HIEN
Not only saving houses and shops for people to avoid storms, many young people in Da Nang also prepare vehicles and canoes to be ready to support functional forces to help people avoid storms.
Some hotels in Da Nang have applied a policy of free of charge for guests during this storm.
The appeals of Da Nang people, after being shared on social networks, have received many compliments.