On the morning of September 23, Cho Ray Hospital said that it had received many cases of complications after cosmetic surgery.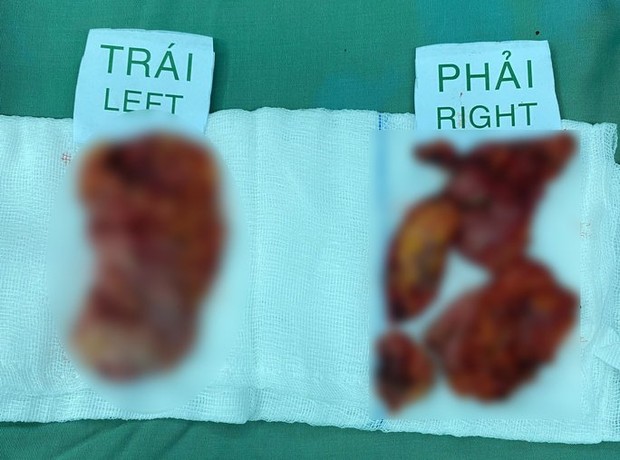 "Foreign object" is removed from the patient's chest
Ms. NTT (in Can Tho) breast augmentation with her own fat at a beauty facility through a friend's recommendation. About 2 months after surgery, the wound began to ooze fluid. Trusting the words of the owner of the beauty salon, every time you squeeze the pus, it will go away, so the oozing situation lasts up to 5 months. At Cho Ray Hospital, doctors determined that the patient had an infection in the chest area and mammary gland tissue, the treatment team performed surgery, removed the autologous fat layer that was implanted and treated again from the beginning. for the surgical area.
Ms. LTKM (living in District 4) suffered from complications during the surgery to make the areola. After the surgery at the beauty parlor, her wound did not heal, continuously oozing fluid. More than 1 month to the beauty facility to fix this situation but still no improvement. At the hospital, she was diagnosed with necrosis of the surgical area and thoroughly treated and reconstructed the necrotic area.
Dr. Dr. Tran Van Duong, Deputy Head of Plastic Surgery Department of Cho Ray Hospital, said that recently, he has continuously received many cases of post-beautification complications such as liposuction, abdominal and nose plastic surgery, including cases very critical. There are emergencies due to anaphylaxis right after surgery. At the beginning of the week, the department promptly saved 1 case of complications. However, not everyone is so lucky because most of them are in very bad condition when they move in.