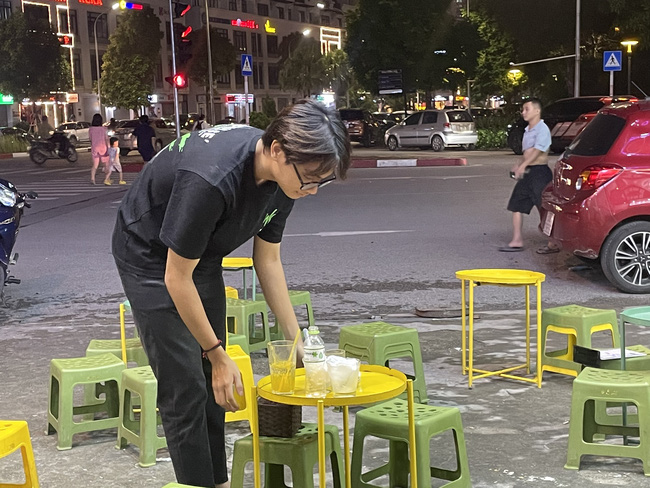 Hung always has to take on many jobs in a shift to ensure the service quality of the restaurant (Photo: Minh Toan)
From July 1, 2022, the Hanoi Labor Confederation has raised the minimum hourly wage to 20,000-25,000 VND/hour. However, up to now, many business establishments are still "exploiting" the labor of many students with a remuneration of only 15,000 – 18,000 VND/hour.
Selling labor at cheap price
"Going to work to gain more experience, salary is not important…" is the answer many students use when answering employers in job interviews. Therefore, "according to the wishes" of many workers, many business establishments try to "transmit experience" and "squeeze" employees' salaries.
During his high school years, Hung's time was mostly spent with his family and school. At the end of the study program, Ho Huu Hung (20 years old, Nam Tu Liem, Hanoi) returned to Hanoi to study at a college. With the desire to find a part-time job to have both experience and income to support his family, Hung joins many job search groups on social networks. I was "lucky" to meet a job posting recruiting staff for a pearl yogurt shop in Nam Tu Liem district and was accepted to work with a salary of 18,000 VND/hour.
As a person born and raised in Hanoi, however, Hung attended high school in Vinh Phuc. When I went to university, I moved back to live with my grandfather and father (Nam Tu Liem, Hanoi), so the cost of accommodation did not become a concern for me like many other students. According to Hung's share, if he works regularly for 5 hours/day, on average, Hung can receive a salary of about 2.7 million VND per month. This money is planned by Hung to spend on living expenses and necessary school supplies. However, "there are months when this amount doesn't seem to be enough when there are a few additional expenses," Hung added.
Unlike Hung, TPH (19 years old) is a student living and studying away from home. I share, go to work with the desire to gain more experience, not to leave time blank and have a small extra expense. Currently, I am an employee for a healthy food store in Cau Giay district with a salary of 17,000 VND/hour. 3 million dong is the amount H. earns in 1 month of labor. That amount shared by H. is enough for her to pay for her living expenses and raise a cat, while the cost of the room is still completely dependent on her parents.
Hoang Ha Giang (19 years old, Dong Anh, Hanoi) even received a lower salary than Hung and H. Giang shared that he started working part-time right after finishing the National High School Examination. in 2021. The starting salary that Giang receives is 15,000 VND/hour. However, after 1 year of working and working hard, that salary has also been increased to 16,000 VND/hour. It is known that Giang goes to work to be able to pay for personal activities without depending too much on her parents. However, this level of income makes Giang feel sad when compared to her peers.
Many "exploit" tricks
With students' limited time, both Hung and Giang can only choose part-time jobs. Because there is no labor contract, all regulations on working time, salary and bonus regime… are agreed upon based on "oral agreements". That invisible medium has become invisible traps for Hung, Giang in particular and students in general
With a salary of 18,000 VND/hour, Hung enjoys "privileges" such as: being able to use the restaurant's food for free, working individually when there are no customers, and only having to work 5 hours/day… Hung's choice of this job is to gain more experience and accumulate more life experience, so I'm not too concerned about financial matters.
"Flexible" workloads also make working hours more "flexible". Hung's shift lasts 5 hours, starting at 17:00 and ending at 23:00. However, on crowded days, the workload can increase, the working time fluctuates in about 6 hours and Hung will return home at 00h00. She shared: "Sometimes I feel tired and want to quit because I work a lot but the salary is too low, but because I haven't found a suitable place, I continue to stay here."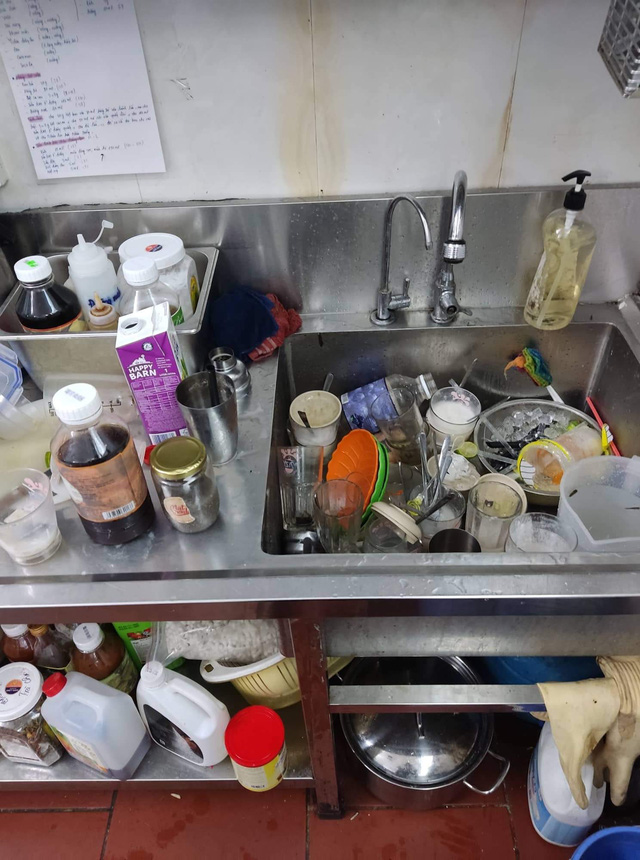 The high workload makes TPH feel tired and want to quit, but the attention of the brothers and sisters working in the same shift makes me more motivated to go to work (Photo: NVCC)
Similar to Hung, TPH is also one of the "victims". Since "oral agreement" is the method used throughout the salary negotiation and job description, it is completely understandable that the workload is different from the description. As a new student, promises such as: salary 17,000 VND/hour, flexible working shifts, jobs suitable for students, young and dynamic environment, ability to advance in work … " are too attractive. lead at that time.
I don't know what the aforementioned promotions are, but one thing that H. is certain of is the "promotion" in terms of workload. She shared: "I see that the amount of work is quite a lot compared to the salary, with the labor spent, I think I should receive more than 17,000 VND". Working shifts are flexible, so there are days when H. is at the store at 15h/day, ie working all 3 shifts at the store with a salary of 17,000 VND/hour without increasing.
However, what makes H. frustrated is not the salary and workload but "a lot of fines". She shared: "When interviewing, the sisters did not mention the penalties, only when they went to work, the punishment of employees when there was a mistake appeared …". "Many fines", "penalties for unreasonable errors" are what H. has been pressing to share. According to sharing, each error will be fined 50,000 VND equivalent to 3 hours of work. H. said he will quit his job because he feels there are signs of being "exploited" in labor and will find another job that is suitable for his current field of study.
Ha Giang also fell into a similar situation when the salary paid was not commensurate with the labor spent. It is known that due to the nature of the job as a restaurant and serving drinks, Giang sometimes has to take on many jobs at the same time. Besides, on days with a lot of orders, Giang also does the job of delivering goods to customers.
Giang shared, I feel that the salary I receive is not really worth the effort I put in because this job sounds simple, but I have to endure a lot of pressure from customers, because I work in the industry. service should not avoid unnecessary collisions. Not to mention, the workload in 1 shift is also relatively large, Giang always has to work continuously to ensure the progress in the shift.
There was a time when Giang wanted to change the current working environment, but what kept Giang here was the concern and kindness of the store owners' employees, along with the sociability and joy of his colleagues. business, so Giang continued with his current job.
Not only the workload, working time but also the salary and bonus regime on holidays at these business establishments still contain many problems. Most of the above jobs require employees to go to work regularly on holidays and Tet with the salary only increasing by 1.5-2 times compared to the daily salary. Even, as noted, there are establishments that cut all bonuses as well as increase salaries for employees on special occasions. Meanwhile, according to the 2019 Labor Law, employees will receive at least 300% of the salary. It is not clear whether these businesses lack understanding of labor law or ignore mistakes to make a profit.
Can be fined from 20 to 30 million
When asked if they had thoroughly researched the labor law before deciding to take a part-time job, "No" was the answer of both Hung and Giang. This ignorance is a "fat pie" for the "petty bourgeois" to exploit and "exploit". They are taking advantage of the energy from the youth, the curiosity to gain more work experience… to profit from the labor of the "new students".
Many workers, due to lack of knowledge, are not able to demand and demand a satisfactory salary from the employer. Accordingly, in many cases, employees receive wages that are not really commensurate with their labor.
Regulations in Official Letter 294/LDLD of the Hanoi Confederation of Labor implementing Decree 38/2022/ND-CP on the minimum wage for employees working under labor contracts. The minimum hourly wage for regions in Region 1 in Hanoi is 22,500 VND/hour from July 1, 2022.
This level applies to enterprises operating in Region I, including: districts and districts of Gia Lam, Dong Anh, Soc Son, Thanh Tri, Thuong Tin, Hoai Duc, Thach That, Quoc Oai, Thanh Oai, Me Linh, Chuong My and Son Tay town.
Thus, it is illegal for business establishments to keep the salary of 15,000 – 18,000 VND/hour in Cau Giay district, Nam Tu Liem district or Dong Anh district – where Hung and Giang are working. The act of not conducting a wage increase for employees because the regional minimum wage increases and the employee's salary is lower than the regional minimum wage will be subject to a penalty frame of 20 – 30 million VND for violations from 1 person to 10 workers.
Even these businesses have violated regulations on entering into labor contracts when recruiting workers through paperless agreements. Accordingly, they will be fined when entering into unwritten labor contracts with employees who do the job with a term of full 1 month or more. The fine can be up to 25 million VND for violations of 301 employees or more.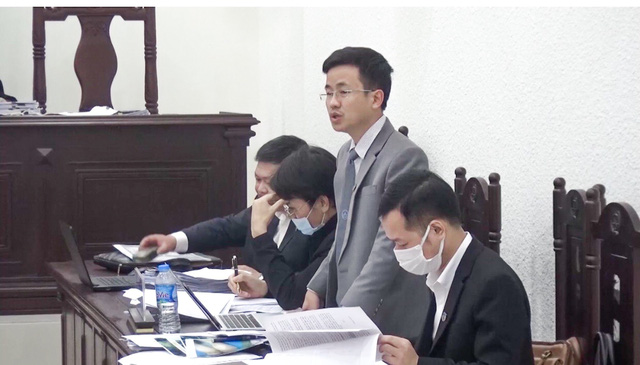 Lawyer Duong Le Uoc An affirmed that paying less than the hourly minimum wage is a violation of the law (Photo: NVCC)
Lawyer Duong Le Uoc An (Dai An Phat Partnership Law Firm) said: "According to Article 98 of the Labor Law 2019 stipulates: On public holidays, New Year's and days off with pay, at least 300% excluding wages for public holidays, New Year's Day and paid leave for employees who receive daily salary". Based on the above regulations, on holidays, employees will be entitled to rest while still enjoying their full salary plus at least 300% of the salary unit price or salary according to the work they are doing. Accordingly, many business establishments are violating regulations on salary, the penalty frame for this behavior can be up to 50,000,000 VND for violations of 301 employees or more.