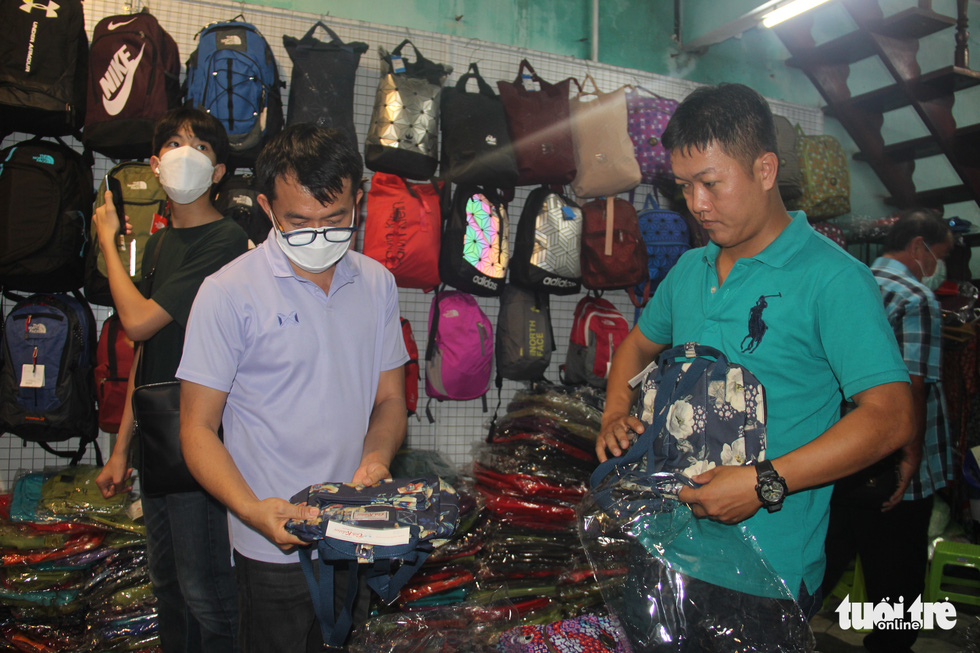 The "guava" boy (right) of 15 years ago is now the owner of a souvenir shop in Hoi An ancient town – Photo: TRUONG TRUNG
After 15 years, Lac "guava" has now become a stable father of a peaceful family with a business of souvenirs on the banks of Hoai River, Hoi An ancient town.
Chat with Youth OnlineMr. Lac shared: "Over the past two years, people who work in tourism like me have been "shocked" by the impact of the pandemic. For me, life has never been smooth, but the most difficult period is the period ahead. The threshold of university is now over. Fortunately, in the most difficult time, there was a school Relay program, there were newspapers Youth next to".
Childhood selling baskets
* Readers who follow the program Relay to School still remember his story. Many people say that if in Hue there is a difficult situation of the character O Xin (the article O Xin washes dishes for hire, now he is a doctor Nam Phuong), Quang Nam has "guava" Lac. How do you remember yourself 15 years ago?
– Actually, my situation when standing on the threshold of university and the years before that was no different.
At that time, my mother and I lived in a house with only enough space for two beds. In the countryside, poverty clings to it. It's difficult for everyone, but my family is even more difficult because every year flood water from Thu Bon River rushes back and washes away all the labor of mother and daughter, which is two poles of rice. Not enough to eat, my mother, despite being disabled, has to travel more than 15km every day from morning to night selling lottery tickets to feed her children.
Since I was in elementary school, I knew how to trade to help my mother make a living. In those years, outside of school hours, I didn't miss anything, from selling lottery tickets, selling ice cream, selling fruit, accessories, selling restaurants… The nickname Lac "guava" was born when my friends were in middle school. teasing me when I brought a basket of guava to sell around the area (laugh).
When I entered the university with a score of 24, everyone was in awe. But all those who know my family's situation feel pity and worry most of all. My family is difficult, let alone sitting in the lecture hall…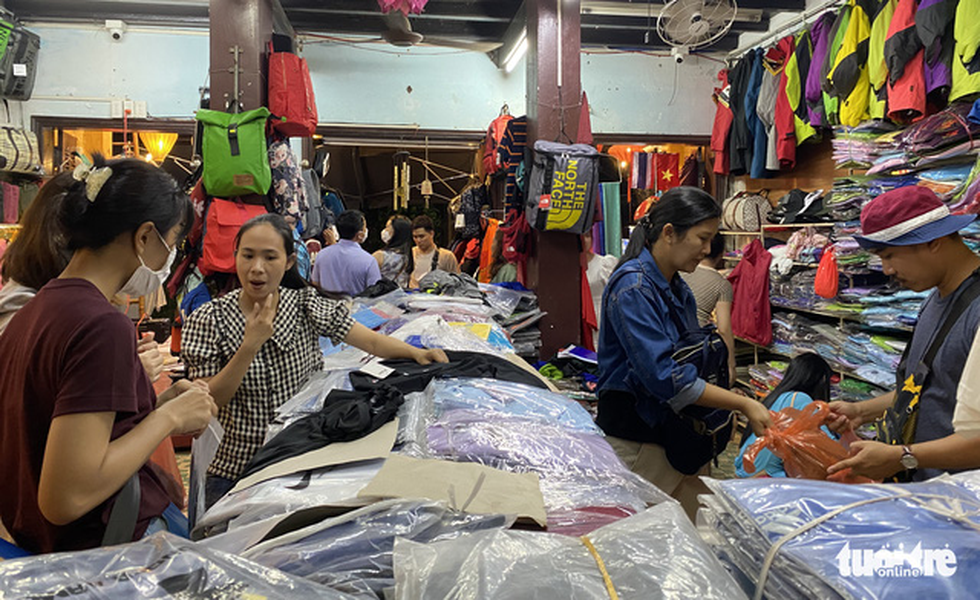 "Poverty in childhood did not defeat me, so when the business faces difficulties because of the epidemic, my wife and I are not afraid of suffering when we do enough jobs to make a living," said Do Van Lac. In the photo: Lac's shop in Hoi An city, Quang Nam province is crowded after tourism recovers – Photo: TRUONG TRUNG
* Then how did you come to the School Relay scholarship?
– Scholarship Relay to school found me. After the exam, I knew I would pass the university, so I didn't think much of it, but asked my mother to go to Da Nang to work right away. I worked for a large restaurant, worked three shifts from morning to night, then ate and slept there to earn money.
The day the University of Danang sent the admission notice, my mother was very happy, she sold lottery tickets while holding my newspaper to show it all over the village. As a result, the village knew about the university entrance exam before me. The encouragement from relatives makes my mother and daughter's livelihood more motivated.
But to be honest, I was also a little shivering, I didn't know what would happen in the future, because this was the first time I left my mother far away. Where do you get the money to follow through four years of college? Without me, who will be by my side in rainy and windy times? Those are the two thoughts that make me toss and turn every night.
My situation was transmitted by some teachers to the program organizers. So when I was serving the table, someone came to guide me through the scholarship procedures. The scholarship 15 years ago was 3 million VND, enough for me to cover 3 months.
But in the exchange program that year, many aunts and uncles received support for my annual tuition fees. Some people accept me as a tutor for their children, publish newspapers, someone gives me a part-time job outside of school hours, with the desire to help me earn an income to cover student life.
An aunt and uncle even gave me 20 million to buy a wheelchair for my mother and redo the steps higher than 2m in front of the house, making it easier for my mother to get up and down when her son was not around. Thanks to that, I feel more secure when it rains.
Luck is the predestined fate of the program Relay to school The program does not end after the end of the program, but according to me during 4 years in the lecture hall, I was never "unemployed".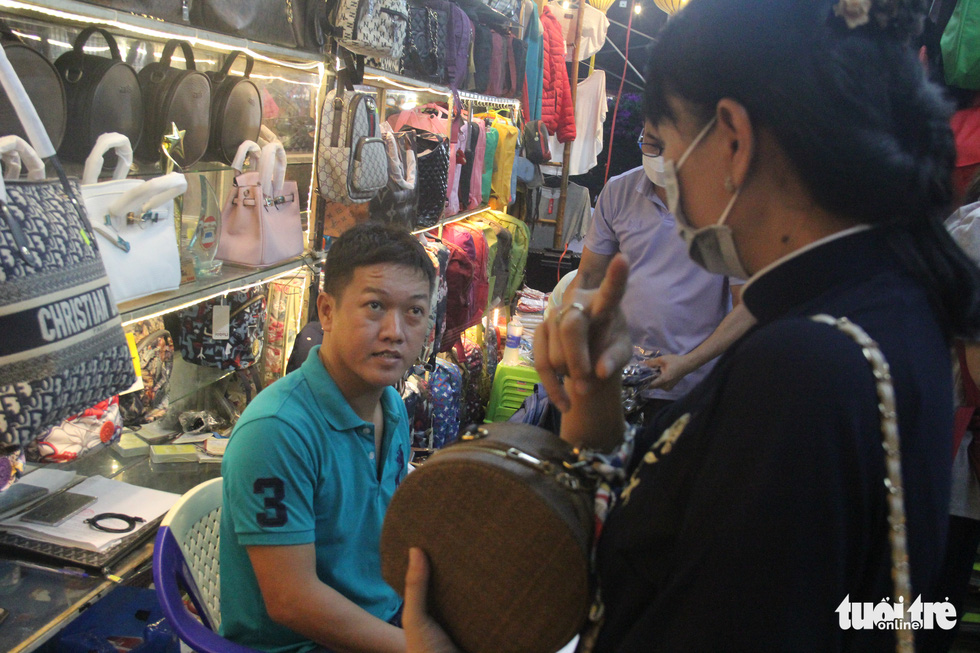 Anh Lac communicates with a Thai customer at the store – Photo: TRUONG TRUNG
Think positive to move forward
* You talk about a lot of extreme experiences. What do those experiences mean to you in your future work?
– I graduated from university and then went to work for three companies in turn. When I had a little savings and had a small family, I started my own business because I wanted to stay close to home to conveniently take care of my mother for peace of mind.
I opened a souvenir shop in the center of Hoi An ancient town. After doing business for a while, the COVID-19 epidemic spread, so everything was not very smooth. In my spare time, when I look back, I see that God always wants to challenge me. But then just laugh and continue to try harder for the family, not having any other choice.
When I received an interview, there was a time when I thought it would be more satisfying when I succeeded to repay the hearts of those who cared and loved me that day.
But I also want everyone to know that the past experiences and help have helped me grow up and be much more stable on my life, work and children's education in the future. So this period was a bit difficult but it was nothing, I still got through it.
* 15 years looking back, if you had advice for new students with difficulties, what would it be?
– I want you to think positively. Everyone has a dream, if you think positively, then action will lead to the dream. As long as you guys try and show everyone your efforts to overcome difficulties, I believe everyone will support you in your academic path.
The me of that day, besides studying in the lecture hall, did 2-3 things at the same time. But surprisingly, sometimes when I go to the lecture hall, I feel "easier to breathe" than when I was in high school, because at that time, I had the strength and lived in the sky of knowledge.
Someone very well said that "as long as you try, the whole universe will help you". I found this to be true. Later, following many situations introduced in the program Relay to school, I found that the more difficult you fall into a difficult situation, the greater the resilience, the more intensely you desire.
Perhaps when falling into a situation that could not be more miserable, the dream of changing life to compensate for the difficult days is even greater. My dream at that time was to change the life of my mother who sacrificed everything for me with her life. So I tried to reassure her with all my might.
Thank you for those days
Looking back at the image of the steep steps higher than 2m in front of the house that day, Mr. Lac remembers the day he went to Ho Chi Minh City to interact with the program. Relay to school then the whole village of Triem Dong and Dien Phuong commune where he lived ran into white water.
The steep steps of those days are no longer there, but replaced by a smooth road to pay tribute to the mother who has worked hard for her whole life.
Ms. Nguyen Thi Tha still works as a lottery ticket salesman 15 years ago. But the burden of living on the shoulders has now been removed, and instead is the joy of reunion with children and grandchildren.
"My child grew up from the kindness and protection of everyone. In the most difficult years, there were hands to help him have the will to overcome poverty," said Mrs. Tha.

Start the flow of "Pearl Guava"