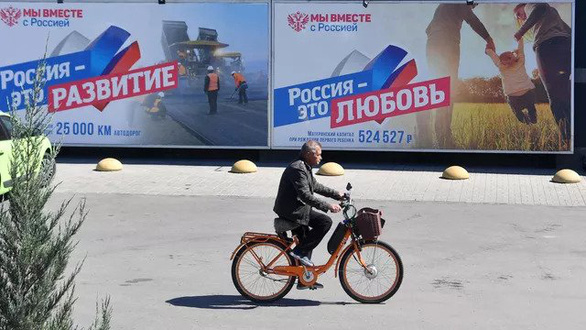 A resident of Melitopol city rides a bicycle past a poster with the words "Россия – это любовь" (Russia is love) – Photo: RIA NOVOSTI
From September 30, the city of Melitopol will be made the temporary capital of Zaporizhzhia province, according to RIA Novosti news agency.
According to the decree of Russian President Vladimir Putin signed on September 29, the Zaporizhzhia region will be recognized as an independent region and an oblast (province). According to the decree, the city of Melitopol will become the temporary capital of Zaporizhzhia province.
Previously, the city of Zaporizhzhia was the capital of the entire Zaporizhzhia province.
Talking to RIA Novosti, Boris Rogov, a member of the Zaporizhzhia Provincial Government Council, said that because Zaporizhzhia city is currently under Ukrainian control, Melitopol city will be set as the temporary capital. .
But if the city of Zaporizhzhia is no longer under Ukrainian control, then the capital of Zaporizhzhia province will be returned to the city of Zaporizhzhia, Rogov said.
On the same day, experts in the field of constitutional law, representatives of the State Duma of Russia (Russian lower house of parliament) and senators began work on the development of separate statutes for Zaporizhzhia province as a member of the State Duma. independent entity.
After the referendum taking place from September 23 to 27, four Ukrainian territories including Donetsk, Lugansk, Kherson and Zaporizhzhia are in the process of completing legal procedures to officially join the territory. Russia.
President Vladimir Putin and Russian officials have confirmed that Moscow will accept the decision of the people of regions in Ukraine in the referendum result.
Press secretary to the Russian president, Dmitry Peskov, said that the announcements of the annexation of these four regions into Russian territory will take place on September 30 in the Kremlin.
In addition, Valentina Matviyenko, chairwoman of the Council of the Russian Federation (Russia's upper house of parliament), said that the body may consider merging the four territories on October 4.
Meanwhile, Ukraine and the West have repeatedly criticized the referendums and said they will not recognize the results.