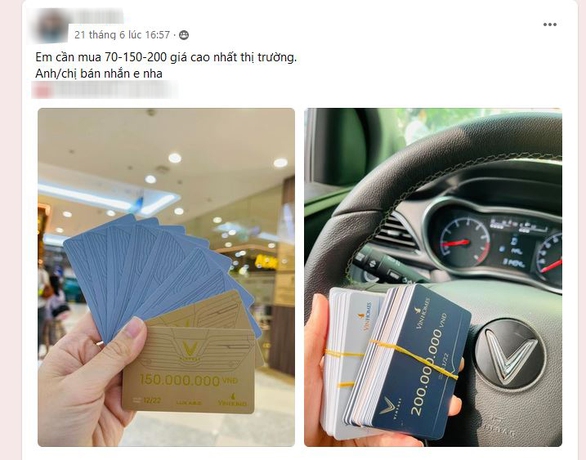 Many merchants continuously post to buy vouchers to buy VinFast cars – Screenshot
Trading in vouchers to buy VinFast cars for more than 2 years, Quang Minh believes that this is a potential industry, up and down like the stock market. "The voucher price fluctuates from time to time, increasing/decreasing depending on market demand," he said.
In the current market, 200 million vouchers are collected for about 60-61 million VND and offered for sale at 62.5 million VND. The profit level is equivalent from 1.5 to 2.5 million dong.
The wholesalers will pay directly for the transaction with the person wishing to sell or transfer the money to buy and deliver the goods remotely. "Bank transfer is also convenient because it ensures the money reaches the seller, while the voucher will be received by a close shipper," Minh said. However, there are also people who only receive direct transactions to be safe.
According to Minh, in the last two years, the price of this voucher has fluctuated quite a lot. There are times, vouchers of 200 million are sold by many people for 10-20 million. But there are times when this type of voucher is bought around 140 million VND. VinFast car purchase voucher has many different denominations from 10 million to 200 million, given to customers buying real estate projects under Vingroup.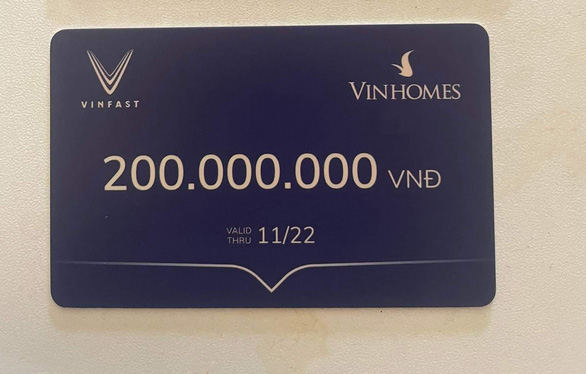 VinFast vouchers have many denominations – Photo: HOANG SON
Although trading activities are quite exciting, many people consider them to be high-risk, because they partly depend on the consumption of VinFast's cars. "Many people are still holding quite a few vouchers to buy from the price range of more than 70 million VND, while the current market price is only about 60 million VND," Minh said happily.
A VinFast auto dealer said that many customers who buy cars use vouchers up to the allowed limit to benefit from the price. "For the VF e34 model, users can apply a voucher up to 200 million, minus the selling price. The Lux line applies up to two vouchers, equivalent to 400 million VND", said Hoang Hai, a salesman of a VinFast agent.
In addition to the voucher business, on many forums, there are other forms of selling advance deposit rates for VinFast electric cars, especially the VF e34. Deposit rate of 10 million VND with safety technology package worth about 60 million VND. The sellers collect an additional difference of 5 million (equivalent to half of the deposit). In addition, VinFast's sales consultant said that they are ready to buy preferential vouchers if customers do not have them, to help minimize the cost of car ownership.
With VinFast car lines receiving more and more attention from users, stable car sales, the land for buying car vouchers is still open. However, this type has a certain risk for buyers because the number of vouchers launched on the market depends largely on Vingroup, when the supply is high, exceeding the demand for buying cars, these types of vouchers on the black market also price will be reduced accordingly.