This afternoon (September 29), at the regular press conference of the third quarter of 2022 of the Ministry of Finance, Mr. Dang Ngoc Minh – Deputy Director of the General Department of Taxation said that from March 21, Vietnam opened the declaration portal. Taxes for foreign suppliers on behalf of individuals in Vietnam with revenue generated.
Vietnam is one of the four leading ASEAN countries in opening an electronic portal for foreign suppliers to automatically declare. And from March 21 to now, there have been 36 foreign suppliers registered to declare tax after being propagated by tax authorities and sent an open letter to the headquarters of the corporation.
Minh emphasized, among 36 foreign suppliers, many of which are large corporations have made tax declarations such as: Meta (Facebook's parent company), Google, Microsoft, TikTok, Netflix ..
"Especially in the past few days, after a period of discussion and support from the tax authorities, Apple has officially made tax declarations in Vietnam", said Mr. Dang Ngoc Minh – Deputy General Director of the General Department of Taxation. emphasize.
Also according to Mr. Minh, from March 21 to now, foreign suppliers have temporarily paid tax on behalf of individual partners in Vietnam nearly 500 billion VND.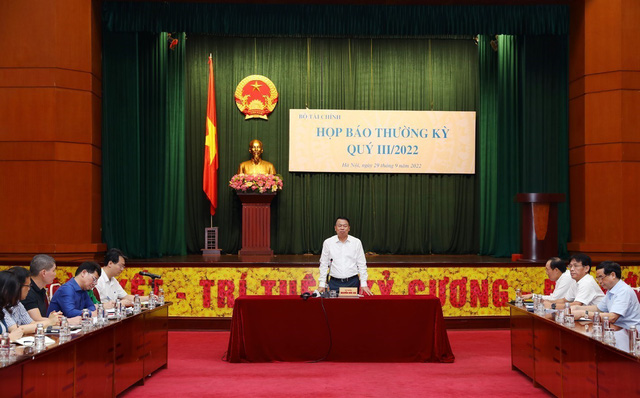 Ministry of Finance Regular press conference for the third quarter of 2022 on this afternoon of September 29
In mid-March, answering a question at the 9th session of the National Assembly Standing Committee, Minister of Finance Ho Duc Phuc said that the management of tax collection for cross-border goods and services , according to current regulations, tax is collected through organizations in Vietnam (tax paid on behalf of foreign contractors) with an average revenue of over 1,000 billion VND/year.
According to the Minister, from 2018 to the end of December 2021, these units have declared and paid taxes with a total amount of more than VND 4,400 billion. Accordingly, a number of large corporations such as Facebook are VND 1,694.77 billion; Google is 1,618.42 billion; Microsoft is 576.62 billion VND. In 2020, tax revenue from cross-border digital services will reach 1,143.76 billion VND, in 2021 will reach 1,317.78 billion VND, equaling 115.2% of 2020.
On March 21, the General Department of Taxation officially announced and operated the portal for overseas suppliers (https://etaxvn.gdt.gov.vn/). After the portal for overseas suppliers is put into operation, all transactions from registration, declaration, tax payment, etc. are carried out online through the portal and other channels. Overseas suppliers are not required to submit hard copies to the Vietnamese tax authorities.