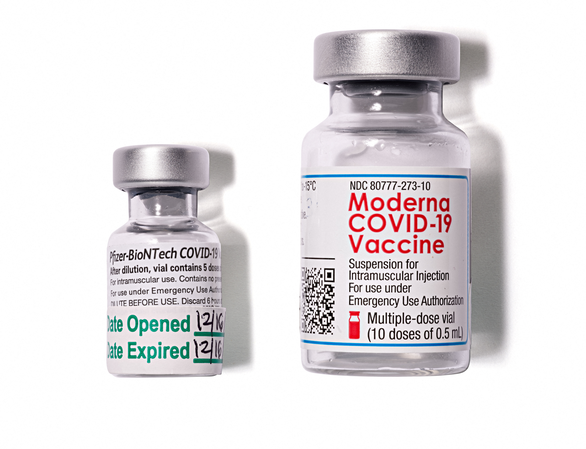 Pfizer/BioNTech's COVID-19 vaccine (left) and Moderna – Photo: REUTERS
The COVID-19 vaccine, jointly developed by Pfizer and its partner BioNTech (Germany), is the first fully approved COVID-19 vaccine in the US for adults.
Pfizer shares fell 1.4% while BioNTech fell about 2% after Moderna announced the lawsuit, according to Reuters news agency. Both companies have not yet commented.
"We are filing this lawsuit to defend the innovative mRNA technology platform that we pioneered, invested billions of dollars to create and patented before the COVID-19 pandemic broke out." Moderna CEO Stephane Bancel emphasized in the statement dated August 26.
The statement stressed that Pfizer/BioNTech "appropriated two Moderna intellectual property". The first is the mRNA that Moderna claims its scientists started developing in 2010 and testing in humans in 2015.
The second allegation involves encoding a protein that Moderna claims to have developed while developing the Middle East Respiratory Syndrome (MERS) vaccine.

Messaging RNA (mRNA) technology has made the COVID-19 vaccine a vaccine developed and approved for emergency use in record time of just months instead of years.

Moderna and Pfizer/BioNTech's COVID-19 vaccines both use mRNA technology, two of the world's most injected vaccines.
The US Food and Drug Administration approved the emergency use of Pfizer/BioNTech's COVID-19 vaccine in December 2020 and a week later for Moderna's vaccine.
In the early stages of the pandemic, Moderna said it would not put too much weight on its patents to help other drugmakers develop vaccines for low- and middle-income countries.
But in March 2022, Moderna announced that companies like Pfizer and BioNTech should respect its intellectual property rights and that Moderna would not seek damages for conduct before March 8, 2022.
Moderna is expected to bring in about $10.4 billion this year from its mRNA-technology COVID-19 vaccine, while Pfizer's revenue doubles (about $22 billion).
According to Reuters, patent disputes are not uncommon in the early stages of any new technology.
Moderna itself has also been sued for patent infringement and is in dispute with the National Institutes of Health over who owns the mRNA technology.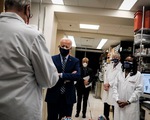 Moderna's COVID-19 vaccine copyright dispute