A study published in the journal Science Advances discovered an 18.61-year cycle – known as the Moon nodal cycle – that shaped the state of tidal wetlands.
Lead author of the study, Professor Neil Saintilan of Macquarie University (Australia), said: The Moon's orbit around the Earth does not take place in a flat plane. Since the 1720s, people have known the Moon moves up and down a few degrees." He likened this movement to "you are spinning a coin – when it loses momentum, it wobbles."
These changes in gravity due to the Moon's oscillations affect Earth's tides, according to the paper Guardian.
Previous research by NASA scientists predicted that by the mid-2030s, the Moon's oscillations would cause sea levels to rise, leading to tidal flooding along the coasts.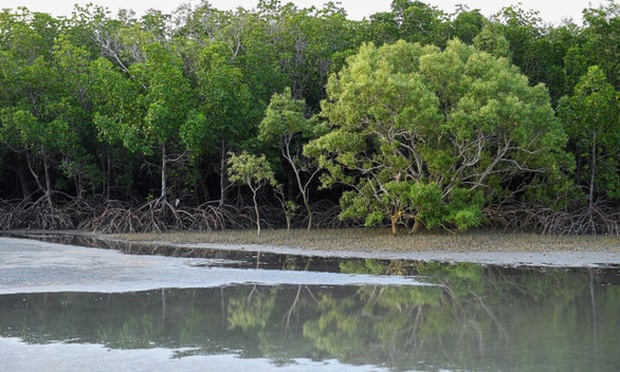 The oscillation of the Moon causes trees to die in mass in Australia – Photo: AAP
Depending on the phase of the lunar nodal cycle, "tides can vary by up to 40cm" in places like the Gulf of Carpentaria, Mr. Saintilan said.
"Mangroves develop between mean high tide and high tide," he added. At lower tidal ranges, mangroves are less prone to flooding. "When plants are stressed because they lose water through their leaves, they drop their leaves."
From 1987 to 2020, scientists used satellite imagery to quantify annual mangrove cover across Australia. The variation in canopy cover was "immediately obvious", Mr. Saintilan said.
Along the Arnhem coast in the Northern Territory and the Carnarvon coast in Western Australia, the researchers found that the peaks of the closed canopy – where a thick canopy of mangroves covers more than 80 percent of the land – is found. coincide with the peak tides from the oscillations of the Moon.
Scientists believe that the oscillations of the Moon likely contributed to the deaths of about 40 million trees in the Gulf of Carpentaria in 2015-2016.
At that time, the "low tidal amplitude" phase of the lunar oscillation cycle coincided with a severe El Niño.
Dr Brad Tucker, an astrophysicist at the Australian National University (ANU), who was not involved in the study, likened the oscillations of the Moon to the undulation of a vertical object in water. . "It does its undulations up and down every 18.6 years," he said. "If the Moon were to go up or down further from the Earth, that would change the force of gravity."
Another factor that affects tidal activity on Earth is that the Moon is not a perfect circle as it orbits the Earth, Mr. Tucker said.