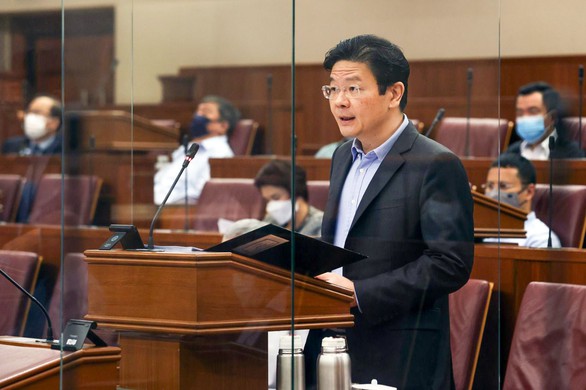 Mr. Lawrence Wong will have many opportunities to try his hand at the role of Singapore's deputy prime minister on the way to the prime minister's seat – Photo: Facebook Mr. Lawrence Wong
The official announcement of the promotion of Mr. Lawrence Wong (Hoang Tuan Tai) was announced on June 6, nearly two months after he was chosen to lead the 4th generation leadership group (4G) of the Party. People's Actions ruling Singapore.
"The next generation of leaders is taking shape. I ask for your full support for this important transition, to get Singapore safely out of the pandemic and into a brighter future." Prime Minister Lee Hsien Loong called in a post on Facebook on the same day of June 6.
According to Reuters news agency, as deputy prime minister, Mr. Wong will become the acting Prime Minister of Singapore in the absence of Mr. Lee Hsien Loong. He will also continue to hold a position at Singapore's Ministry of Finance and head the Strategic Advisory Group of the Prime Minister's Office.
The Strategic Advisory Group is tasked with monitoring and finding solutions to issues facing Singapore in the medium and long term, such as population and climate change.
In addition to promoting Mr. Wong, Prime Minister Lee Hsien Loong's new cabinet also had a change when eight officials were rotated to other ministries.
The rotation of officials is a familiar practice for Singapore's leadership to ensure that future leaders have knowledge in many fields and test their capabilities.
Mr. Felix Tan, a political analyst at Nanyang Technological University (Singapore), said that promoting Mr. Wong was not surprising after he was selected to lead the 4G group.
According to Mr. Tan, it is not likely that Mr. Lee Hsien Loong will resign to cede the position of prime minister to Mr. Wong.
It is most likely that Mr. Lee will join Mr. Wong to lead the People's Action Party to victory in the 2025 general election before handing over the prime minister's seat.
"Being promoted as deputy prime minister will give Mr Wong some time to get used to his role, giving him the opportunity to form a new cabinet or at least participate in the decision-making process to form a cabinet." new," said expert Tan.