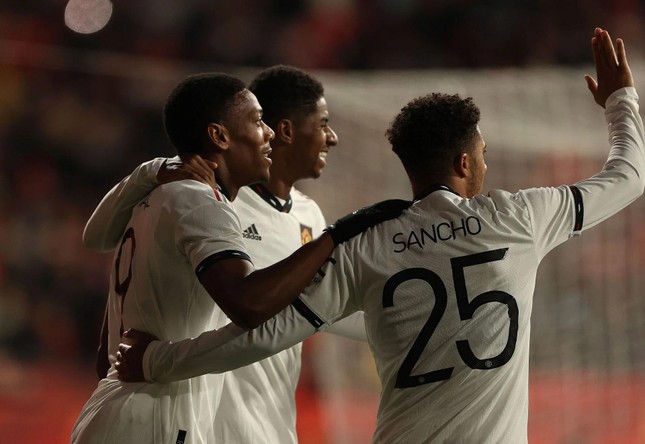 If there was one thing that disappointed Erik ten Hag in the friendly against Crystal Palace, it was the fact that MU continued to concede goals because of mistakes in the defense. If the previous match against Melbourne, the pair of central defenders Harry Maguire and Victor Lindelof stood in the wrong position leading to the goal, this time, goalkeeper De Gea did not play well in the 74th minute anti-corner situation.
De Gea was passive and, then, slow to judge and react to Ola-Adebomi's header. Over the years, MU has been very vulnerable to set-piece situations. To make things worse, their defense always tends to make mistakes. This certainly cannot be fixed anytime soon and Ten Hag has a lot of work to do.
But at least, the Dutch coach can have some peace of mind when his philosophy is developing well at MU. The players move flexibly, creatively and occupy the space well. It all makes for a lively performance on Tuesday afternoon in Melbourne.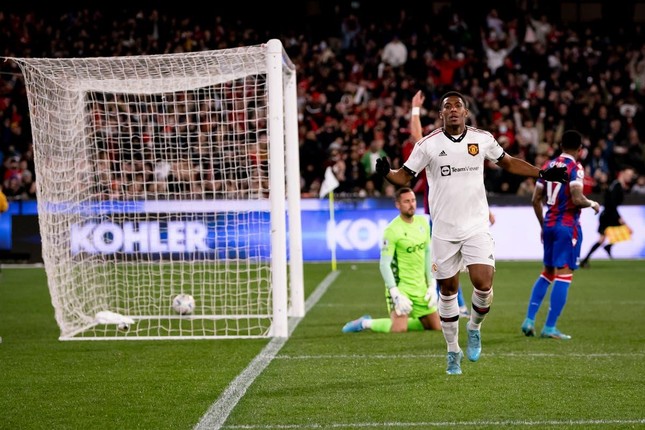 Anthony Martial is making remarkable progress under the Ten Hag reign. (Image: Getty Images)
In the 10th minute, MU had the opportunity to open the scoring after Fred's excellent slot to let Anthony Martial escape to face the goalkeeper. It was impossible to beat Jack Butland in that situation but it didn't take Martial long to celebrate. In the 17th minute, rookie Tyrell Malacia coordinated well with Diogo Dalot, then a perfect pass from the right wing for the French striker to have the 3rd goal in 3 consecutive matches.
The score of 3-1 at the end of the game does not reflect the full strength of MU, nor does it match the number of opportunities created. However, the ability to hold the ball, control the game and conduct sharp attacks of the Red Devils is enough to make their fans excited.
The goal that raised the score to 3-0 in the 59th minute can be considered a symbol of the newness that Ten Hag brings. With only 4 passes, the ball was moved by MU players from the home team's penalty area to the net of Crystal Palace. From the time the ball left Victor Lindelof's feet to the time Jadon Sancho completed the attack, it took only 11 seconds.
If that situation highlighted synchronization, precision and efficiency, then the 48th minute goal showed the great composure of Ten Hag's players. From a long shot from deep under the defense, Martial successfully controlled two Crystal Palace players. The ball is then passed to Sancho, who stops the ball, waits and returns it to Martial himself to come in. Martial passed the goalkeeper and the ball reached Van de Beek's feet. The Dutch player calmly stretched and Rashford easily put the ball into an empty net.
After this victory, MU will move to Perth in Western Australia to play the next friendly match against Aston Villa on July 23.