On August 18, the world's most difficult music critic site – Pitchfork – had an album review LINK by female singer Hoang Thuy Linh and gave this music a score of 7.2/10. Author Joshua Minsoo Kim's article also marks the first time that the Pitchfork site has a review and rating for a Vpop album. Hoang Thuy Linh is also the third Vietnamese artist to receive a Pitchfork review.
Previously, there were 2 Vietnamese indie artists who received reviews from the site including Sleep Day on Doomsday of Snake-Tailed Snakes (7.8/10) and Came by Tran Uy Duc (7.5/10).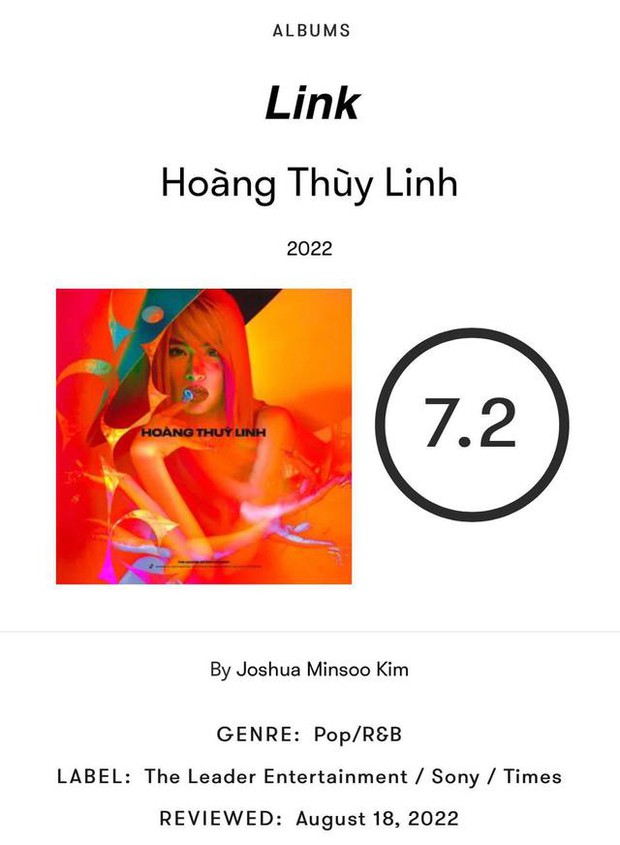 Hoang Thuy Linh's LINK album is rated 7.2 by Pitchfork website
A score of 7.2 is a relatively impressive score, in the "fairly average" category of Pitchfork and not too many albums receive a score like this. This score is equal to SNSD's recently released album – Forever 1 (7.2/10) and higher than many famous albums from international superstars, including Lover by Taylor Swift (7.1/10), Reputation by Taylor Swift (6.5/10), Nine Track Mind by Charlie Puth (2.5/10), BE of BTS (7.0/10), Kill This Love – EP by BLACKPINK (6.2/10),…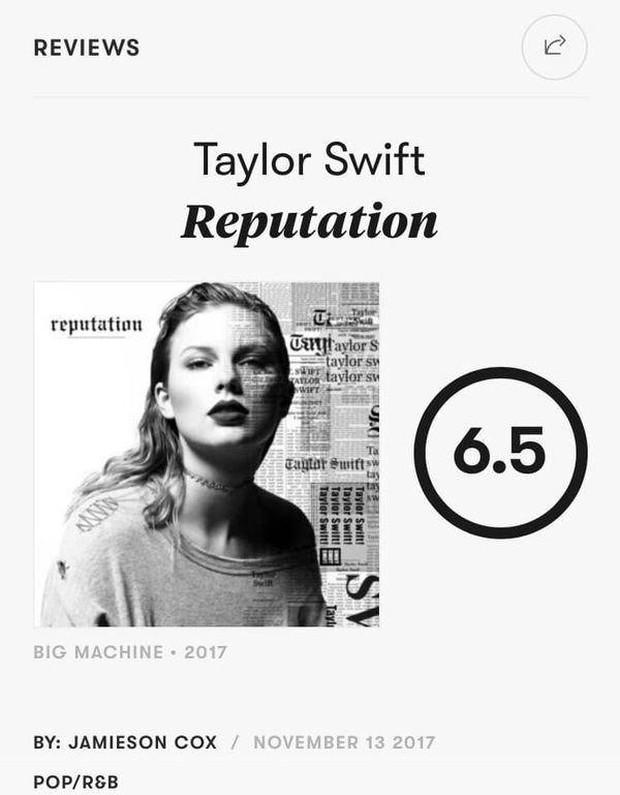 Taylor Swift's Reputation album only got 6.5 points from Pitchfolk


Hoang Thuy Linh's album is rated higher than BTS's latest album – "BE"

Beating BLACKPINK's score with "Kill This Love"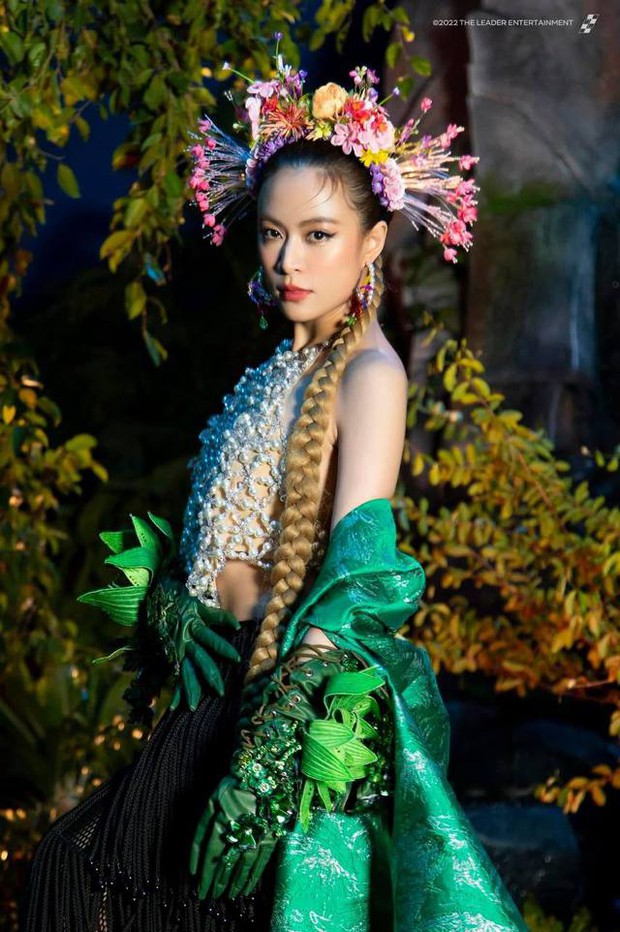 Hoang Thuy Linh's album "LINK" received a score of 7.2, which can be called quite high on Pitchfolk – a prestigious and famous music site known for its extremely difficult scoring.
Author Joshua Minsoo Kim's review shows that Pitchfork's writer has thoroughly researched the Vpop female singer. The pen also gave the album LINK many compliments for the creative application of traditional Vietnamese folk materials with international modern music. Pitchfork also did not hesitate to call many of the album's songs with the highest concept in Vietnamese music history. Tracks that have received many impressions from international authors include See Tinh, First Lady Runs Away, Sometimes Sees Sometimes Doesn't and Puzzling.
The full content of Hoang Thuy Linh's LINK album review on Pitchfork by author Joshua Minsoo Kim is as follows:
Foreword: The Vpop female singer's latest album is an eloquent statement of purpose, culminated in a harmonious intersection between evocative storytelling and dramatic, scale-out production.
Hoang Thuy Linh spent a good part of her growing up telling her own story. The Vietnamese singer and actress used to cause "storms" all over the country because she revealed a hot clip when she was young in 2007. The movie "Anh Vang Diary" in which she participated was immediately canceled, creating a wave of controversy. widespread controversy. Many people criticized her for "crocodile tears", with no remorseful attitude. There is even an opinion that her career is "done". A few years later, she began to experiment with electronic pop music, constantly integrating her life story into products, creating songs with the most top-notch concepts in Vietnamese music history.
In 2018, Linh published a memoir called "Vang Anh & Phuong Hoang" to recount the old "controversy" and its consequences. Ready to tell old stories to the whole world, that's when Linh began to write a new chapter for herself.
Released in 2019, the album Hoang marked a clear "rebirth". Specifically with "Den Am", this is a song that shows the ability to combine traditional Vietnamese culture with contemporary Pop music. The song's video has many hidden details about her life, but ends with the image of her sitting on a palanquin, showing the metaphorical image of the phoenix in Vietnamese beliefs: like a "queen". Then 3 years later, her 4th album – LINK – is a powerful statement of purpose. A play on words from Linh's name, the album title also shows "links", invaluable relationships that have helped her over the years. (Not to mention, the album was also released on the occasion of Vu Lan's gratitude to the birth). Sharing in February, Linh said: "Sitting today, I am completely healed. I have started to feel love, there is a connection with other souls."
At the age of 34, Linh writes music filled with ideas about enjoying joy in the present moment. In "When I See It When I Don't", Linh tries to win the heart of a guy who is very enthusiastic at first, but then disappears without a trace. The lively rhythm part shows the excitement when pursuing "crush", but in the end is the lesson "first love makes us wiser in love".
"Life has sad times, happy times, halfway through, or times when you don't know how to name it. Just be good to yourself and enjoy life, because every decision makes us better.", Linh shared at the press conference to release the album LINK. The female singer chose "Ha Phom" as the ending song for the album. Melodies and fast drum beats, the song highlights the message that life's challenges should not be viewed as a game of winning or losing, but as an opportunity to grow. Linh's smooth transition between singing and rapping is equally supportive.
On the other hand, LINK's most convincing moment is when ultrasonic experimentality combines with lyrical conceit. "The Runaway Queen" is a dramatic epic, starting with a novel version of the Wedding March tune before moving on to the "runaway bride" episode that is half Cardi B, half BLACKPINK. . In her autobiography, Hoàng Thùy Linh confessed that she fell into a state of self-blame that lasted for a year after the clip leak, and not even after she had a new lover. That person was 20 years older than her, disparaging her profession, and even went to meet other women. Yet she remained, hating herself for four years, believing that no one else could love her. Then the sarcasm appeared joyfully in "The Runaway Eldest". She "cà khà" her ex and his ramblings by chanting "blah blah blah" over the drums and overwhelming melodies, only to end up with the clack and clatter of electronics. Add salt to the wound.
The evocative storytelling and scaled production make a comeback in "Puzzle". Produced by Triple D, the "master" specializing in epic EDM hits, "Puzzle" combines with epic design tools to depict the process of self-discovery as a complex and difficult process to use. use. Linh's voice is almost overwhelmed by the opera performance of Tung Duong and Thanh Lam. Both of them sang with so much vitality, that it made listeners start to "sweat" when listening to "Riddle" over and over again. The jubilant spirit of "Geo Que" on the other hand is somewhat "easier to swallow". Released on New Year's Day, the song is Linh's attempt to create a "hidden trip" from the harsh realities brought about by the pandemic. The catchy drop and cheerful flute of the chorus are like a pause button, to reflect and look to the future.
As Linh becomes more confident, her music also becomes more special and contains inspiration from many different cultures. Take "See Tinh" as an example, the title of the song is "played with" the word "love". The disco-funk melody is reminiscent of Funk Wav Bounces, while the chorus is a familiar Kpop style and finally a speed-up remix version that has gone viral all over TikTok (included). is one of the most famous choreography in Kpop) closer to nightcore (referring to faster and stronger mixes than the original) than Vietnam vinahouse (a typical remix music genre, popular in Vietnam). Pay attention, however, and you'll hear variations of the word "love," which resembles a Vietnamese "la la la" and is used in traditional folk songs. In "See Tinh" there is also a transfer between the past and present Vietnam, something that has become a trademark of Linh's art. With LINK, Hoang Thuy Linh's music has really "evolved" thanks to her extensive influence and the support from friends and relatives around her.