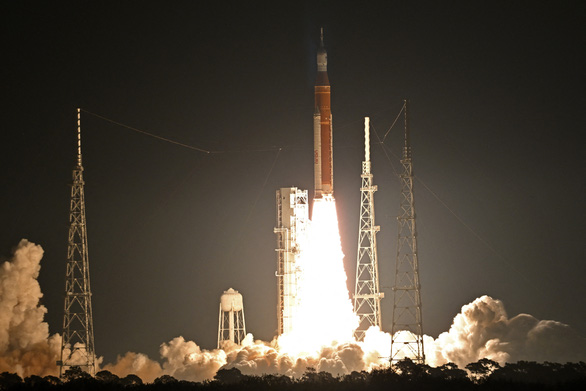 SLS rocket and Orion exploration ship launched in Florida, November 16 – Photo: REUTERS
According to AFP news agency, the rocket carrying the Orion probe departed from Kennedy Space Center in Florida (USA) at about 13:48 on November 16 (Vietnam time).
This is a test, unmanned flight around the Moon in three weeks. The flight is expected to pave the way for NASA's Artemis lunar exploration program, 50 years after the last Apollo moon mission.
Named after the ancient Greek goddess of the hunt and twin sister of Apollo, Artemis aims to return astronauts to the Moon's surface as early as 2025.
According to AFP news agency, Artemis is also the first step in a plan to build a long-term US presence on the Moon, and draws many lessons to prepare for a trip to Mars in the 2030s.
About 100,000 people were on the beach to watch the launch. Andrew Trombley, a space enthusiast from Missouri, is worried after the launch was delayed several times due to technical problems.
"I've been here a few times to watch the launch but it got cancelled, so I'm glad the launch was successful," said Mr. Trombley. "When the Apollo mission took place I was too young…so I wanted to come in person. see".
Kerry Warner, 59, a retired educator living in Florida, said the launch was "part of America and representative of America".
Before November 16, the launch was delayed because of Hurricane Ian. In addition, two test launches were canceled due to technical problems. The first problem was related to sensor failure, the second was due to a fuel leak. Rockets use extremely cold, extremely volatile liquid oxygen and liquid hydrogen fuel.
If the Artemis 1 mission is successful, the manned Artemis 2 flight will depart in 2024, followed by Artemis 3 with a female crew.
Though unmanned, Orion carries a simulated crew of three, equipped with sensors to measure radiation levels and the challenges astronauts will face.
The goal of this flight included testing the durability of Orion's insulation shield during friction with the Earth's atmosphere at a speed of nearly 40,000 km / h, 32 times the speed of sound. The heat shield is designed to withstand rising temperatures up to nearly 2,760 degrees Celsius.
After more than a decade of development with years of delays and budget increases, Orion has cost NASA at least $37 billion to date, including design, construction, testing and facilities on board. ground. NASA has predicted the total cost of Artemis to be $93 billion by 2025.
NASA says the program has created tens of thousands of jobs and brought in billions of dollars.