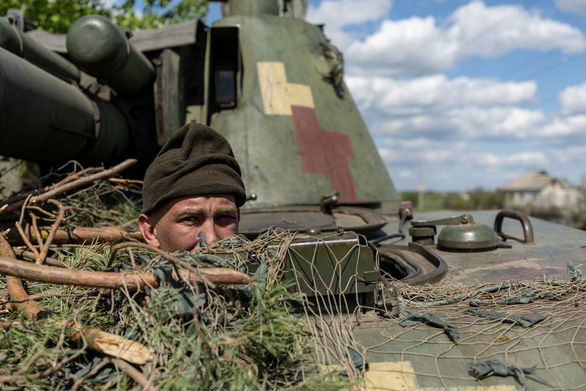 A Ukrainian soldier watches from a tank in the frontline city of Lyman, Donetsk region April 28, 2022 – Photo: REUTERS
"Russian troops near Lyman are under siege," said Serhiy Cherevatyi, spokesman for Ukraine's eastern forces.
He said that previously there were "about 5,000 – 5,500" Russian troops in the area, but military operations may have "reduced" this number.
According to Cherevatyi, five villages near Lyman in Donetsk have been "liberated".
Also on October 1, Sergiy Gaiday, the governor of Lugansk province (a member of the Ukrainian government), said on social media that nearly 5,000 Russian troops were besieged in Lyman. The self-proclaimed People's Republic of Lugansk is one of four regions that were officially annexed to Russia on September 30 after a referendum.
He said the besieged army had three options: (1) try to find a way to break the siege, (2) all die together, (3) surrender.
Meanwhile, Mr Denis Pushilin, leader of the self-proclaimed Donetsk People's Republic (DPR), said on social media on September 30: "The news from Lyman is disturbing. Lyman is now partially surrounded." However, Mr Pushilin did not specify how many Russian troops in Lyman were surrounded.
Lyman – a city of about 20,000 inhabitants – is located in the north of the Donetsk region. On September 30, Russian President Vladimir announced the annexation of Donetsk and three other regions of Ukraine (Lugansk, Kherson and Zaporizhzhia) into Russia, although Russian forces did not control the entire Donetsk region.
According to an update by Reuters news agency on the evening of October 1, Vietnam, the Ukrainian side said that Ukrainian forces had reached the entrance to the city of Lyman on October 1 after encircling thousands of Russian troops. If Ukrainian troops recapture Lyman, this will deal a blow to Russia after Russia announced its annexation of four regions of Ukraine.

Currently Russia controls almost all of Lugansk region and 60% of Donetsk region. Lugansk and Donetsk (with a combined population of about 6 million people before the war in Ukraine broke out) make up the Donbass region – a center of coal mining and heavy industry, mostly Russian-speaking, but devastated by skirmishes since 2014.