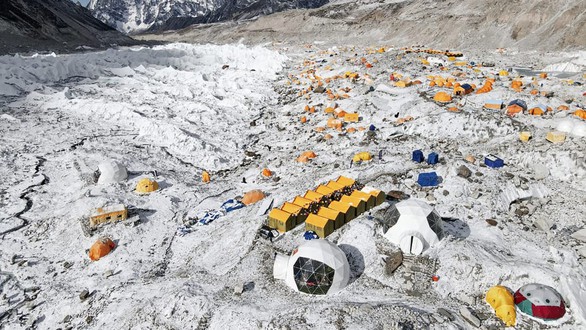 Base camp – Base camp on Mount Everest in Nepal – Photo: CNN
According to CNN, the Nepal tourism agency said the Base camp site is currently at some risk due to melting ice from the nearby Khumbu Glacier. The Khumbu Glacier is currently melting at a rate faster than the natural rate.
"We have been advised by locals, climbers and environmental experts to move Base camp. Although no decision has been made yet, we take these recommendations very seriously," he said. Taranath Adhikari – director of the Nepal Tourism Department – said.
As research and survey activities can only be conducted in the spring, it may take two to three years for Nepal to make a decision. During the spring of this year, a number of research activities were launched.
After the parties complete the study, they will present the proposal to the government of Nepal. The Cabinet of Nepal is the party that makes the final decision.
Mr. Adhikari cited "human activity" and climate change as factors that have affected the safety of Base camp.
This is not the first time stakeholders have raised alarms about the state of the environment on Mount Everest.
A study in the journal Nature Portfolio in climate and atmospheric science published earlier this year found that ice that formed over a 2,000-year period on the South Col Glacier has melted over the past 25 years or so.
Paul Mayewski, director of the Climate Change Institute at the University of Maine in the US, said the changes the study showed probably occurred during the time humans appeared on the mountains here.
Mr. Adhikari said Nepal both wants to preserve the mountain and glaciers and also wants to earn income from adventure tourism.
Tourism is the 4th largest industry in Nepal, employing 11.5% of local workers. A permit to climb Mount Everest costs $11,000 per person. Part of this money goes to communities living near the mountains.
Base camp is located at an altitude of 5,400m above sea level. The proposed location for setting up a new Base Camp could be 200 – 300m lower than the current altitude.