On the evening of June 22 (Vietnam time), Riot revealed the skill set of the new champion Nilah. For those who do not know, Nilah is a general who will be preparing to participate in the upcoming Summoner's Rift. In the champion introduction trailer, Riot has revealed the shape and outline of this champion's skill set to gamers.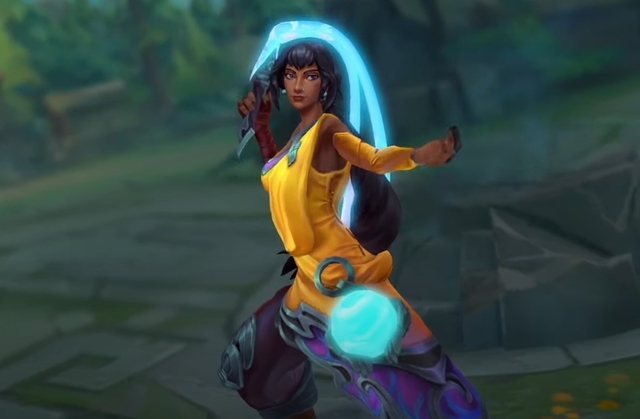 New champion Nilah has appeared in the PBE test server
Nilah, the Joy Unbound Ability Reveal _ New Champion
First, it is Nilah's Endless Joy intrinsic and this is probably the most "heavy" element of this champion. When an ally uses healing and shield on Nilah, they will also receive 1 heal and shield. When allies use healing and shields near Nilah, this champion will also receive the same buffs.
In particular, Nilah's Endless Joy passive also helps her and her allies receive 50% bonus experience points compared to normal experience points. In a nutshell, Nilah will be able to level up faster than opponents who farm the same amount of troops and have the same number of kills.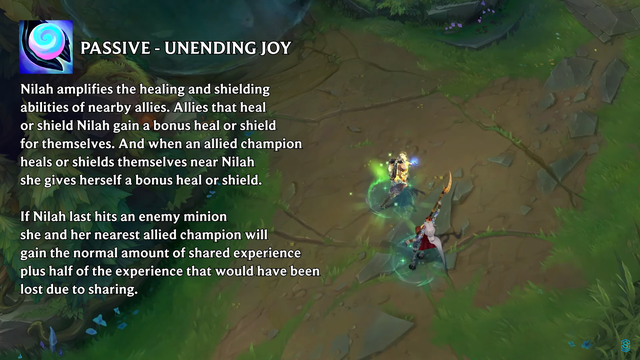 In addition, Nilah also has a pretty strong skill set. Q – Shadowless Sword can deal multi-target damage on the blade's sweep. When hitting an opponent, the move increases attack speed, attack range, strengthens basic attacks, helps Nilah hit in a cone and deal more damage.
The skill's passive ignores the opponent's armor and healing, and heals Nilah for a percentage of the damage dealt. This ratio is also proportional to the crit rate and the excess heal will convert to a shield.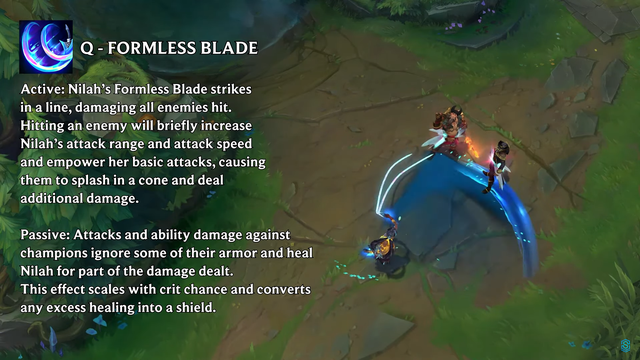 W – Curtain of Joy makes Nilah immune to opponent's attacks (including skills that apply crowd control, increase movement speed, and magic resistance. Allies can also benefit from Nilah's W, but shorter duration of action.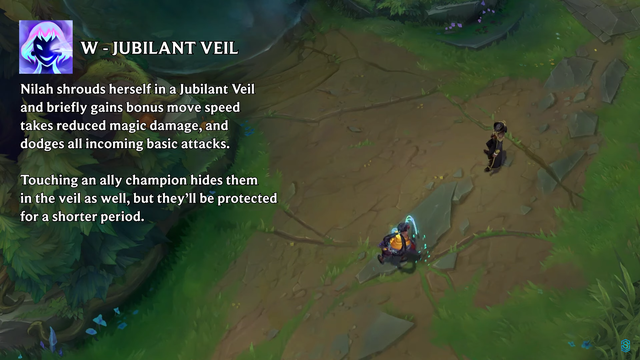 Meanwhile, the E – Return to Source move helps Nilah become an extremely mobile champion. Nilah dashes past the target and deals damage and can store 2 stacks of this ability for a time. In addition, if you use Q and E at the same time, E will create a wave that dashes through the enemy and deals damage and helps Nilah receive the effects of Q.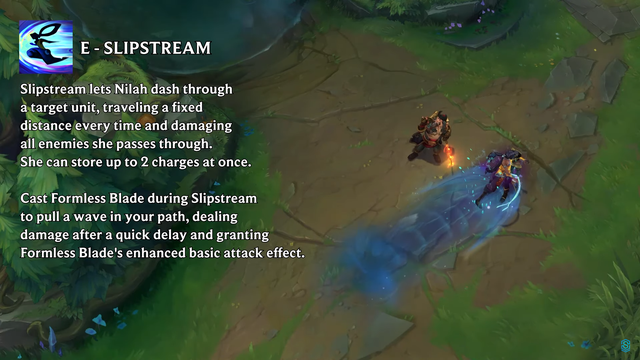 R – Devotion will create a whirlpool and enemies in the area will be sucked into the center of the vortex and take damage. Devotion helps Nilah heal for a percentage of the damage dealt, converting excess healing into a shield, and allies also enjoy these buffs.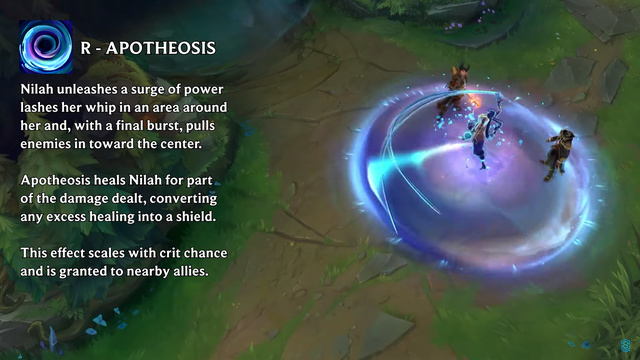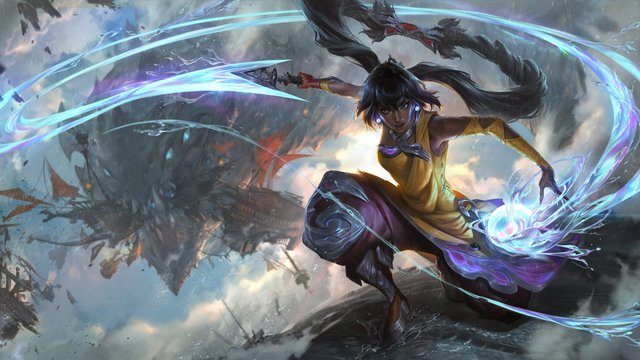 Nilah's default wallpaper
On the same day, Riot also revealed a new series of Star Guardian skins. However, Ekko's costumes are quite controversial on MXH platforms.
Teaser of the Star Guardian skin series
3 of the new Star Guardian skins, from left: Fiddlestick, Nilah, Sona

Ekko was judged to be unsuitable for posing
– Why does Ekko's skin look like this? The hair, the clothes… don't look very good in my opinion.
– Hair and face. Doesn't look like Ekko at all.
– I already own all of Ekko's skins but didn't buy this, not even the branded version. Fiddlestick's outfit is really good.
– Star Guardian Ekko skin will be one of the worst skins and it is right in the group of Riot's most popular skins.
New champion Nilah's skins and skills have appeared on the PBE and will be available in League of Legends in update 12.13.
https://gamek.vn/tuong-moi-nilah-co-kha-nang-hack-diem-kinh-nghiem-trang-phuc-ve-binh-cua-ekko-gay-tranh-cai-20220623092515226.chn