At the end of the VBA 2022 season, Nguyen Duong Quang Anh (nickname: Mr.Sugar) and Hanoi Buffaloes left many regrets. They were surprised when a straight line to the final but lost 3 matches against Saigon Heat. As for Quang Anh, he also left a certain mark, being loved by fans and judged to have gone from raw jade to precious gem.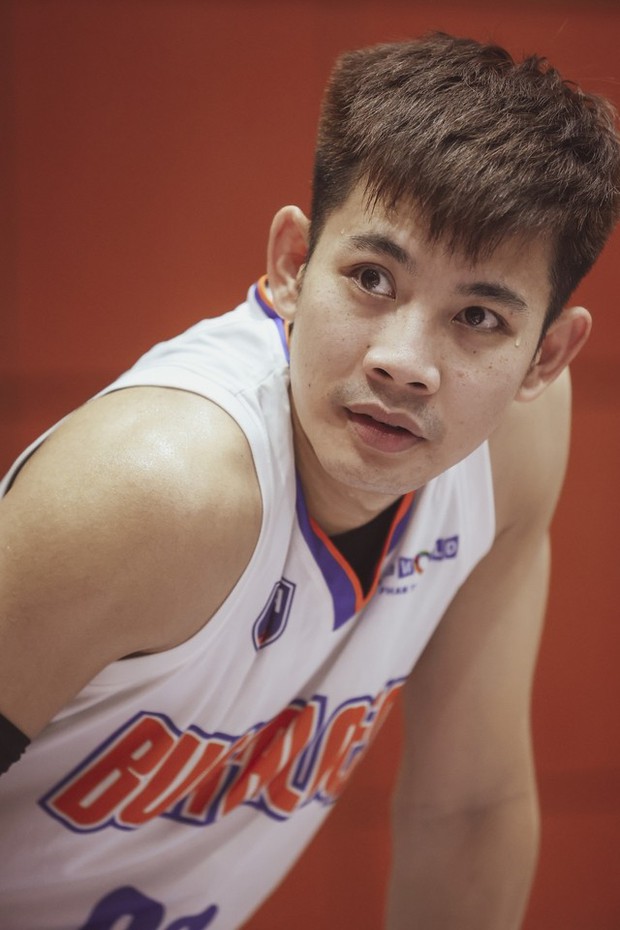 Nguyen Duong Quang Anh
Nickname: Mr.Sugar
Born in 1998
Height: 1.83
Graduated in Physical Education from Hanoi University of Sports and Education
Playing for Hanoi Buffaloes Club
Why is Quang Anh called rough jade? The answer lies in your starting point. As a capable young player, at first Quang Anh was considered to be quite instinctive because he came up from the basketball movement, not trained properly. After joining Hanoi Buffaloes, Quang Anh owns a smooth play, appeared in the main team and scored a lot of points for the club. Gems reveal themselves in such a way!
There are many people who know for sure the job they want to pursue when they grow up and really follow the set path. But there are also many cases of "human calculation is not equal to heaven". Quang Anh is in the latter position. He always thought that he would become a soldier until the last years of high school. Suddenly, when standing on the threshold of university, Quang Anh changed his wish.
He wants to play professional basketball. Quang Anh applied and passed the Hanoi University of Sports and Education.
Grade 9 is 1m78 tall, so he was chosen to play basketball but couldn't… dodge!
From the very beginning, Quang Anh did not like basketball, if not "hated what heaven gave". Like many other children, he only loves football because it is closer, accessible and more crowded.
"The two football fields are next to each other, looking at only a few players, I feel that basketball … is boring, football is more fun. At that time, I was still a child, so I thought it was very simple, if I love this subject, I will criticize the other. In 9th grade, there was basketball at the Phu Dong Health Association, which no one in our school knew how to play, so the teachers chose according to the criteria of who was both tall and talented in sports, with a height of 1m78 in 9th grade. I can't dodge" Quang Anh recounted.
Quang Anh's love of basketball kept growing. Since he didn't know anything, he knew how to shoot and score points, so he played more basketball and kicked less. At that time, if I wanted to meet Quang Anh, I would go to the basketball court. He even handles all the homework in class so that he can play football comfortably. Also because of playing basketball, Quang Anh almost gave up electronics, although before that he was so eager to play that he sometimes skipped school to play video games and was beaten.
2018 – the third year of university is the next turning point in Quang Anh's basketball career. He was called up to U20 Vietnam to attend the Cambodia Friendship Games 2018 international friendly basketball tournament.
"That year, we won and became the first people to wear the colors of the Vietnam national team led by the federation to win an international medal" – the player's eyes sparkled as he remembered. This is also the momentum for Quang Anh to go to professional competition in VBA and become the current Mr.Sugar.
Also in year 3, male student Nguyen Duong Quang Anh owes quite a lot of subjects because the final exam schedule coincides with the competition. In total, the guy owed 17 subjects during his student life, but in year 4, thanks to focusing on "paying off debt", he graduated on time. Currently, Quang Anh is studying for a master's degree in Physical Education, with one more year to complete.
"Some people call this a way back, but for me, it's a preparation for the next stage in life because a player can't play football for the rest of his life. Looking back now, sometimes I miss that one-year ambition. is lucky, there is no regret. Otherwise, there would have been another Quang Anh, not like this. But I am very happy and happy with the current Quang Anh." – he confided.
In real life they are brothers, on the field they are rivals
9 years of playing basketball, including 4 years professionally, made Quang Anh change a lot. In addition to the rough jade – precious gem or now everyone has forgotten the name Quang Anh, only remembering Mr.Sugar, the player's style and perspective is also different: "In the past, I scored a lot and was quite weak defensively. Now I focus on improving my defense and changing my style of play because I understand that no matter how many points I score, the team that loses will not be happy. I am no longer happy. throw indiscriminately, 13-14 balls/match like VBA 2019 again, but carefully and selectively. I consider which situations to score points, which situations to pass to teammates are better.".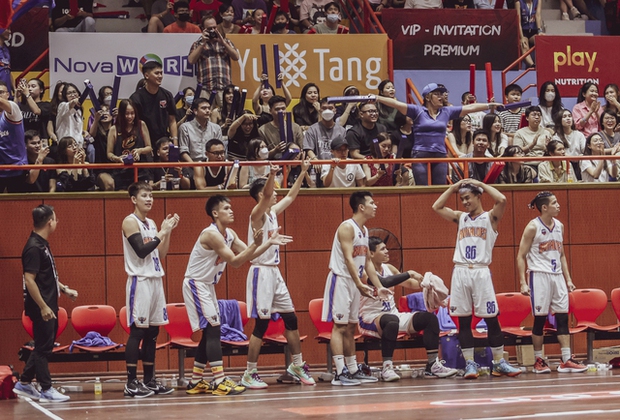 Mr.Sugar and teammates at Hanoi Buffaloes
Basketball is a team sport, so more than anyone else, the player understands the importance of friendship – comradeship in each team, especially the championship team. Besides Hanoi Buffaloes, Mr.Sugar also played for Chicken Dunk and won the HBL championship (Hanoi Basketball Leagues) for 2 consecutive years.
"A team that aims to win the championship is not just about the players playing basketball together. It must be a team that sticks together both on the field and in real life to understand each other's personalities, know how to play and pass the ball. Being close in real life also helps me to know how the other person is feeling. Of course, professional athletes will not let emotions affect training and competition, but understanding the feelings of teammates, I will be adjusted accordingly.
The players are friends and understanding each other reduces unnecessary problems on the field. For example, with a bad pass, you ignore it and learn from it because you understand. In the collective, we have to build it to go up, not down, but there are teams where teammates can criticize each other on the field.".
In Hanoi Buffaloes now, Mr.Sugar and Cong Dinh are close brothers. The two not only played football together, but also lived together since 2019 because in that season, the club let athletes stay together and the duo were assigned a room.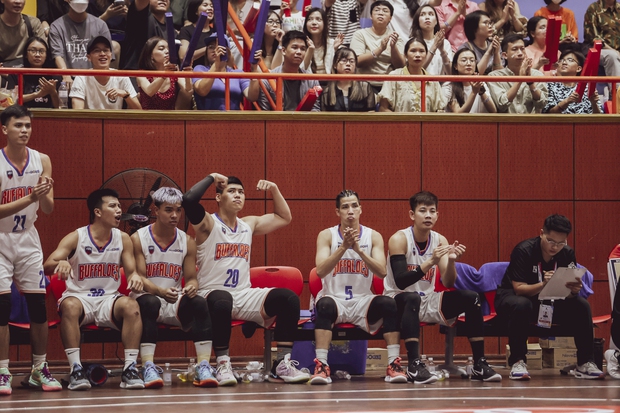 Last year, Mr.Sugar and Sang Dinh were a couple who often teased people. This year, when he returned to Can Tho, Mr.Sugar admitted that he was also … old in the team, so he had to reduce his naughty games. So close, but when they met again on the football field in two different colors, both played very hotly: "I was Sang's tutor when Hanoi Buffaloes met Cantho Catfish. In real life, they are brothers, but playing sports, I will do my best for the color of the shirt that I wear, not holding back.".
And like many other teammates, Mr.Sugar said the professional salary is now much higher than before. However, the number is not enough for the player to pay for his life, take care of his family and focus 100% on his career. So according to the player, it can be said that they play because of passion, more for the fans.
"Everyone's love for the players is very much and we appreciate it. VBA 2021 playing without an audience is very gloomy. It takes fans to give players a lot of motivation and dedication. and both sides together create a very happy basketball game, very happy" – This sentiment tells why fans love Mr.Sugar and Hanoi Buffaloes so much!