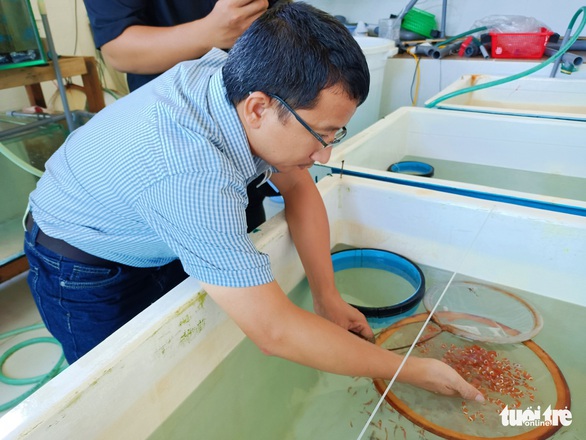 Mr. Lam and the Nemo fish were bred in the project of the Institute of Oceanography
According to Mr. Ho Son Lam – deputy head of the Marine Technology Department of the Institute of Oceanography, the Nemo ancient fish, also known as the clownfish (scientific name is Amphiprion ocellaris) was the first bred by this institute in Vietnam.
These fish are part of the project of commercial development of Nemo ancient fish of the Institute of Oceanography, approved by the Vietnam Academy of Science and Technology, with a cost of 1.8 billion VND. The project is implemented within 2 years (2021-2022).
The purpose of the project is to replace the wild-caught Nemo bream, which causes ecosystem degradation, and aims to export through the markets of China, the US, Taiwan, and Europe.
"Every year, the source of Nemo fish is caught from the Truong Sa archipelago from 3,000 to 5,000 fish and is concentrated in March to May. The natural fish has beautiful colors, large size but the ability to adapt to captivity. in poor aquariums, susceptible to disease and high mortality from cyanide fishing.
Meanwhile, artificially produced Nemo fish has a high survival rate, adaptability, and is easy to raise due to its adaptation to industrial feeds. Seed sources are actively provided all year round with stable quantity, quality and price", Mr. Lam shared.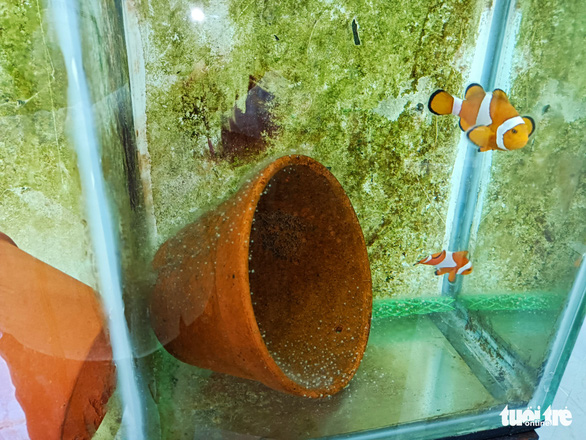 Earthen pots replace coral reefs as places for Nemo fish to spawn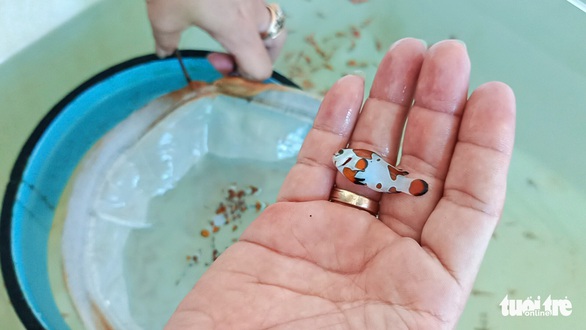 A mutated Nemo fish with a special color
According to Mr. Lam, Nemo fish lives in reefs and reefs, usually yellow, orange, and light red with white stripes. However, the mutant fish has white and black colors interspersed with black or yellow stripes… With each different color, Nemo fish will be called with many different names.
"Nemo fish is sold to the market when it reaches a size of 3-5cm. From 6cm or more fish can spawn. The project was conducted from March 2021, we have successfully bred 3 lines of mutant Nemo fish. variables are: mocha storm, frostbite and snowflake, in which, the imported Nemo mutant mocha storm fish line currently has a market price of up to 1.7 million VND/fish," said Mr. Lam.
Researchers at the Institute of Oceanography said that if you want to reproduce, Nemo fish must be raised from 1.5 to 2 years. In particular, in artificial reproduction, Nemo fish are often allowed to lay eggs on terracotta pots with the bottom cut out, replacing coral reefs. The bottom is cut out for easy placement of aeration for incubation.
Mr. Lam also said that the number of Nemo fish produced in a batch is about 6,000 fish. In particular, the mutant Nemo fish has now been sold to a number of businesses and aquarists, with prices ranging from 300,000 to 1 million VND (depending on the mutant strain), 20 times higher than the Nemo variety. Usually, about 40,000 VND.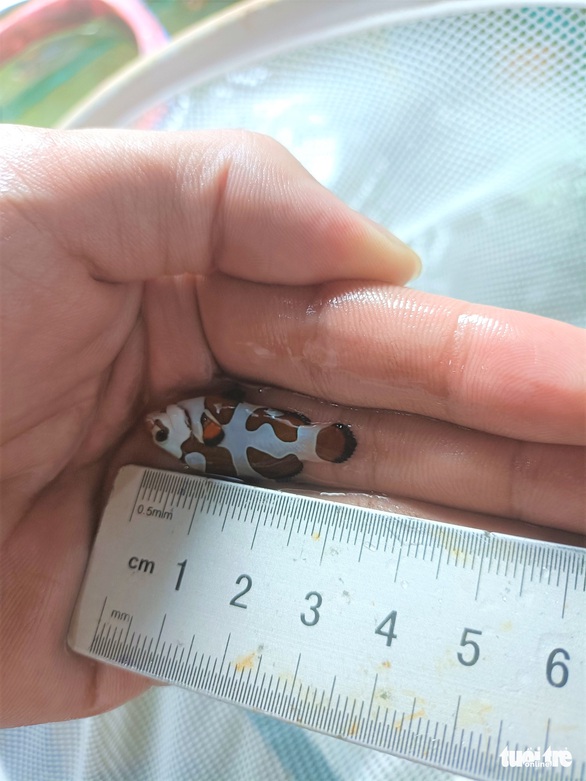 Nemo fish can be sold when the size is 3-5cm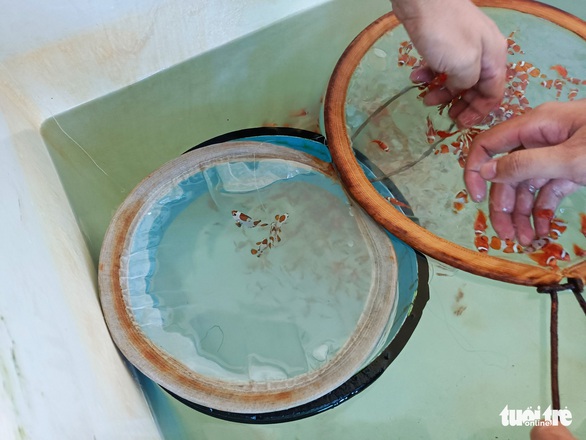 Color difference of normal Nemo (right) and mutant Nemo